People Share the Worst Things Others Said to Them When They Were Pregnant
When you're pregnant, people feel like they can say anything to you. I mean *anything.* And these horrifying stories prove it.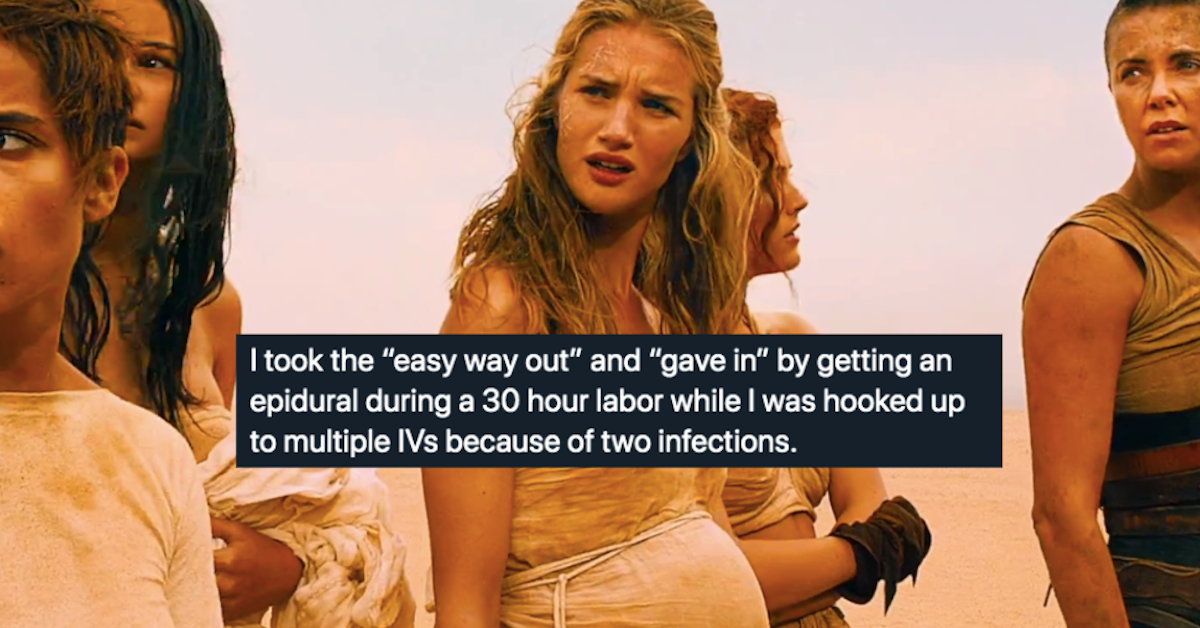 I don't know how it happens, but it seems a pregnant person ceases to be a person to certain folks. All of a sudden, they become just a vessel for another human being. People have zero trouble telling pregnant people exactly how they should be feeling, acting, and thinking. When you're pregnant, suddenly strangers, and even family and friends, become medical experts.
Article continues below advertisement
They think they can touch your belly and judge your diet and make insensitive comments about your situation. Being pregnant and giving birth are two of the hardest things the human body can endure. Pregnant people don't need input from the peanut gallery while they're growing humans inside of them. But they get it, nonetheless.
Writer and historian Elle Maruska recently asked people on Twitter to share the worst things others said to them when they were pregnant, and oh lord, they did. The responses are appalling.
Article continues below advertisement
Elle started it off. I cannot imagine puking constantly for nine months and struggling to keep any food down. This was a real health issue and Elle's family member still made it about their weight. The number of comments pregnant people get about their weight gain or loss is awful.
Here's a thought. When you interact with a pregnant person, maybe don't mention what their body looks like at all! It's not your business. It's not your place. Unless, of course, you're their doctor. But even then, be sensitive about it, for goodness' sake!
Article continues below advertisement
Article continues below advertisement
These comments made me want to hide under a rock because I'm so embarrassed about how human beings act. What is with people?! These words are atrocious in any context, but the fact that they're directed at pregnant people who are chock-full of hormones and potentially more emotional than they usually are makes them 10 times worse.
Article continues below advertisement
Sometimes, it's not just a regular person who says completely wrong things to a pregnant individual. Sometimes, it's a doctor, a nurse, or a psychotic, stalking nutritionist.
Article continues below advertisement
Article continues below advertisement
A nurse! A nurse told them they weren't a "real twin mom" after carrying two babies for nine months and having major surgery to give birth to them. You would think people who deal with pregnant people all the time would be good at talking to them, sensitive to issues that pop up, and non-judgmental since, chances are, they're terrified to be dealing with these new medical problems. But no! Sometimes their behavior is just as appalling as laypeople's.
It's like pregnant people aren't safe talking to anybody. They say "pregnancy brain" is a thing that happens to pregnant people, but I also think it occasionally happens, in a much more offensive way, to people who are simply around pregnant people. Filters are switched off. Sympathy goes out the window. I much prefer this explanation to the idea that these people are just this horrible all the time.
Article continues below advertisement
People are shameless with their judgments, especially when it comes to how people give birth (whether it was their choice or not) or raise their children.
Article continues below advertisement
Article continues below advertisement
An unexpected and unwelcome side effect of being pregnant, on top of everything else you have to deal with, is becoming acutely aware of which people in your life have secretly been monsters the whole time you've known them. It's not easy to deal with. It sucks and I'm sorry to all pregnant people, past and future, who have or will live this reality.