FAFSA's Response to This High School Student's Extravagant Prom Video Is Priceless
A high school student how great she and her friends looked for prom with a slickly-edited hype music video ended up getting roasted by none other than FAFSA.
Saving money for college is a real struggle in the United States, so much so that people are literally prostituting themselves to afford tuition.
You could either do that or basically condemn yourself to a lifetime of indentured servitude.
Article continues below advertisement
Personally, if I didn't have the moral hang-ups I did when I was back in college, I would've had no problems going the sugar daddy route — alas, that boat has sailed for me. If you're not in the business of taking out private loans and then just declaring bankruptcy down the line (which doesn't always work), there's always another option you could take: FAFSA.
The Free Application for Federal Student Aid provides students a chance to get fairly low-interest rate education loans for college.
A lot of high school seniors around the country are scrambling to figure out which school they're going to attend and how they're going to pay for said schools, not to mention attempting to secure on-campus jobs and possibly moving out of their homes for the first time, all while saying goodbye to their high school social lives.
And there's no bigger farewell than senior prom. Something that Twitter user @worldwideliz understood and celebrated very well with this "hype" video.
Article continues below advertisement
In it, she and her friends are showing off the wonderful outfits, makeup, and hairstyles they put together for prom as they stunt all over the place in a short music video that looks like a promotional clip to promote a concert or reality TV show.
While it's hard to deny the video looks good, some people were quick to point out that the young women in the clip may have their priorities mixed up.
Article continues below advertisement

Article continues below advertisement
People thought that a bunch of kids who very well may be headed to college and who are still likely living with their parents, on their parents' cell phone plans and driving cars paid for and insured by their parents, shouldn't be stunting like they're capable of making independent money moves.
So they joked that the young woman better not be showing off like this online if she plans to apply for financial aid, which is funny enough.
But things got even better when FAFSA actually responded.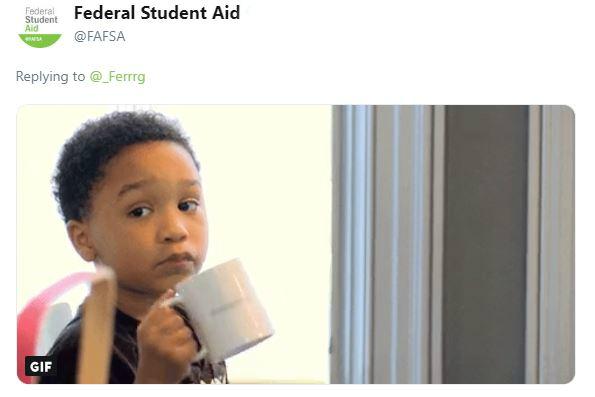 Article continues below advertisement
And they went in, tweeting a "tea-sipping" GIF to let Liz and everyone else know that if they're trying to get federal aid for college, maybe spending what looks a hefty amount of cash on dolling yourself up and producing a video of you and all your friends expertly edited and color corrected is probably not the best use of your cash.
Article continues below advertisement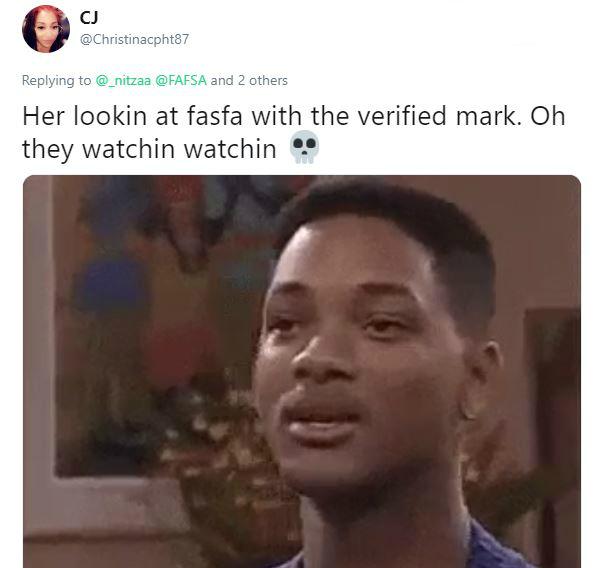 Article continues below advertisement
People were tickled pink that FAFSA roasted Liz with a single GIF, while others were just trying to wrap their heads around the fact that someone would put so much effort into showing off for prom.
Then people actually started tweeting at the loan agency's account, asking them questions about the status of their loan disbursements. Again, FAFSA responded but this time with actual information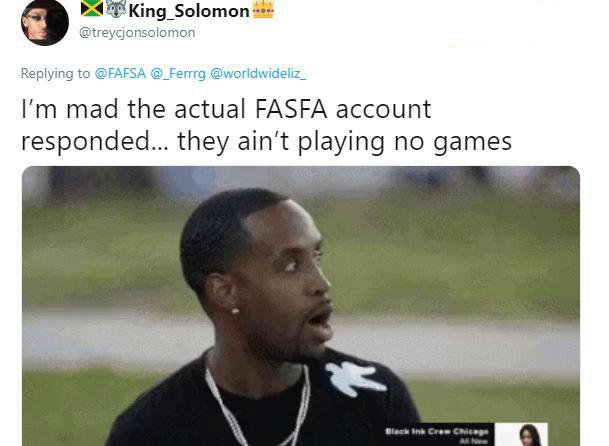 Article continues below advertisement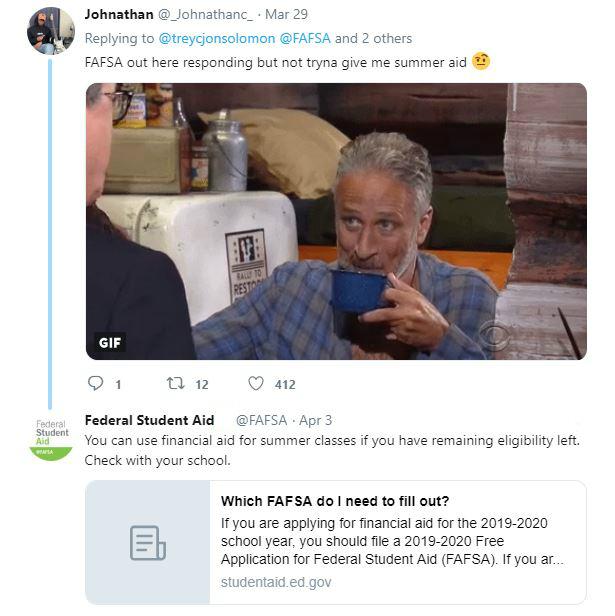 Article continues below advertisement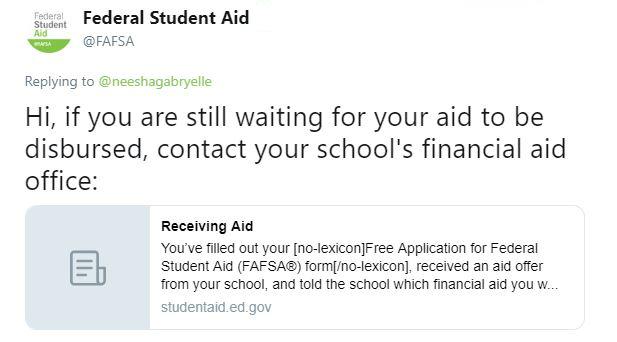 Others just used it as an excuse to tell more jokes at Liz's expense and get real about what many people use their loans for: treating themselves to a bunch of useless stuff they definitely don't need.
The important thing to remember about the first FAFSA joke tweet is that the person who tweeted it out didn't even tag FAFSA in the post...they just responded to it themselves.
Article continues below advertisement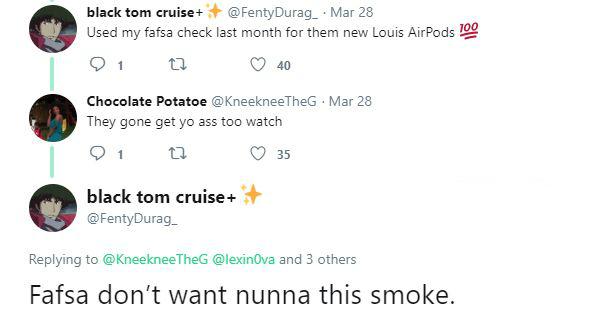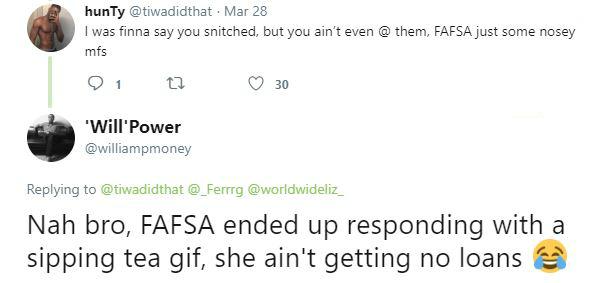 So a lot of people in this thread are right... FAFSA is indeed watching.