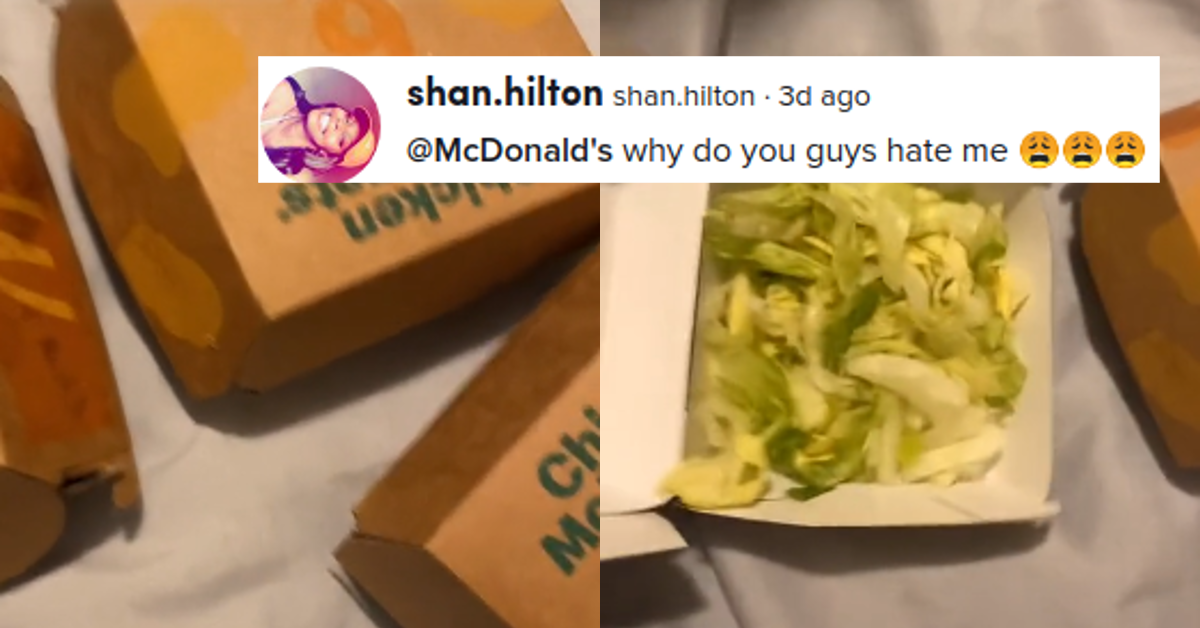 Woman Orders 3 McChickens Through Uber Eats, Gets Boxes of Lettuce Instead in Viral TikTok
If you were lucky enough to be a kid that received presents on a special occasion, be it your birthday, or Christmas morning, or Festivus, then you can admit there are probably fewer moments that pack as much ecstasy, anticipation, and excitement as the lead up to opening that gift, unwrapping that paper, and being blown away by what was inside.
Article continues below advertisement
However, there are probably a lot of adults who would argue that hearing the doorbell finally ring after placing your delivery order is a close second. Especially if it's a meal or particular food that you've been craving for a while. And when you finally open that bag and the subsequent container holding all of that deliciousness you're about to chow down on, it's a truly wonderful moment.
Or, it could be catastrophic, especially in the event that the restaurant in question or your delivery driver ends up ruining your order. And there are different levels of meal destruction that can occur. It's one thing if you're not given enough sauce, or there are some utensils missing from the bag, but what if you were left with just a bunch of garnishes instead of, you know, the actual meal that you purchased?
Article continues below advertisement
That's what happened to TikToker @shan.hilton who went viral for showing what she got delivered to her on UberEats vs what she intended on ordering.
Article continues below advertisement

In the clip, she shows off three McDonald's chicken nuggets boxes that were filled with shredded lettuce. What she wanted were actually three McChicken sandwiches.
Yeah.
So what happened? How did this grievance occur?
Article continues below advertisement

People speculated as to what exactly went wrong in the ordering process, including @shan.hilton herself. "I ordered McDonald's with UberEats, right? And I ordered three McChickens. Maybe I was high and I messed up the order. And now that I'm settling to eat the chicken nuggets I open up the chicken nuggets box, and look, it's just lettuce," she says in the clip.
Article continues below advertisement

Perhaps she was stoned out of her mind and ordered a McChicken and tried to customize the order and only selected "lettuce" so the employees in question just tossed a bunch of lettuce in some boxes and called it a day.
Article continues below advertisement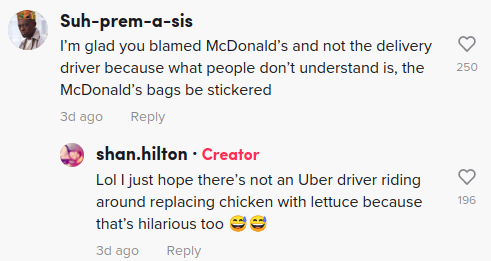 But according to some TikTokers who shared their own stories of McDonald's ordering issues, they too experienced some bizarre mix ups in their orders. Like one person who purchased a Happy Meal, only to open it up and find a bunch of cookies inside.
Article continues below advertisement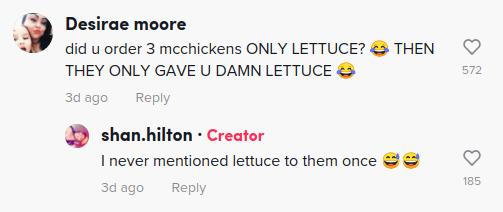 Another added that they bought a Happy Meal for their son and there was just an egg in the chicken nuggets box.
Article continues below advertisement
So what happened with Shan? Was she just stoned and messed up the order? Well, as it turns out, she provided a follow-up video that shows the receipt of her original order, and wouldn't you know it, she actually did buy three McChickens.
Suffice to say, she wasn't loving it. Have you experienced such a massive ordering gaffe in the past?