Twitter's Roasting People Who Think They'll Be Affected by Biden's Tax Plan
Biden's Tax hike only affects households that earn more than $400,000 a year, but people are freaking out over it.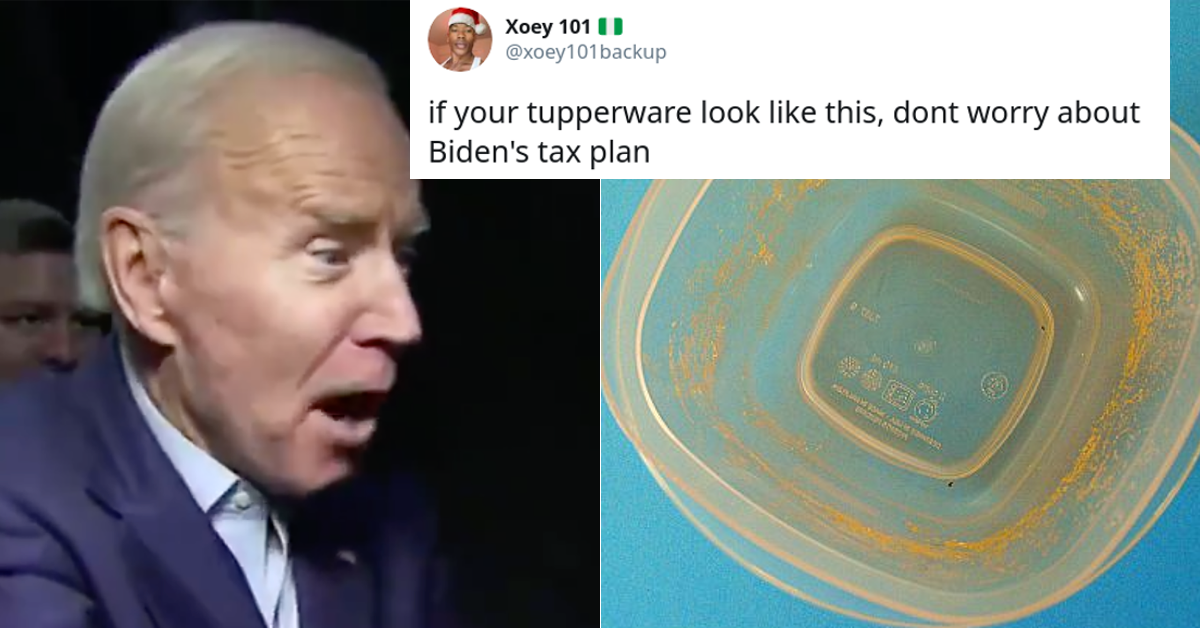 Politicians have a way of convincing throngs of people that their own personal interests along with the interests of whoever's endorsing their campaigns and signing their checks are for the greater benefit of society. It's why you'll have loads of people advocating against "right to repair" laws or universal healthcare or getting their jimmies ruffled for fiscal outcomes that have no financial bearing on their own livelihoods.
Article continues below advertisement
It's no secret that corporations are always doing whatever they can in order to maximize their profits and not pay their fair share in taxes. It's why some of America's biggest corporations: Apple, Google, Amazon, Microsoft and many others have created tax havens by shifting their primary operations to Ireland and other countries that take as much money from businesses.
And while there are tons of folks who've been clamoring for a universal tax percentage across the board for all US citizens and companies, there are staunch advocates who come up with tons of arguments as to why major businesses should pay less and less in taxes. You know the same old arguments: they create jobs and help stimulate the economy, but there are tons of instances of massive layoffs occurring even after government bailouts. Just ask United Airlines.
Article continues below advertisement
But still, there are throngs of individuals who are arguing against tax hikes for the rich, and with many major polls showing Joe Biden as the current 2020 favorite for the Oval Office, people are very scared about the "tax hike" that'll occur under his administration.
Here's the thing though: Biden's tax hike will only directly affect those who earn $400,000 or more every year.
Article continues below advertisement
Article continues below advertisement
And of course, because all political discourse and arguments are handled through memes these days for the most part, people began sharing a meme letting folks who are freaking out who don't make anywhere near that amount annually that are made to simultaneously roast/comfort them.
Article continues below advertisement
You really shouldn't pay attention to Joe Biden's tax plan if you're messaging your ex and cursing them out for changing their Netflix password because you're too poor to afford your own.
Article continues below advertisement
Article continues below advertisement
Nor should you worry about Joe Biden's tax hike if you're still on your parents' cell phone plan. Or they need to co-sign for you to get a car, or you're on their insurance for the vehicle. (I know you pay them the difference, you're such an adult!)
Article continues below advertisement
Some people pointed out that the memes were a little mean-spirited and making fun of those for being poor, but in all actuality, $400,000 a year is a lot of money. And Biden's tax hike just means that if you're making a ton of dough, well, now, you're making a little bit less. Maybe I'll feel a little more sympathetic once I'm rolling in the big bucks, but until then, I'll do my best to stay sympathetic to the plights of those who are very, very financially stable. Sorry, not sorry.
Article continues below advertisement
Article continues below advertisement
Article continues below advertisement
Article continues below advertisement
Article continues below advertisement
Article continues below advertisement