Claire's Phone Won't Stop Ringing, so Customer Answers It Herself and Records the Whole Thing
A woman who visited an understaffed Claire's store took it upon herself to answer a phone that wouldn't stop ringing in a viral TikTok.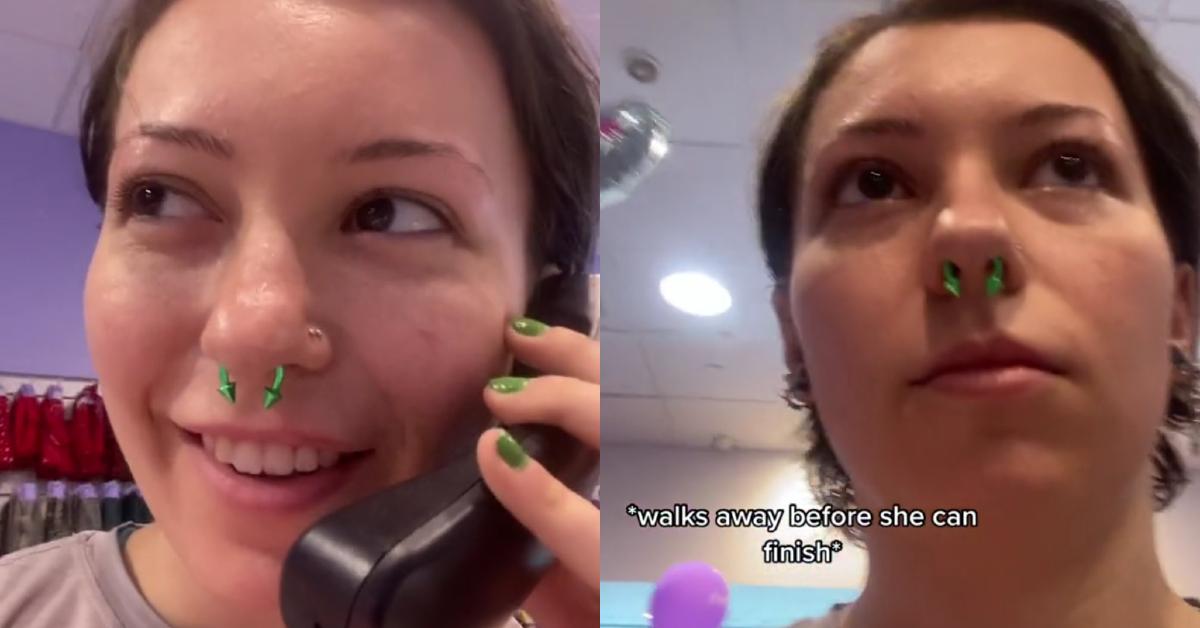 For whatever reason, certain products end up becoming highly desired commodity that customers can't get enough of. Maybe it's a toy that becomes popular among certain age groups, leaving kids to pester their parents endlessly until they have it in their hands.
Article continues below advertisement
Currently, it looks like one such product is the Squishmallow, which has seen a surge in popularity in recent years. These chunky pillows come in a variety of shapes and sizes and cute designs and are sold by a variety of different retailers, including Claire's.
Article continues below advertisement
This seems to have been the case when a TikToker by the name of Jordan visited a location and heard the store's phone constantly ring. Since there was only one employee working in the store at the time of her visit, Jordan decided to take it upon themselves to help the caller and filmed the entire interaction.
Article continues below advertisement
Jordan writes in a text overlay for the clip which is narrated by an A.I. generated voice on the platform that there was only one Claire's employee working in the store and that they were busy piercing a little girl's ear.
The robo-voice continues: "I was waiting in line for 10 minutes at this point. The phone would not stop ringing," as the woman proceeds to finally answer the ringing phone at the Claire's store, recording herself the entire time.
Article continues below advertisement
"Thank you for calling Claire's how can I help you?" Jordan asks.
Someone can be heard speaking on the other end, she imposes another A.I. generated voice to convey what the caller is asking: "Hi, do you have any Squishmallows in stock?"

Article continues below advertisement
As it turns out, Jordan said that she was headed to Claire's in order to buy a squishmallow for herself, which made her able to answer the customer's question.
"Was there one you were looking for in specific?" she asks the caller. Jordan's hand slightly trembles as she talks on the phone with the customer who says that she's looking for Brina the Pink Bigfoot, to which Jordan replies that there is only "one left."
Article continues below advertisement
The shopper then asks if Jordan can set the item aside for them as they're coming in to pick it up in "about an hour." She then tells the customer she isn't sure if she can do that and that she's going to ask her supervisor first if that's OK.

Article continues below advertisement
Jordan then heads over to the woman piercing another customer, still recording herself the entire time. "Do you guys hold on to squishmallows for people?" she asks.
The employee tells her that they do not and that they just told someone else that they don't hold on to products for customers. She then walks back to the phone and tells the person on the other line that they're unable to hold onto them.
Article continues below advertisement
"Ok, thanks anyway!" they tell Jordan.
"Absolutely thanks for giving us a call," the TikToker replies before hanging up and ending the video.

Article continues below advertisement
Several commenters said that Jordan's interaction with the customer pretty much fell in line with their typical experiences at Claire's and that she would fit right in as a worker for the retail chain:
"hands: shaking eyes: on the verge of tears career at claires: secured"
Another viewer remarked, "the shaking hand omg. this is such a bold move. such a slay"
However there were others who just couldn't believe that someone was that desperate to get a squishmallow: "Are we gonna breeze over the fact this lady kept ringing for a squishmallow?"