Woman Flashes ID at Black Man Eating Gummy Worms Before He's Paid
A Karen took issue with the fact that she saw someone eating gummy worms before paying for them and tried to get him in trouble.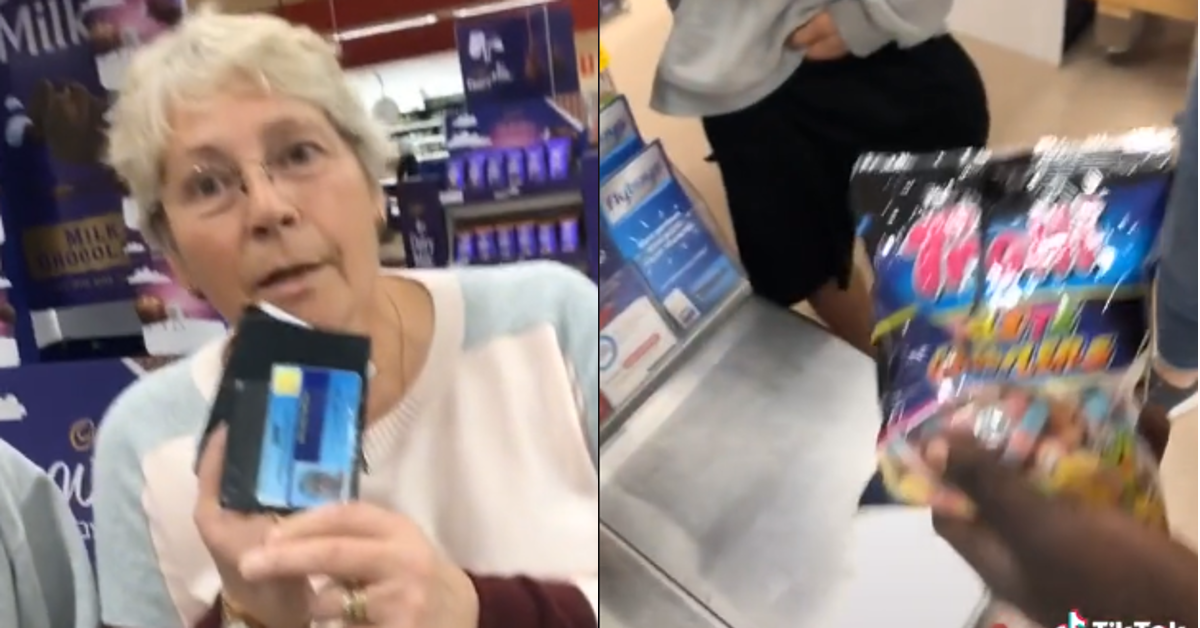 Article continues below advertisement
However, when you're a kid and your older brother is playing video games on a weekday when your parents explicitly told him not to? That's a whack move.
And some would argue that trying to get someone in trouble for eating the food at a grocery store that they are in the process of buying before they buy it, definitely falls under the same category of lameness.
This is exactly what happened in a viral TikTok video uploaded by @blackmagicsmg. In the clip, a woman approaches him as he's eating gummy worms in the self-checkout aisle. "You don't see me paying for my stuff?" he tells her in the now-viral clip.
He followed up by saying, "Who made you security? Out here, confronting us?" The TikTok user asks the woman.
Article continues below advertisement
She then pulls out her wallet and flashes an ID card saying, "that's who made me security" but it's difficult to see just what is exactly on the badge.
He then offers her a gummy worm and shows her the receipt for the bag of gummy worms he just paid for.
Article continues below advertisement

The TikTok user who uploaded the clip called the woman a Karen and joked that her ID card was a "checkmate" in the situation. Tons of commenters who watched the video thought that the ID card pull was hilarious. Veronica Dador writes, "She pulled that wallet out like she had authority" which was followed up by a ton of laughing emojis.
Article continues below advertisement

It also didn't take long for viewers to take turns guessing just what the ID card was: "she showed her AARP card" one user said. Others quipped that it was her bus card, a pensioners card, her janitor ID, or the vaunted "Karen card."
Article continues below advertisement

While the comments section was filled with jokes, there were also a lot of folks who pointed out that eating food in a grocery store prior to paying isn't illegal. If that were the case, then paying for a meal at a restaurant after you've consumed it would be against the law.
The only time it's illegal in a grocery store (and restaurant) is if you eat the food and then leave the establishment without paying.
Article continues below advertisement

Clearly, the TikTok-er in question was in the process of buying the gummy worms and even showed the woman his receipt while constantly trying to offer her free candy during the exchange.
And while she definitely looked pressed in the video, someone did think that there may have been another reason why she was approaching the young man about his gummy worm-eating habit.
Article continues below advertisement

TikTok-er @betty_spaghetti_2 wrote, "She was trying her dusty pick up lines on a young brother!!"