PETA Slammed for Rejected Super Bowl Ad in Which Animals Kneel for the National Anthem
PETA has been accused of coopting the strugggle of black Americans before, and this time is no different.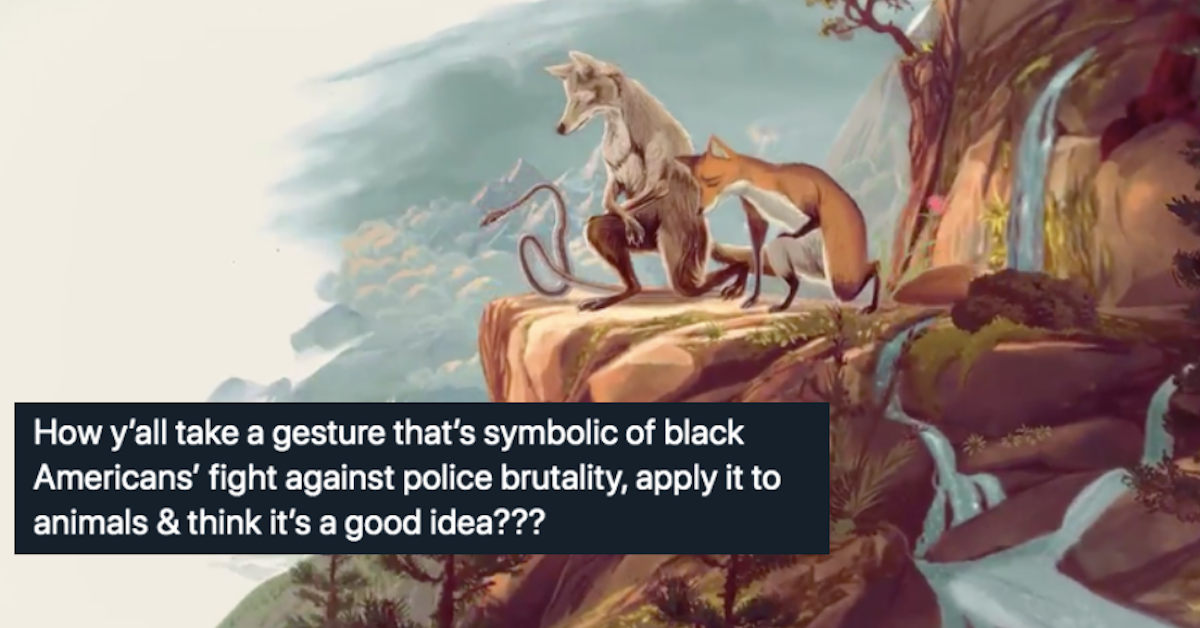 Animal rights organization PETA has never been known for subtlety or tact. They were the ones who recommended we stop staying "kill two birds with one stone" and start saying "feed two birds with one scone," remember? So it's no surprise that when their newest ad was rejected from the Super Bowl, they decided to post it on Twitter anyway, and then they received a ton of backlash for it.
Article continues below advertisement
The ad, they claim, pays "homage" to Colin Kaepernick's protest against police brutality by having a bunch of animated woodland creatures literally kneel in the forest to #EndSpeciesism. It's jaw-droppingly tone-deaf, equating the fight against police brutality toward black Americans with the effort to get people to quit eating meat. It's a stunning failure, one PETA stands by completely.
Article continues below advertisement
In the ad, the national anthem is hummed while animals all over the forest — including a bee, a snake, and some fish — take a knee along with a little girl, who is ostensibly camping by herself. Many on Twitter commented on how many meetings it must have taken to ultimately decide what it would look like if a snake were to kneel, considering they have no knees or legs.
But that's the least of PETA's troubles here. The ad clearly co-opts a vital protest against police brutality and structural racism to tell people to be nice to animals. The comparison of black Americans to animals and appropriation of an imperative cause was not lost on the people of Twitter.
Article continues below advertisement
Article continues below advertisement
Of course, this isn't the first time PETA has been criticized for its tone-deaf ad campaigns. This isn't even the first time that PETA has been criticized for comparing animal cruelty to the plight of black Americans.
There are several instances in which PETA has equated animal cruelty to slavery in America. In 2011, a PETA exhibit entitled "Glass Walls" debuted. BET reported, "The six double-sided panel display exhibits images of animal cruelty next to images of human cruelty.
Article continues below advertisement
"One panel includes Dr. Martin Luther King's quote, 'Injustice anywhere is a threat to justice everywhere' and some images show elephants in shackles and overcrowded conditions for pigs and animals next to images of Blacks in similar conditions."
There's an insane amount wrong with equating slavery and the systemic oppression of black people in America with the mistreatment of animals, but PETA doesn't seem to want to see it.
Article continues below advertisement
In an email to Reuters, a spokesperson for PETA defended the ad. Moira Colley wrote, "No living being, old, young, from another country, LGBTQ, of color, or of another species, should be disrespected." She also claimed Kaepernick had approved of the ad.
Article continues below advertisement
No matter how you want to try to spin it, PETA didn't compare animals to LGBTQ people or old people or people from a different country. They did, in this case and several others, compare animals to black people in America.
On top of being wildly offensive and tone-deaf, PETA's ad, which was rejected by FOX to air during the Super Bowl, also straight-up doesn't work. "They really tried to 'All Lives Matter' Kaepernick's message by having fish and snakes take a knee," one Twitter user wrote. "I'm eating a steak tonight just because."