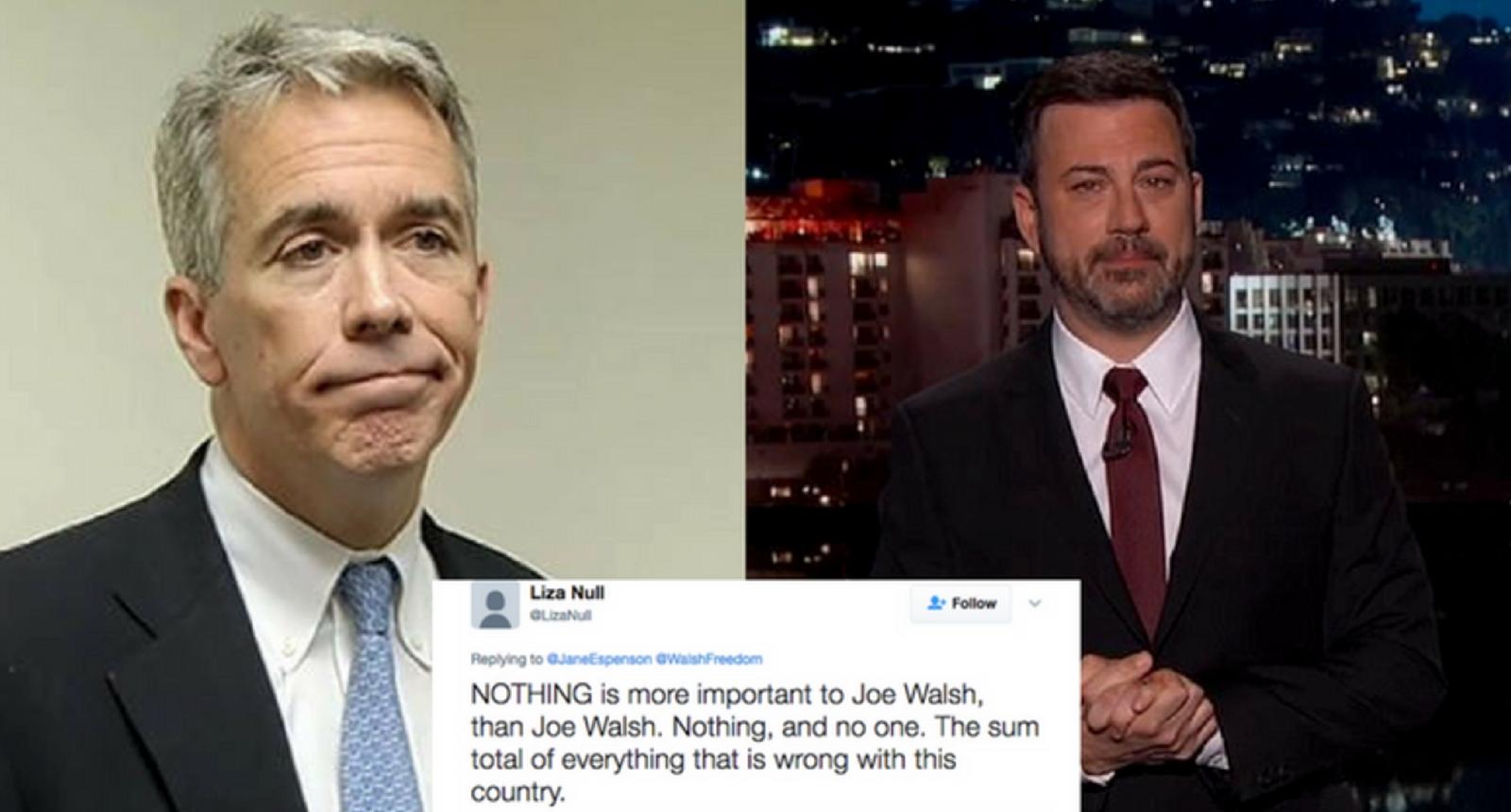 A Politician Made Heartless Comments About Jimmy Kimmel's Sick Son, And The Internet Is Furious
By Justin Luke
Former congressman Joe Walsh showed his true colors on Tuesday.
After an emotional opening monologue by Jimmy Kimmel during Monday night's broadcast in which he detailed the scary ordeal of his newborn son's heart defect and subsequent open heart surgery, Walsh tweeted out on Tuesday morning a disgusting display of comments about the child:
Kimmel had praised the Affordable Care Act during the 13-minute monologue, saying, that everyone deserves a chance at life:
We were brought up to believe that we live in the greatest country in the world, but until a few years ago, millions and millions of us had no access to health insurance at all. Before 2014, if you were born with congenital heart disease, like my son was, there's a good chance you'd never be able to get health insurance because you had a pre-existing condition.
Watch Jimmy's full monologue here:
Kimmel received an outpouring of support from fans following the show, including Barack Obama, who tweeted out support of his own for the late night host and his struggles with his childs illness:
So when Walsh tweeted out his insensitive garbage, Twitter was quick to jump on him for his hypocrisy, noting his $117,000 child support scandal a few years back which he so convinenetly seems to have forgotten entirely (surprising no one)
Walsh wasn't gonna get off easy. The Internet wanted him to own up to the comments but it's unlikely they'll drag a response out of the former conservative lawmaker.
But let's all keep in mind that we're talking about former congressman Joe Walsh, NOT musician Joe Walsh.
I certainly wouldn't want to share a name with the disgraced congressman.
What do you think of the comments? Was Walsh out of line?