A Dude From Philly Used a Rotisserie Chicken-Eating Challenge to Unite His City
An ambitious guy in Philadelphia set out to eat 40 rotisserie chickens in 40 days, because why not? Here's how his bizarre mission united his city.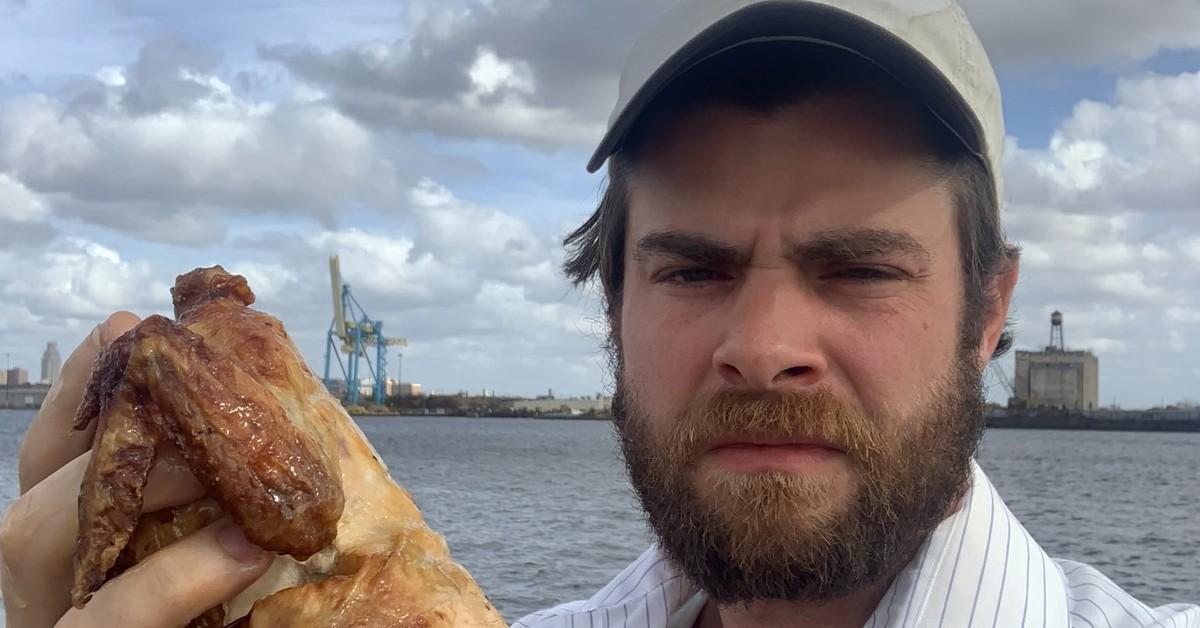 There's nothing that unites Americans quite like the excessive consumption of food. And it's almost never a nutritious product of the earth, like broccoli or spinach. Starting on Sept. 28, 2022, one Philadelphia man set out to eat one whole rotisserie chicken per day for 40 consecutive days. Why? Well said man, 31-year-old Alexander Tominsky, started the ungodly food challenge because "it seemed like the right thing to do." He has a point.
Article continues below advertisement
Alexander, a waiter at Philly's Barclay Prime steakhouse, clearly doesn't make promises he can't keep, as he documented his six-week poultry-filled journey on the internet. And while the triumphs he posted via Twitter gained thousands of likes, the in-person support Alexander got on the 40th day exceeded all expectations. Not only was the 40th day of Alexander's challenge a bizarrely wholesome celebration, but it turned him into a local celebrity. Dare we say a hero.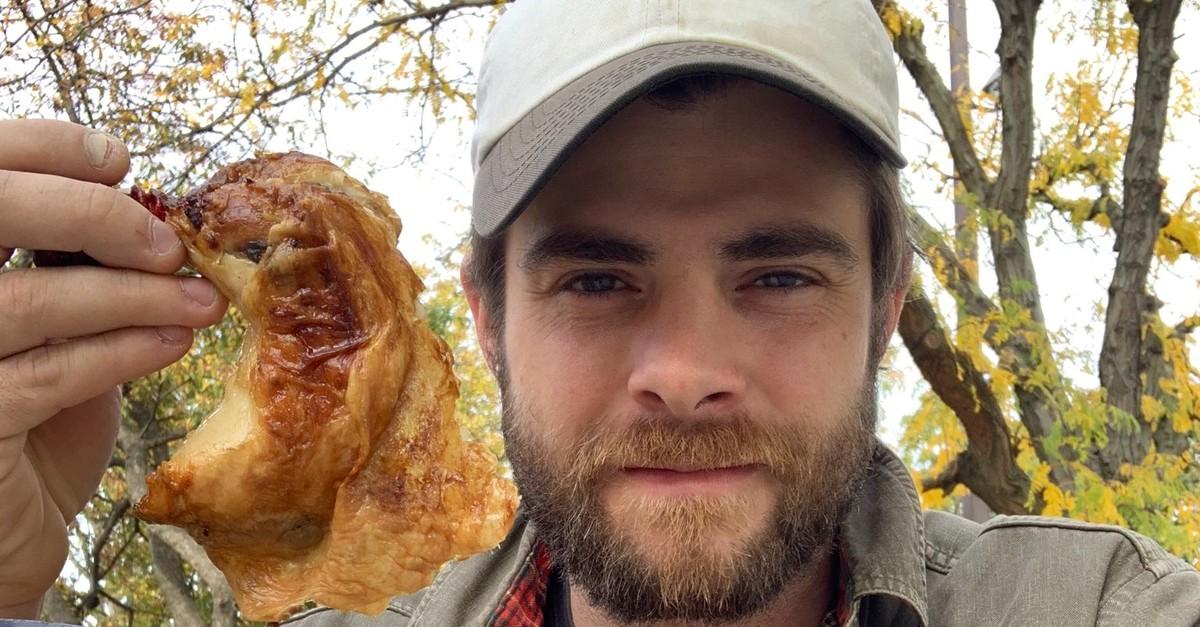 Article continues below advertisement
The "Rotisserie Chicken Guy" in Philadelphia invited strangers to watch him eat his 40th rotisserie chicken via a cryptic flyer.
"I would like to invite you all on a journey that I am on. I am eating a rotisserie chicken every day for 30 days. Today is day 11. I will keep you all updated as I get closer to my goal. Thank you," Alexander tweeted in October 2022.
He sure did keep everyone updated. Alexander posted a straightforward flyer on social media and around Philly that read, "Come watch me eat an entire rotisserie chicken."
"November 6th Will Be the 40th Consecutive Day That I Have Eaten an Entire Rotisserie Chicken," the notice continued. The event took place at noon sharp, as Alexander detailed that "This is not a party." As for why it was a non-party, Alexander told Takeout "I'm not trying to make this — it's just me eating chicken, really."
Hilariously, Alexander told attendees to arrive at "that abandoned pier near Walmart." We're not too sure Google Maps knows that address, but local Philly residents did, just as he anticipated.
Article continues below advertisement
According to Daily Mail, the "venue" was a pier "along the Delaware River in South Philadelphia, near one of the superstore's locations on Christopher Columbus Blvd."
Despite the toll the challenge was taking on both the chicken hero's physical and mental health, he was committed to completing it. For his final battle against a sodium-packed rotisserie chicken, Alexander purchased pre-made poultry from his favorite local shop, Rittenhouse. Other chickens he devoured over the course of 40 days came from the likes of Shoprite, Walmart, and Boston Market.
Article continues below advertisement
Prior to the grand finale — which boasted a red carpet — Alexander told Billy Penn that he feared "the adrenaline [would] affect [his] consumption." Thankfully, no such catastrophe unfolded on Nov. 6.
According to Billy Penn (as well as countless videos posted to Twitter), hundreds of people of all ages and backgrounds gathered behind a strip of caution tape to feast their eyes upon Alexander as he feasted on his 40th rotisserie chicken. With encouraging cheers roaring in front of him, the pressure was on, but Alexander gobbled up the juicy plate of meat in about an hour.
Article continues below advertisement
Just before his final bite, Alexander stood up and hit play on a bluetooth speaker, only for Bruce Springsteen's "Streets of Philadelphia" to sound from the device. In a deeply ritualistic moment, Alexander finished off his final meal.
"I'm no hero, I'm but a man," he announced. "I ate the chicken. I did the best I can. I just thank you all for being here, and thanks for watching me consume."
Article continues below advertisement
This monumental celebration occurred right after the Pennsylvania city witnessed two brutal (sports-related) losses on Saturday, Nov. 5. Not only did the Philadelphia Union lose the MLS Cup, but the Phillies were demolished in the World Series.
In an oddly delightful way, Alexander "Chicken Man" Tominsky united his city. "I knew that this was going to be very powerful, I knew it was something very special," he said. "And it is uniting all people, no matter what background they come from, their political point of view, race, sexual orientation."
Amen. For the sake of his well-being, we hope Alexander cuts back on the sodium for a while.