Keep Your Kids Busy on Thanksgiving With These TikTok Crafts
These TikTok crafts will make sure your kids stay busy during Thanksgiving. The platform offers all kinds of creative ideas for children of all ages.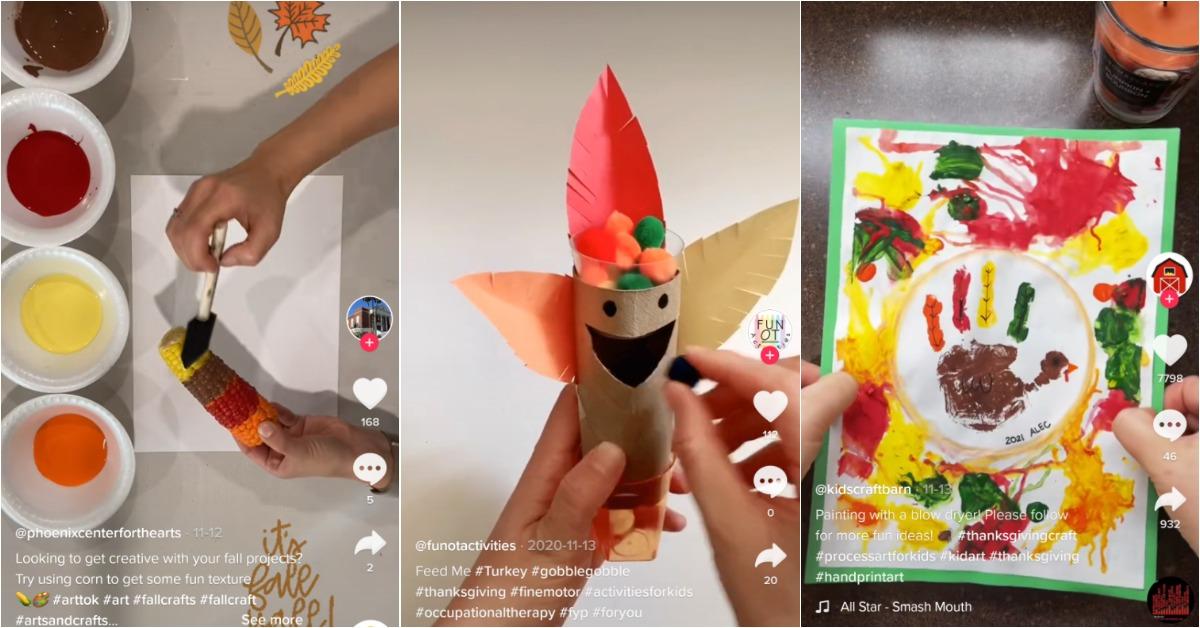 Between watching the Macy's Day Parade, cooking way too much food, and stuffing your face on Thanksgiving, you're going to need something to entertain the kids. And while enlisting the iPad as the babysitter is all well and good (and we def don't judge you for it), there is something to be said about Thanksgiving crafts on TikTok.
Article continues below advertisement
TikTok is not just for awful dance trends and challenges anymore. In some ways, it's the new Pinterest. And we've compiled a list of some of the best TikTok Thanksgiving crafts for kids that you can do at any skill level.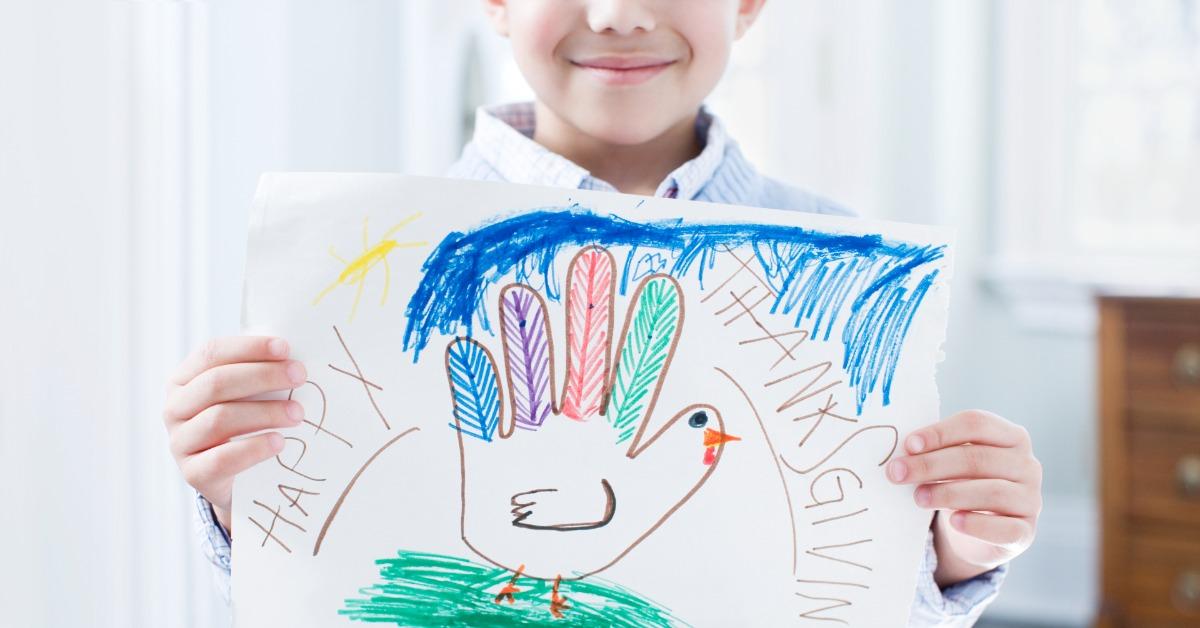 Hair Dryer Painting
Use your kid's hand for a turkey stamp by painting their palm and fingers different colors. Once you have that on the paper, cover it with a bowl. Then, add dots of paint around it. Use a hair dryer to splatter the paint dots around the paper. Remove the bowl and you have a pretty festive turkey and keepsake to remind you how tiny your kid's hands once were. Just try not to cry about it three years from now.
Article continues below advertisement
DIY Thanksgiving Shirt
This is another turkey hand craft, but that's because they're the best when it comes to little kids. All you have to do is get some fabric paint and, once again, use your child's hand as a sort of turkey stamp. You'll also need your kid's foot for part of the turkey. Then, make little handprint turkeys on a plain T-shirt. Add some googly eyes and your kid now has a Thanksgiving shirt they can wear for the day.
Article continues below advertisement
Tie-Dye Turkey
Get a coffee filter and let your kid color all over it with markers. Then, drop water on it until it's saturated, but not soaking wet. From there, get a clothespin and add some eyes. Then, once the coffee filter is dry, affix the clothespin to it for a tie-dye turkey.
Article continues below advertisement
Thankful Turkey
Part of Thanksgiving is reminding yourself what you're grateful for. This TikTok craft is all about encouraging your kid to come up with their own ideas of what they're thankful for this year. After they make a simple construction paper turkey, they can write their answers on the "feathers."
Article continues below advertisement
Colored Corn
This one might seem a little wasteful since it requires perfectly good corn, but it seems fun for the kids, so it's hard not to take the loss when it comes to this Thanksgiving craft. All you need is corn-on-the-cob and some festive fall paints. Then, have the kids paint the corn and roll it on paper as a stamp.
Article continues below advertisement
Thumbprint Turkey
We all know the handprint turkey well. But this craft might be better for older kids who have more patience. All they have to do is dip their thumbs in different paint colors and dab them on paper to create a turkey. They can even go wild with colors you wouldn't normally see on a Thanksgiving turkey.
Article continues below advertisement
Toilet Paper Roll Craft
Have the kids grab an old toilet paper roll to create a hungry turkey. Then, use two small plastic cups to add small cotton balls in the top and catch them in the bottom. They then "feed" the turkey and catch the cotton balls in the bottom cup so they don't fall out. It's pretty adorable.
Article continues below advertisement
Fall Corn
If you have older kids who are dying for something to do before and after Thanksgiving dinner, this fall corn craft is pretty simple and time-consuming. In other words, it will get them off your back for a little while. All they have to do is use yellow, white, orange, and black beads and pipe cleaners to create little bunches of fake festive corn.
Article continues below advertisement
Fine Motor Turkey
This fine motor turkey is the Thanksgiving craft and game that keeps giving, because little ones can play with it after the holiday too. You'll need a cardboard box, some paint, feathers, popsicle sticks, and pipe cleaners. Add a turkey face to the box and make holes in it. Then, give your kid the other items to poke in the holes and create their own turkey.
Article continues below advertisement
Pumpkin Pie Garland
For this, the kids need paint, paper plates, string, and cotton balls. They can use their imagination to make the plates into little pumpkin pies. You might need to help them cut the "pies" into slices, but after they glue on the cotton balls, they can thread string through them to create an adorable pumpkin pie garland.
Article continues below advertisement
Simple Turkeys
This TikTok offers a few different ways to have your kid make a simple but fun Thanksgiving turkey. All they need to do is use strips of paper, tape, or dot markers to create feathers with the classic hand turkey attached to it.
Article continues below advertisement
Popsicle Stick Craft
Kids of different ages can make fake slices of pie with construction paper, popsicle sticks, and other craft accessories. There's really no wrong way to go about it once they have the general pie slice shape down. Add a clean pie tin to the mix and they have lots to keep them busy.