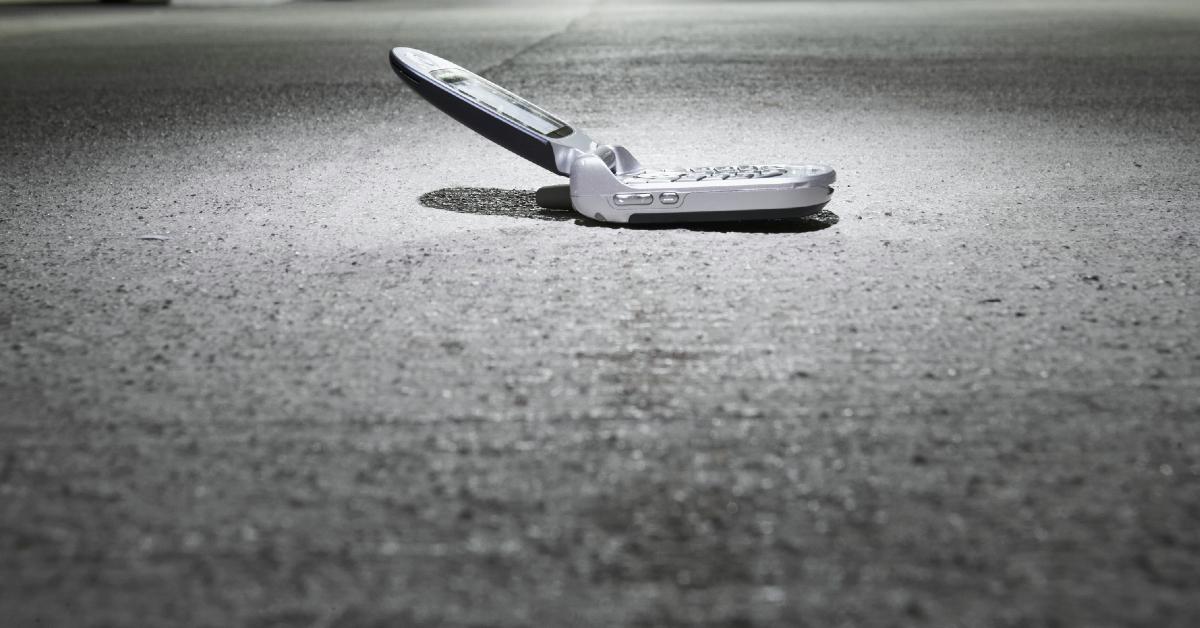 TikToker Loses Phone While Paving Driveway, Hears It Ringing Underneath the Work He Just Did
Many people would rather lose their wallets over their cell phones. Sure, there's the hassle of canceling your credit cards and then having to go through the rigamarole of having to get your driver's license/ID back. But if you don't drive a car and use your phone for direct payment banking transactions that are linked to your account, then there's a strong argument to be made that you could make do with just a smartphone.
Article continues below advertisement
Even if you're the type of person who would much rather misplace their primary means of communication over their wallet, it's hard to deny that for many of us, losing a cell phone is a big pain in the patootie and that's due to several factors. Again, there's an over-reliance on mobile technology being used from everything to alarm clocks, calendar alerts, email confirmations, boarding passes, and concert tickets and some states are even launching pilot programs that allow people to put their driver's licenses on their phones.
Another reason why losing your smartphone is such a frustrating experience is because the prices of them have nearly doubled in just a span of 5 years. It's not uncommon for folks to drop well over $1,000 on a new phone, so misplacing it stinks. Thanks to insurance policies and apps like "Find my iPhone" this helps to ease some of the anxiety associated with your phone showing up on a milk carton, but how would you react if you found yourself in a situation that this TikToker did?
Article continues below advertisement
Alex Blair, who posts under the handle @kxngab uploaded a now-viral clip to the popular social media application that shows someone with their ear to the ground on a freshly poured concrete driveway. In the video, we hear the muffled ping of a mobile device, akin to the sound it makes when someone uses a secondary piece of tech, like an Apple Watch, to find an iPhone.
Article continues below advertisement

Alex writes in the caption for the viral TikTok: "Heres the original video of me finding my phone in a driveway we poured I didnt even know this would go viral on tiktok or I would have posted it as soon as it happened. I looked for this thing for an hour with "find my iphone" app before i heard it IN the driveway"
Article continues below advertisement
The man then strikes the ground of the newly poured concrete, and the pinging gets louder. He extricates the phone from the ground, much to the surprise of whoever is recording the clip: "You did not just find it! Oh my god!"

Article continues below advertisement
A text overlay on the clip reads: "Look what I found in the concrete 2.5h after we poured this driveway."
TikTokers who saw the clip were just as incredulous, with some people congratulating the man for his good fortune and others using it for the opportunity to crack some jokes.

Article continues below advertisement
"can u still fix the driveway properly after it set for that long? I have a feeling it's not gonna look right ever again"
"Relax, it's iPhone."
"Haha this happened to us but with asphalt after we rolled it. Dude still got the same phone. Only damage was is pelican case"
"I have one in a curb in high point. been there about 10 years now."
"I would never hack into a fresh pour with concrete evidence that it was there"
"done that with drywall before. at least we didn't mud it yet. how did the phone not over heat"
"Dude did it with a cigarette in his mouth the whole time. SKILLS!"

Article continues below advertisement
This isn't the first time an iPhone has been encased in concrete. The YouTube channel @TechRax intentionally placed an iPhone without a case inside a freshly poured concrete brick that they allowed to fully harden. It appears in Alex Blair's video that the cement was still fairly wet, which helped him to extract it a bit more easily.
Article continues below advertisement
@TechRax was able to retrieve the iPhone, but the results weren't pretty. The shock of cracking open the concrete shattered the iPhone's screen and appears to have disabled a lot of its other features.

Article continues below advertisement
The iPhone 12 and 13 pack an impressive IP68 durability rating, which means that each device can be submerged in up to six meters of water (nearly 20 feet) for a whopping 30 minutes and still be fully operational. The phone is also made in such a way that it has the highest possible rating for keeping out dust and other small particles (like sand). IP68 is the highest possible resistance rating (for IP ratings, that is) for consumer tech.

There is an endurance protocol for devices that are more heavily fortified than IP 68 devices, like STD-MIL-810, which is implemented in the creation of a lot of US military tech. RugGear describes just what devices rocking this protocol can go through: "MIL-STD-810 addresses a hugely broad range of environmental conditions that include: low pressure for altitude testing; exposure to high and low temperatures plus temperature shock (both operating and in storage); rain (including wind blown and freezing rain); humidity, fungus, salt fog for rust testing; sand and dust exposure; explosive atmosphere; leakage; acceleration; shock and transport shock; gunfire vibration; and random vibration."