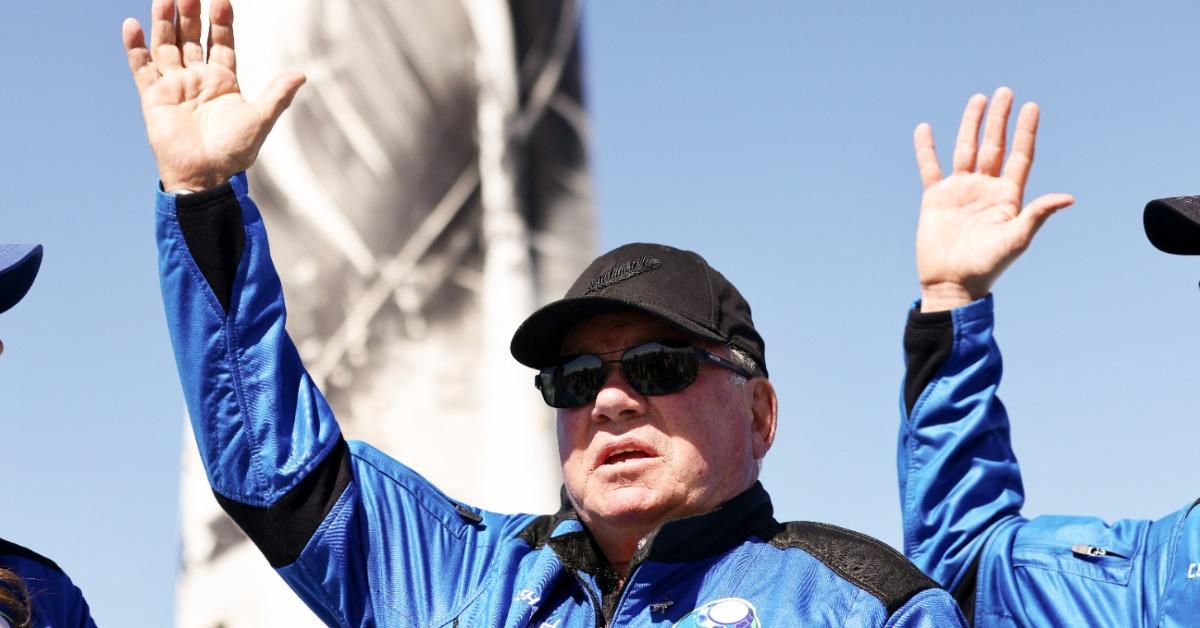 William Shatner Received This Distinguished Award From NASA Back in 2014
Over the last few weeks, William Shatner's first-ever trip to space and the fanfare that accompanied it has been covered widely. Captain Kirk himself has finally achieved his lifelong goal when he blasted off into the great unknown on Oct. 13, 2021. The mission was a resounding success.
Article continues below advertisement
William has been known for decades as one of the most important figures in sci-fi television history, and his trip 347,539 feet above ground level was the first time that the Star Trek star ever actually left the planet. However, it was not the first time that he worked with NASA in an official capacity.
Keep reading for all of the details regarding the first time William crossed paths with the storied space organization, and the award they presented him with later on.
Article continues below advertisement
William Shatner made headlines for his 2021 spaceflight, but he first crossed paths with NASA years prior.
Although Oct. 13, 2021 marked the first time William entered the stratosphere officially, his interactions with NASA date back longer than that. The actor has always maintained an affinity for the organization, and it seems as though those who work for NASA are longtime Star Trek fans as well.
In 1976, when NASA was prepping its successor to the Apollo program, a new space shuttle — originally dubbed Constitution — was renamed Enterprise to honor the infamous Star Trek ship that William's character helmed.
Furthermore, as a way to honor the final Discovery shuttle flight in 2011, William lent his voice to recreate the famous Star Trek intro sequence to be used as a wake-up call for astronauts of the STS-133 mission.
Article continues below advertisement
The actor was tapped yet again in 2012 as the host of a video presentation that was used to preview the mission that the Mars rover, Curiosity, was undertaking. It's clear that he and NASA have a long and storied history together, something that the organization decided to honor not too long after his aforementioned hosting gig.
Article continues below advertisement
William Shatner was awarded the Distinguished Public Service Medal by NASA in 2014.
To honor his immense support for NASA over the years, the organization chose William to receive their Distinguished Public Service Medal in 2014. This award is the highest honor that can be bestowed by the agency to a non-government individual. Per NASA, the reasoning behind awarding William with this medal had to do with his "outstanding generosity and dedication to inspiring new generations of explorers around the world, and for unwavering support for NASA and its missions of discovery."
David Weaver, who at the time was NASA's associate administrator for the Office of Communications, said during the reception honoring William that he was "most deserving of this prestigious award."
"William Shatner has been so generous with his time and energy in encouraging students to study science and math, and for inspiring generations of explorers, including many of the astronauts and engineers who are a part of NASA today," David said.
As a longtime advocate of space exploration and scientific betterment, William is a shining example of exactly what NASA looks for in those who receive their Distinguished Public Service Medal.
Aside from the actor, some of the other names awarded with the medal in the past include astrophysicist Neil deGrasse Tyson, sci-fi writer Robert Heinlein, and astronomer Lyman Spitzer.