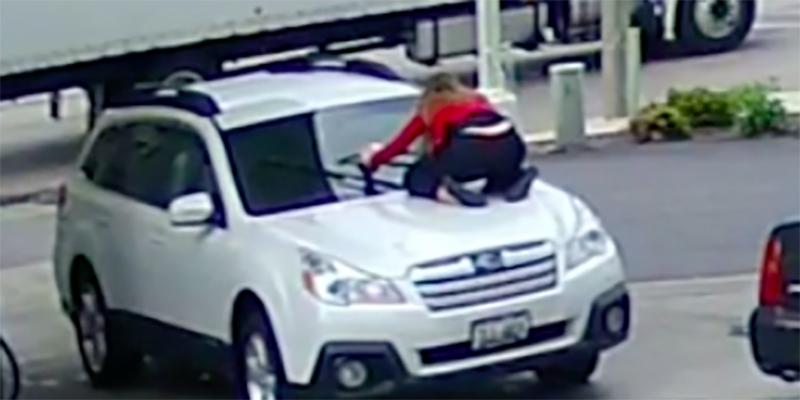 This Woman Stopped A Carjacking By Leaping Onto The Hood Of Her Car
By Jaime Lutz
If you've ever worked hard for something only to one day have it stolen, then boy do I have a story for you. Many of us have had something stolen from us at some point in life. When you were a kid, it was usually a toy that you brought with you everywhere. A few years later, it isn't uncommon to hear that someone had a game stolen out of their locker, or even worse, their phone.
When you're an adult, theft becomes more than just loss of property; it becomes an insult. You work 60 plus hours per week (let's face it, the 40 hour work-week isn't commonplace anymore) to pay for life's basic expenses and if you're lucky enough, you get to splurge a little bit every now and then on something. Sometimes it's just a nice bag, but others it's something that impacts your life in a big way, like a car.
Those thefts hurt the most. Some people depend on their cars to get themselves to work every day, or use it for work. Others use it to drop their kids off at school and parents off to the doctors before delivering themselves to their place of employment for the next ten hours or so before circling back to pick them all up and do it all over again for the next 4 days.
A woman jumped on the roof of her car to stop a thief who was driving it away—and believe it or not, this isn't viral marketing for Wonder Woman. CNN got the insane video:
The woman on the roof of the car, Wisconsinite Melissa Smith, admits she's "apparently a little" crazy.
"This is what I'm doing," she told CNN that she thought during her car leap. "You are not leaving with my car, I'm not dealing with this sort of crap today, and that's just what I did." That's right—her superhero move came out of pure annoyance, which is perfect.
"I don't tolerate this sort of behavior," she explained.
The carjacker's reaction to her, as she screamed in his face from the hood of the car? "He laughed at me," Smith said. In a few seconds, however, she apparently spooks him, and he gets out of her car. She then opens the front door and jumps into the moving vehicle.
The thief fled away for now, but Smith has her car back. How would you handle this situation?