Car Dealership Employee Tries Screwing Customer, Gets Revenge When Manager Catches Them
A Redditor shared a story of how a car dealership employee's attempt at screwing them over ultimately backfired after management got involved.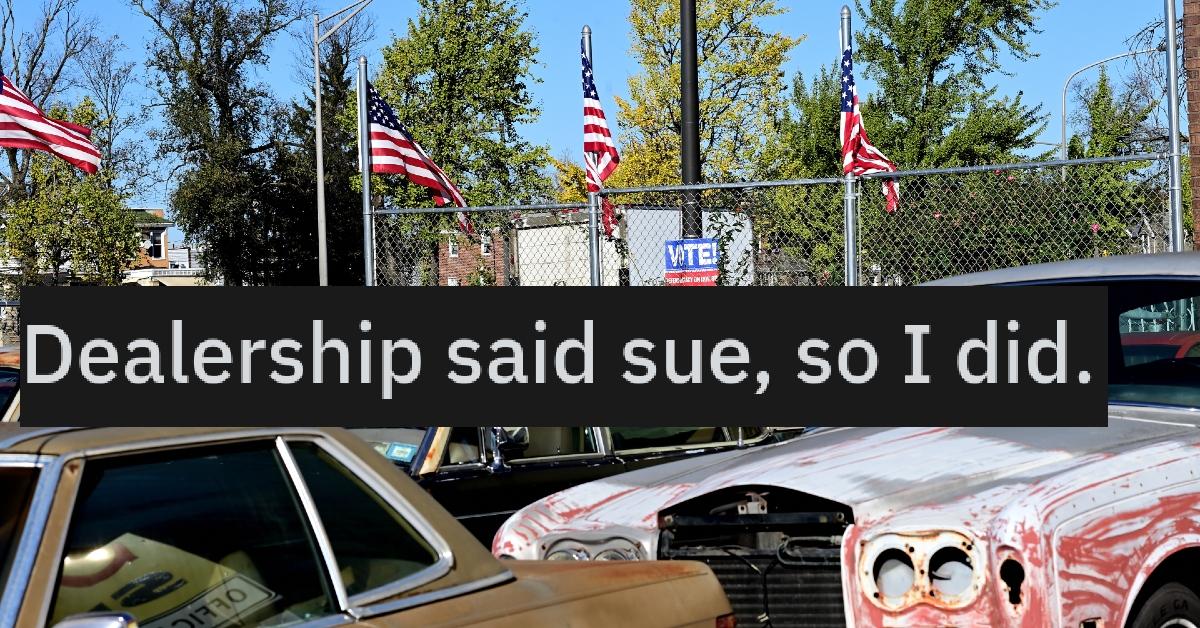 Shopping for a car is usually about as fun as nailing your hand to a burning building. The interminable wait times, the song and dance of sitting with a salesman who has to go back to the manager to "get approval" for the figures you discussed. Then there's the matter of them trying to get you to do financing through them (which you should never do, get pre-approved at a bank beforehand) and the entire ordeal takes way longer than it should.
Article continues below advertisement
And as bad as sitting in a dealership and attempting to work out a deal is, it's nowhere near as bad as buying the car, taking it on the road, and then ending up with a lemon. This is exactly what Redditor @functi0nalpsych0path said happened to them after they purchased a 2014 Mazda 5 minivan from a Texas car dealer.
Shortly after buying the vehicle, the user was left stranded on the road on Christmas day. After digging around under the hood they found a host of issues with the vehicle: the tires were pretty much bare. Fuses were missing, the horn wasn't connected; it seemed almost as if whoever put the thing together to sell did the least amount of work possible to pass the car off as OK to buy.
Article continues below advertisement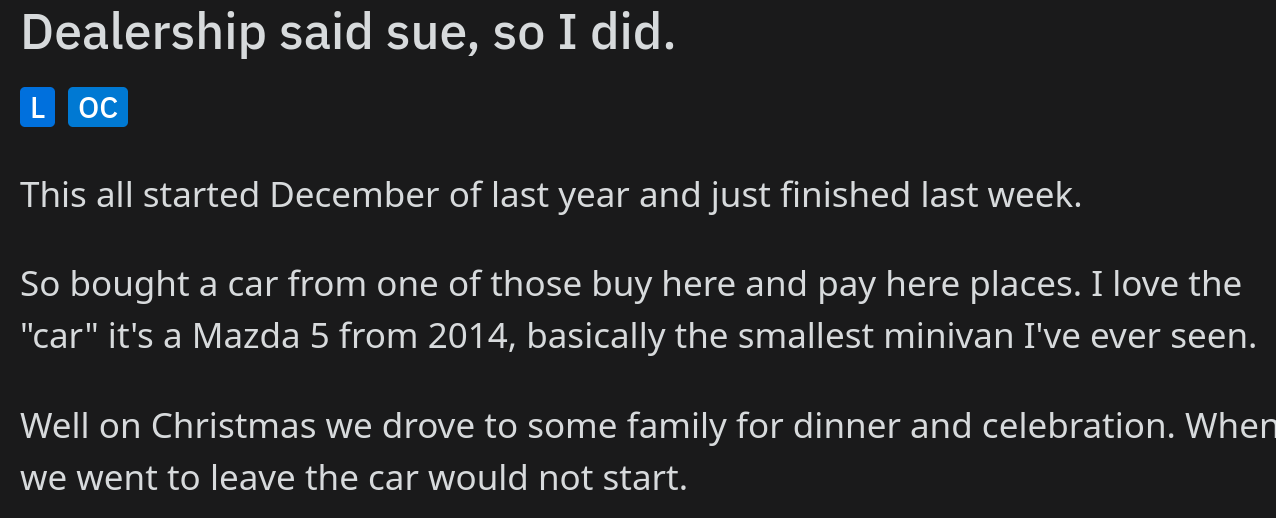 The Redditor decided to do some troubleshooting on the vehicle and hooked it up to a car scanning tool that reads back any error codes from the vehicle and lo and behold there were a bunch of them. Seeing as the Redditor and their family were out in the middle of nowhere they had to call AAA to get the car towed.
Article continues below advertisement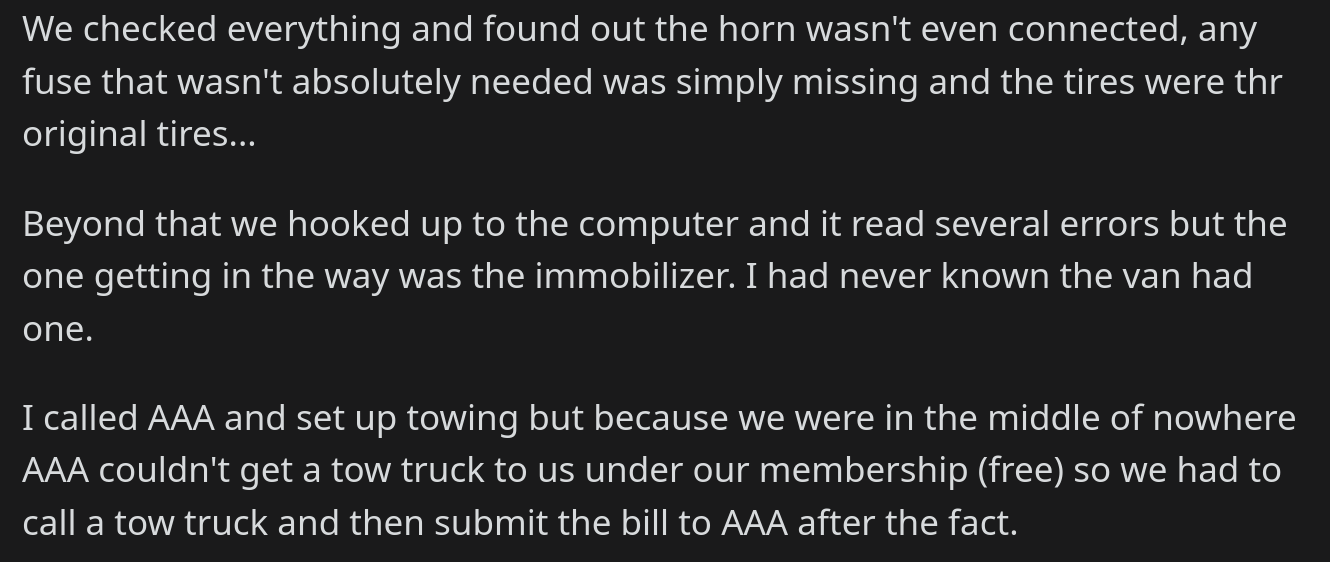 The problem was they had to front the cost of the tow out of pocket and then submit the bill to AAA later because the company couldn't get a truck out to them. They phoned the dealer after the fact to highlight their problem and at first, it seemed like the business was going to help them out.
Article continues below advertisement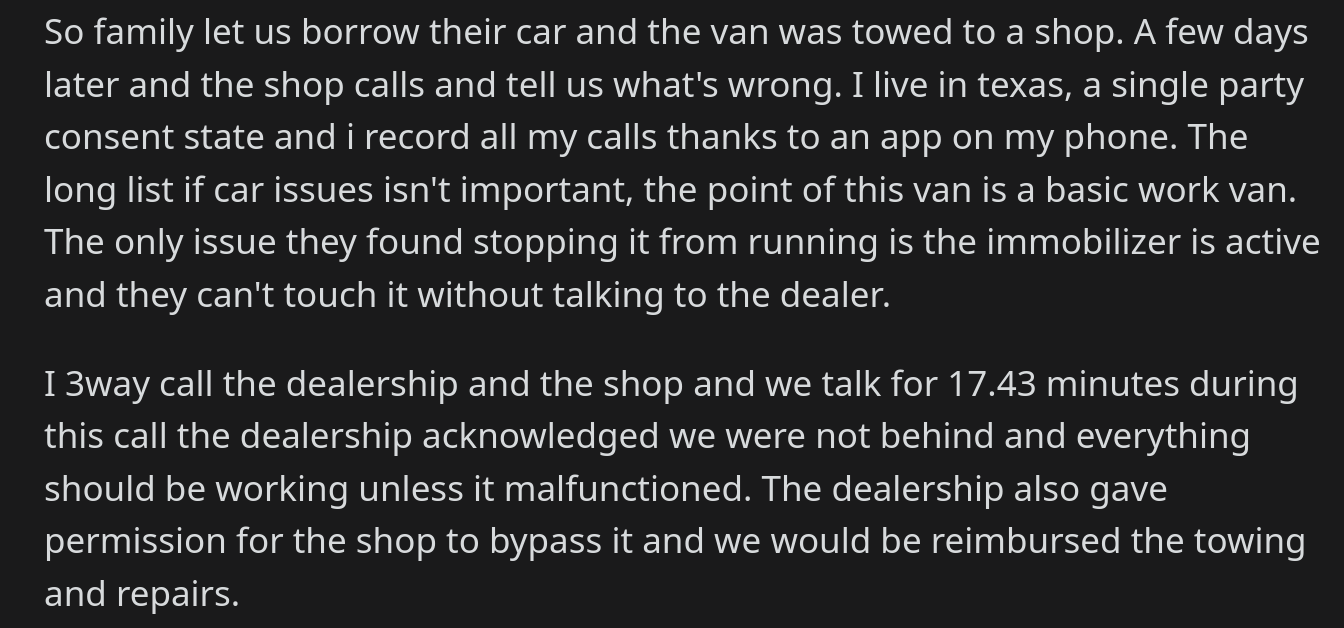 One of the errors that they received was for the immobilizer, which, according to Dubizzle is a security token issue. OP had gotten their car towed to a shop but was told the immobilizer problem couldn't be solved unless the dealer was involved, so they got the repair shop on the line with the dealership and recorded the whole thing. Texas being a one-party consent state in terms of recording conversations, they were allowed to do that.
Article continues below advertisement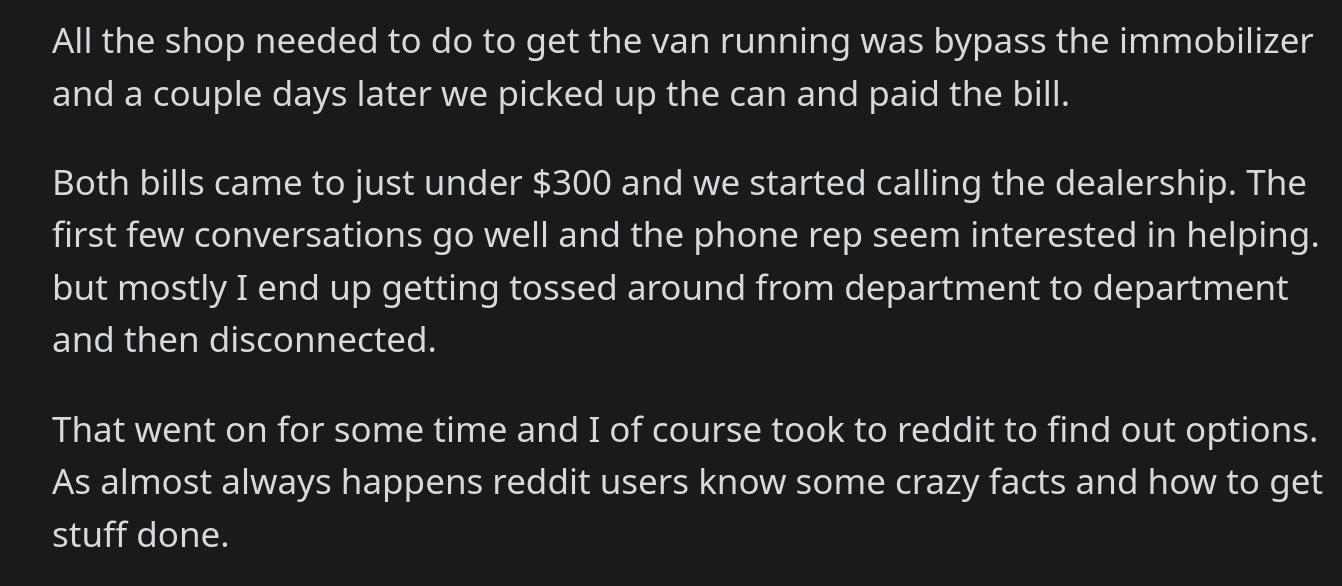 OP said that "both bills came to just under $300" and after repeated calls to the dealership to try and get the money back for the repairs, it became evident that whoever they were talking to just wasn't interested in getting them the cash. In fact, they ever went so far as to tell the Redditor to sue them for it.
Article continues below advertisement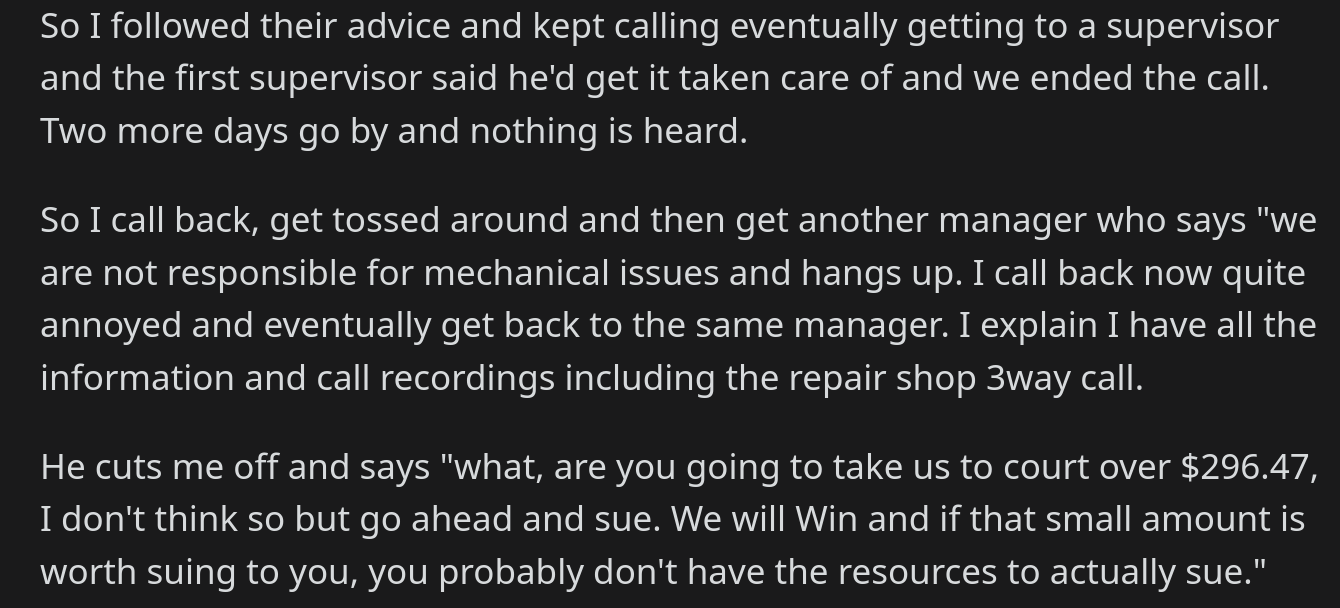 After being red up of being given the runaround and flat out being told by the dealership that they don't cover mechanical issues of their vehicles. When OP brought up the fact that he had conversations with them recorded, the dealership replied with: "what, are you going to take us to court over $296.47, I don't think so but go ahead and sue. We will Win and if that small amount is worth suing to you, you probably don't have the resources to actually sue."
Article continues below advertisement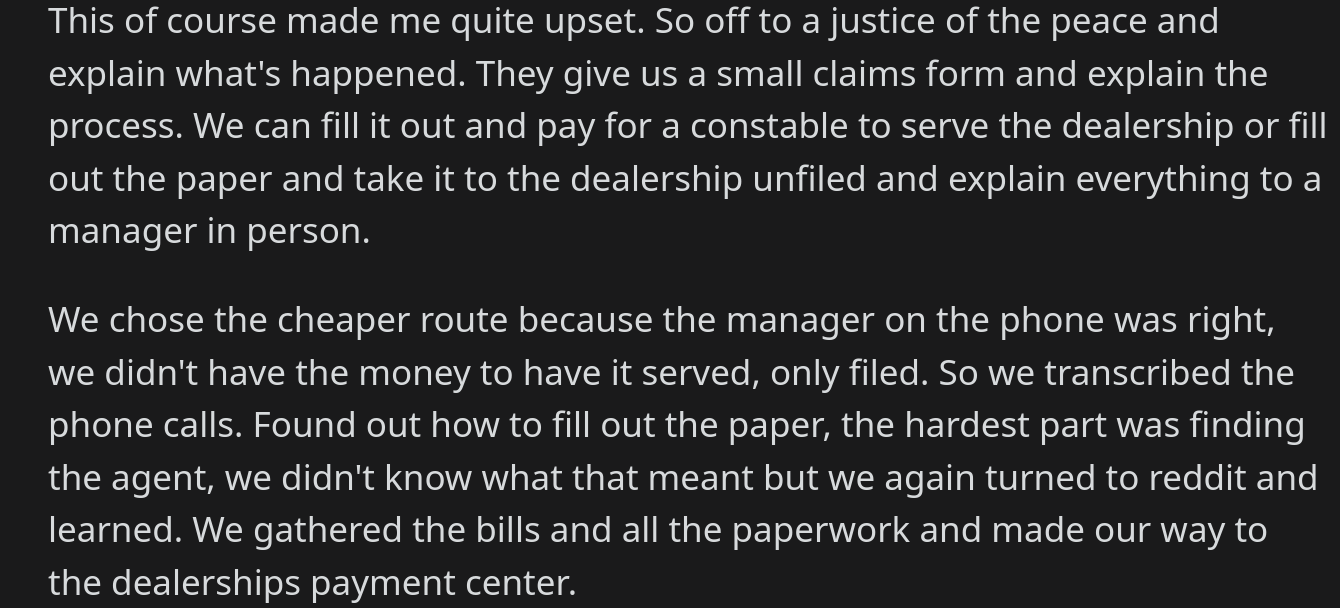 Article continues below advertisement
This is when OP does their due diligence: they prepare their recordings, transcribe their conversations, head to the internet for legal advice to make sure they're not missing anything and then with evidence in hand decide to go to the dealership to talk to the individual who bluntly told them to take them to court.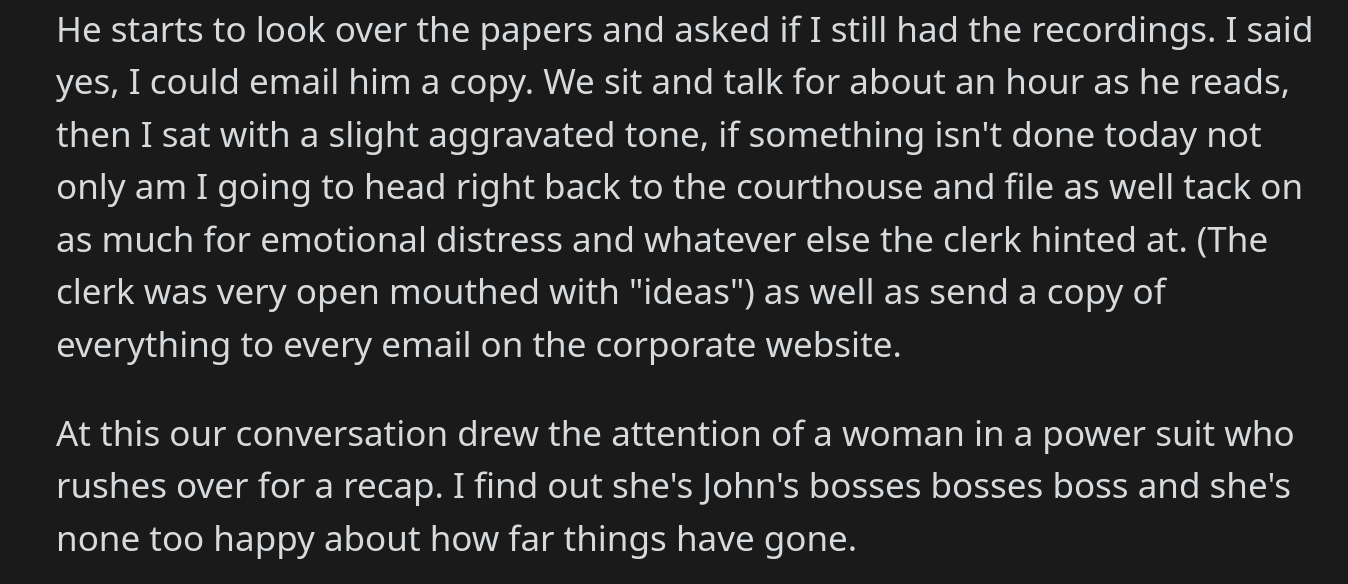 Article continues below advertisement

While they were discussing it with said individual, the associate's boss overheard the conversation they were having with OP. They then came over, saw what was going on, and asked the Redditor if they were OK with instead of being given cash if they could have a monthly car payment credited to their account instead, OP agreed.
Article continues below advertisement

And it turns out that the manager not only kept their word but ended up firing the employee who gave OP such a hard time over a few hundred dollars when they were clearly not at fault.