Retail Employee Claims Customer Ruined 5 Shirts in the Fitting Room for the Pettiest Reason
A retail employee discussed an experience they had with a woman who ruined 5 t-shirts so she could have something to stand on while trying out clothes.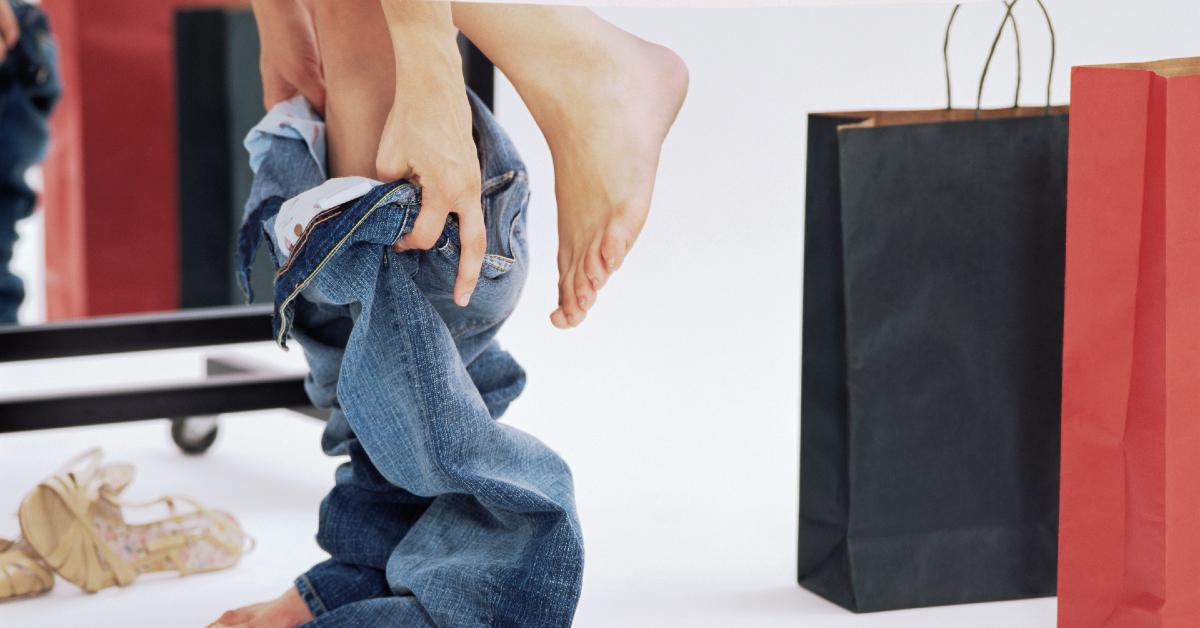 TikToker and actor/composer Ethan Carlson, who posts under the TikTok handle @therealethancarlson, relayed a story about a "ridiculous" customer who trashed five t-shirts in a clothing store dressing room. His story went viral on the popular social media platform, and throngs of other users were just as shocked as he was at the blatant disregard she showed for the store's merchandise.
Article continues below advertisement
"The other day at work, a woman ruined five t-shirts, and when I say ruined, I mean the t-shirts went to their grave into a new life, perhaps a past life," Ethan began.
"Anyway, the woman comes in, she's giving you like late '30s early '40s. She comes in with, like, her venti iced caramel macchiato with two pumps of matcha in a grande cup, you know what I mean?"
The retail worker continues the story, expanding on his interaction with the woman, "She walks in, she's shopping around, she finds a couple of shirts, couple of tops, and I'm like, 'do you want me to start your fitting room?' She's like, 'I'm ready,' I'm like great. I walk her to the fitting room and she goes, 'can you just grab me like four or five t-shirts?'"
Article continues below advertisement
This seemed like an odd request, because folks usually know what clothes they want to try on before heading into a fitting room. Nevertheless, Ethan was more than willing to help the woman pick out some clothes. "And I was like, "in theory...?" Like, yeah, what size do you wear? What kind of t-shirts do you want? Are you looking for graphic, plain... like what's going on?"
Article continues below advertisement

"She's like, doesn't matter, any size, just like four or five t-shirts, I was like, great. Confused, but great. So, I come out, being a great employee of this establishment, I grab five tops, t-shirts. I give them to her and I'm like, 'here you go, here are those things...I pulled them for you.' She's like, 'great.'"
Article continues below advertisement

At this point, it was still unclear why she wanted the shirts, but Ethan would soon learn why she didn't care which t-shirts he brought her.
"[She] closes the curtain, throws the five t-shirts onto the ground, presumes to take off her shoes, try on the pants, and only step on the t-shirts, not step on the floor, cause how dare she step on freshly mopped fitting room floors."
Article continues below advertisement

Ethan was gobsmacked by the woman's behavior. "She starts trying on, she's literally just standing on these t-shirts, like ruining them, like turning to see like, check herself out in these pants while clothes are like twisting on the floor, these five t-shirts, she leaves, I'm like did anything work out? And she goes, 'Oh I'm gonna grab these,' she buys one pair of pants and leaves the five t-shirts in the fitting room."
Article continues below advertisement

He continued, "So I go in, I grab all five of them and I go did none of these work out? And she's like, 'oh I was never gonna get those.'"
Ethan couldn't believe the lack of consideration and class the woman exhibited while purchasing her pants. "People...are...frightening."
Article continues below advertisement

TikTokers were just as horrified as Ethan was at hearing the stories and many others chimed in with retail nightmares of their own.
"She ruined your merchandise to try on pants!?!?!" wrote one viewer.
"I had a woman do this with a whole size run of WHITE camis to clean up her Pepsi she spilled," said another retail worker.
Article continues below advertisement

"Has this person heard of *socks*?" someone else mused.
"i have so many questions does the floor in her house consist entirely of t-shirts?" wondered another.
"When she gets her carpet cleaned, she has to go to a dry cleaner cause it's literally just t-shirts," Ethan joked in response.
Article continues below advertisement

Have you ever worked retail and encountered a customer like this? How about in another industry? Where do you think this kind of entitlement comes from?