The Internet Trolls Tom Brady's Bloody Lip With Surprisingly Accurate Memes
Tom Brady sustained a slightly bloody lip during the Bucs game, and the internet is trolling him for his reaction with hilariously accurate memes.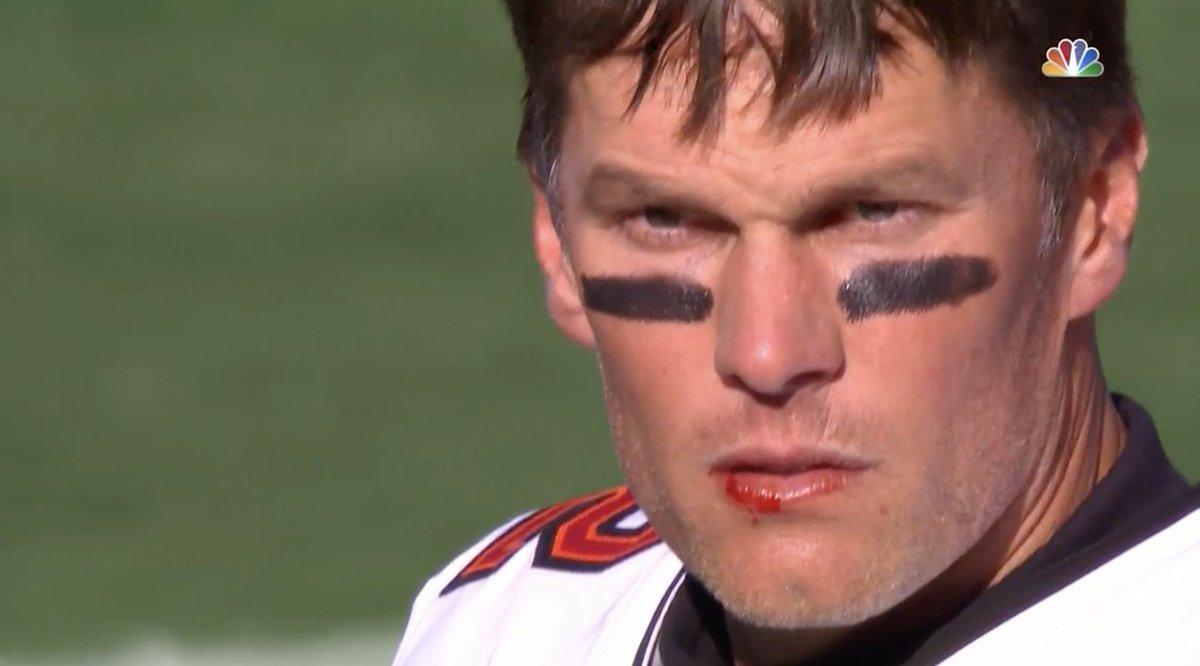 Just days before the Tampa Bay Buccaneers faced off against the Los Angeles Rams in an NFC divisional game, star quarterback Tom Brady admitted that the NFL refs let him get away with more smack talk and disrespectful behavior than other players. Wow, who would've thought Tom would confess to this?
Article continues below advertisement
"I do know that [the officials] probably let me get away with a lot of unsportsmanlike conducts, talking smack to the other team and talking smack to the refs when I don't think I get the right call," Tom said on the Let's Go! podcast with Jim Gray. "I'm kind of a pain in their a-- if you don't already know that."
Well, NFL officials must've heard this because on Sunday, Jan. 23, Tom Brady got his first-ever unsportsmanlike conduct penalty. During the game, Rams linebacker Von Miller connected with Tom's helmet, resulting in the quarterback sustaining a bloody lip.
In typical Tom Brady fashion, he threw a fit over the situation. As a result, the internet began to troll and roast the 44-year-old for his somewhat bloody lip. The fans produced some of the best memes of the 2021 NFL season, so check them out below!
Tom Brady is so brave for sticking it out.
Tom Brady is the modern-day hero we all deserve. The fact that he found the courage to stick it out and play the rest of the game with a barely bloody lip is something we can all learn from, and his bravery will not go unnoticed.
Article continues below advertisement
Nobody makes Tom Brady bleed his own blood.
The 44-year-old quarterback embraced his inner White Goodman (Ben Stiller) from Dodgeball: A True Underdog Story by complaining about someone else making him bleed. It's clearly unacceptable, and Tom Brady hopes to never deal with a situation like this again in his career.
Article continues below advertisement
Some would say this is an over-exaggeration on Tom's part.
My god, how did Tom Brady survive such a bloody mess?! That bloodstained lip is nothing to be messed with, and we're surprised he didn't need immediate medical attention. Just kidding, he really exaggerated the situation, so much so that he acted as if he was bleeding out quite like a WWE superstar.
Article continues below advertisement
The NFL refs have had ENOUGH of Tom Brady's tantrums.
For the first time in what feels like ever, the NFL refs actually ignored Tom Brady's constant whining. After he sustained the bloody lip, Tom immediately turned to the refs and started screaming at them to do something.
Thankfully, they dismissed the quarterback's wishes and instead stuck him with an unsportsmanlike conduct penalty. Wow, it sure does feel good to the refs finally standing up for themselves against Tom Brady!
Article continues below advertisement
This bloody lip looks more serious than we thought!
If you're a sports fanatic, then Tom Brady's bloody lip fiasco looked a bit familiar to Paul Pierce's infamous wheelchair game during Game 1 of the 2008 NBA Finals.
The former Boston Celtics star was wheeled off the floor with what appeared to be a severe knee injury, only to return to the floor minutes later and lead the team to victory over the Lakers. Well, we're surprised Tom Brady didn't get carted off the field because his actions were quite similar to Paul's.
Article continues below advertisement
Nothing like pointing out the obvious!
Desperate times call for desperate measures, and that's precisely why Tom Brady blew up on the refs during Sunday's game. His team was down, and a comeback seemed unlikely, so what better way to stop the clock and get the refs on your side than by pointing to your slightly bleeding lip and screaming "blood." Nice try, but it didn't work this time.
Article continues below advertisement
And just like Thanos, Tom Brady's dominance came to an end.
In the end, even Tom Brady's bloody lip couldn't save the Bucs. After coming back from a 24-point deficit, the Los Angeles Rams won the NFC divisional round with a game-winning kick from Matt Gay.
The comparison to Thanos is pretty spot on — both had the world in their hands and garnered much bling throughout their lifetime, but it wasn't enough to keep their fight going strong. Plus, both sported a slightly bloody wound, so they're even more alike!