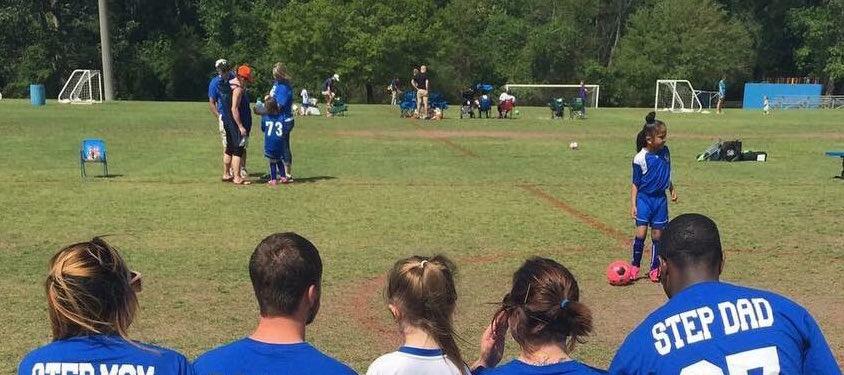 This Little Girl's Step-Family Redefines Parenting Goals In One Picture
By Aimee Lutkin
Maelyn is a 4-year-old girl who does all the usual stuff little girls with supportive parents do, like run around in the park trying to figure out sports. Her family took a picture of them all together at one of her soccer games, showing off their custom-made jerseys. Maelyn's in the middle, obviously, and well, you can probably tell who everyone else is. It's quite diverse and it's the true picture of what an American family looks like in 2017. and for that it's going viral:
BuzzFeed News reports that after a Twitter user posted the image with the question, "How y'all feel about this?" captioning it, the picture went viral. That guy was obviously trying to stir the pot, and he was right: Everyone had an opinion about families of divorce going to extraordinary lengths to keep things good for the kid. Some of those opinions were very negative, which isn't surprising given the trollish nature of the internet:
But most people are like, "YESSSSSSSS." Us too, us too.
And for people doubting how real the picture is, someone in the comments said it was actually posted by the girl's step-mom, Emilee Player:
BuzzFeed spoke with Maelyn's mom, Clara Cazeau, who said she feels it's important for the family to work out co-parenting in a way that's good for Maelyn. "It is important that Maelyn grows up knowing that her mommy and daddy were able to put our differences aside for the sake of her," she said.
And Emilee told them, "I'm glad we can be a positive influence to other blended families." Brief words from mature adults who have already said everything they need to with one perfect picture.
It's a heart felt message we hope people embrace.