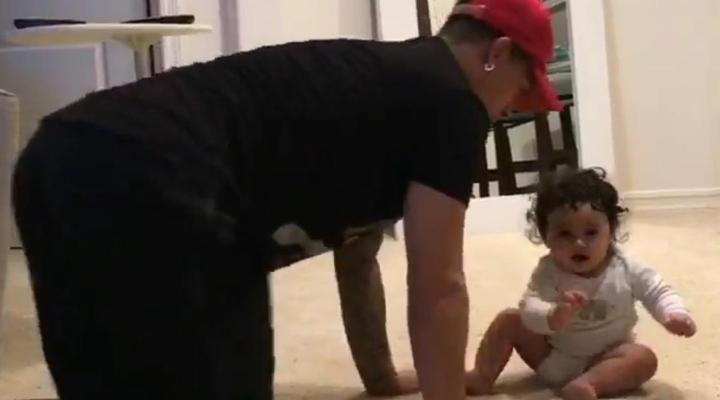 This Dad Teaching His 8-Month-Old To Avoid Boys Is The Cutest Thing Ever
By Mark Pygas
It's fair to say that most people are pretty protective of their children. They're your angel, and shouldn't settle for anything but the best. So you have to teach them from a young age to avoid boys and girls at all costs.
Twitter user Austin McBroom decided to start earlier than most, specifically at 8 months. He shared this hysterical video of how he's taught his daughter to avoid boys who try to talk to her, and it's already raked up an impressive 6.31 million views.
"What did daddy teach you?" McBroom says to his daughter, who's sitting in front of him in a onesie. "When the boys come up to you and try to talk to you, what do you do? Tell 'em. I'm the boy, OK, ready? Let's practice."
As he makes his way towards his daughter, she hilariously crawls away from him. "Good job," the proud dad exclaims. "You crawled the other way. Get out of there, OK?"
McBroom captioned the lighthearted video, "She's only 8 months and she already knows...."
Someone else tried to teach their son the same trick, but it didn't seem to work quite as well.
Others just found it hilarious.
This is what dads do. They protect their baby girls, no matter how old they are! We'd love to check in on this tot 15 years from now to see if she heeded her dad's warning.
What important life lessons did your dad teach you in your youth? We'd love to hear them.