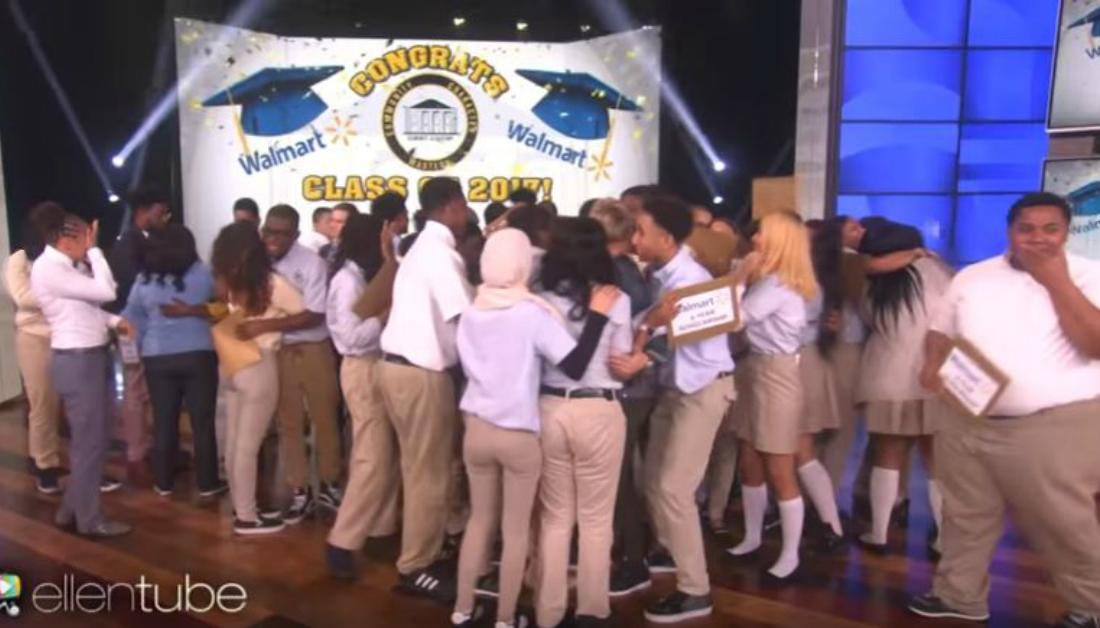 Ellen Just Paid For An Entire Group Of High School Seniors To Go To College
By Mustafa Gatollari
It's no secret that college in America is going downhill. Not only are our national rankings rapidly losing ground to international universities, but the cost of education is now at an all-time high.
However, thanks to the generosity of the Ellen Show, host Ellen DeGeneres, and Walmart, every student in this class of graduating seniors will be able to pursue four years of college without incurring even a penny of student debt. I'm not crying, you're crying. Seriously, a college degree with zero debt is the new American dream, something ever family hopes to achieve but which seems less and less attainable every year.
Which wouldn't be a problem if the salaries for the jobs we aren't getting are increasing at a proportional rate, but they aren't. So what we're faced with today is a new age of indentured servitude. Many college graduates are facing a lifetime of debt and accrued interest just so they could receive an education.
Sure, there are federal student loan programs, and there are people who finagle the right way to ensure they're not in debt. The problem is most America students aren't taught how to properly manage their finances or fund their college careers while they're in high school. And it doesn't look like that's going to happen anytime soon.
But these high school seniors won't have to worry about that, thanks to Ellen DeGeneres. After appearing on her show, the popular host revealed that they're all receiving full college scholarships, and it was beautiful.
If you're a high-schooler or are thinking about getting some higher education, you might want to consider going overseas. There are tons of free or very low-cost options in this list that all offer courses in English and help students land jobs and attractive living situations. Check them out here, because it's not like all of us are lucky enough to get an Ellen scholarship.