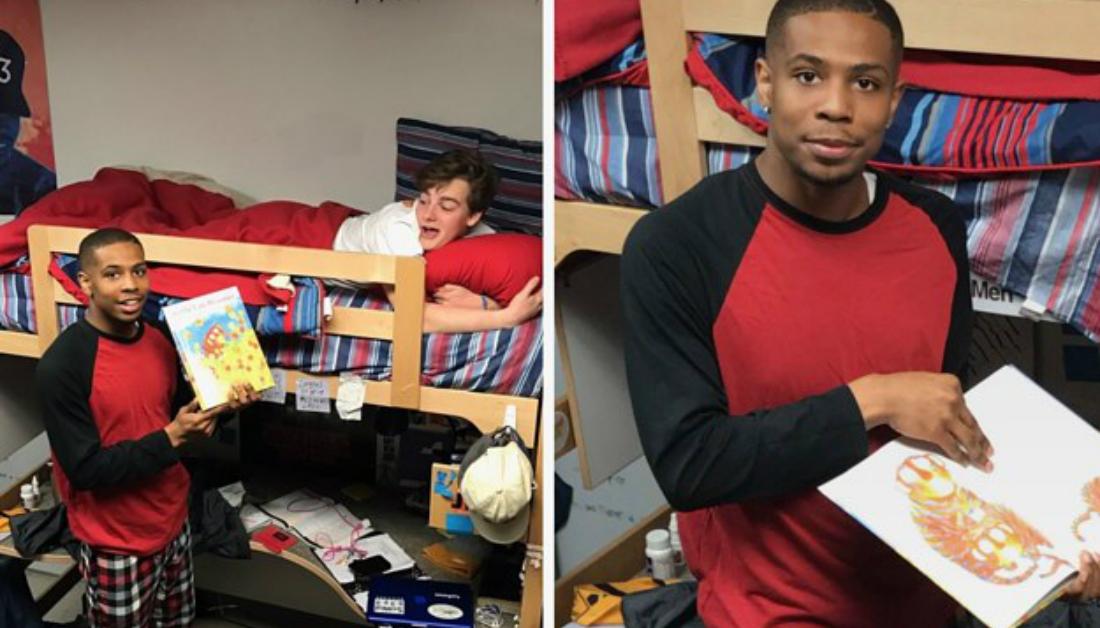 This College RA Read A Bedtime Story For A Freshman In His Dorm And The Internet Swooned
By Mustafa Gatollari
Adjusting to dorm life can be difficult for some students, especially if you're transitioning from essentially living at home with your family, and especially especially true if your parents spoiled you rotten.
I'm talking about getting essentially free meals, your laundry done for free, a car with gas whenever you want to drive it, being on someone else's insurance plan, petty cash whenever you need it, and a support system that'll always make sure you're taken care of.
Now I'm not saying that this is true for everyone, some people didn't have the luxury of growing up with parents, and those who did might've had folks who didn't coddle or spoil them as much as others. Whatever your case is, though, getting adjusted to dorm life takes some time.
RA Quamir Boddie understands the Freshman struggle and asked incoming students if there was anything he could do to make their years more enjoyable.
Which is something that 19-year-old College Freshman Andrew Kochamba the University of Tennessee took full advantage of when he asked Quamir to read him a bedtime story on his birthday.
Quamir obliged, despite admittedly finding the request "kind of strange," he grabbed a copy of "Leo the Late Bloomer" and read it to Kochamba.
In an interview with BuzzFeed, Quamir said that he chose that story because it resonated with him as he was held back in the first grade.
Kochamba said he was impressed with Quamir's story-telling skills.
"Q knocked on the door, rocking his PJs and a copy of the classic Leo the Late Bloomer by Robert Kraus. I got all situated, and Q stood on top of my desk chair and read. He read it all upside down so I could see all the pictures. It was impressive."
Andrew wasn't the only one impressed with Quamir going through with the gesture, turns out a lot of people on the web thought he was a swell guy too.
Someone called it very early that Quamir would become a meme.
And well, they were right.
Most people were just jealous that Kochamba got an RA as awesome as Quamir.
He's now being used as an example for all other RAs to follow.
But yeah, Quamir is totally the RA of the year. Totally. You won't catch me reading a bedtime story to a grown-ass man.
Lol, who am I kidding? Of course I would! It sounds awesome.