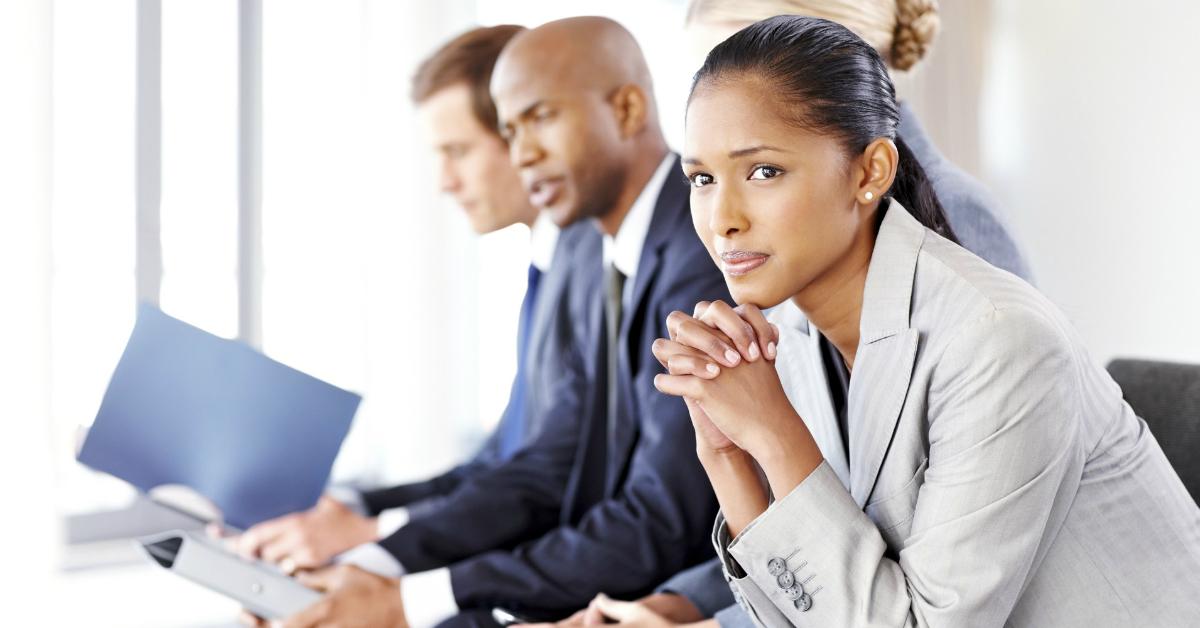 This Woman Was Sent Home During A Job Interview For Not Dressing 'Conservatively' Enough
By Mustafa Gatollari
Job interviews can be really stressful. I don't know about you, but any interview I ever did well on I absolutely obsessed over the tiniest details. I made sure my suit was perfect, that my hair was was on point, which meant combing it (which is rare for me, OK?). I try and rehearse all of the questions they're going to give me and go over them on my drive over there. Everyone feels the pressure for interviews, and for women it can be especially tough, because there are so many gender norms and societal expectations of what women should wear and how women should present themselves.
Personally, I get myself so nervous and worked up that when I finally sit down for the interview, a calm goes over me because I rehearsed whatever I think can go wrong in the interview. Sure, it's a nerve-wracking experience, but it's totally worth it because what's the point of doing anything meaningful if you're not going to at least fight to put your best foot forward?
So you can only imagine how crushed this young woman was when her interview was cut short a whole 50 minutes by a potential employer.
And all because they said she wasn't dressed "conservatively enough."
UK Retailer Boots sent Reilly packing, which is kinda confusing because what she's wearing actually seems pretty damn "conservative."She's fully clothed, wearing mostly dark colors, and is entirely covered. Unless they have a different definition of what "conservative" means?
Reilly gave the rundown of what happened during her disappointing interview. It all sounds pretty unprofessional.
"I got to the Boots Opticians in Richmond ready for my interview...I'd spent at least an hour making sure my hair and makeup and outfit was perfect and presentable. After being told to take a seat, and watching the interviewer dash about a bit with other issues going on that day, I was taken to a room where the interview started. The interviewer asked some general questions about what I'm doing at the moment and what previous jobs I've had. After scribbling some notes down, she said: 'The second half of the interview takes place on the shop floor. However I don't think that you're dressed conservatively enough to go on the shop floor, so we'll arrange to do the second part of the interview another day'. We agreed on Thursday at 11am, but I won't be attending," she said in an interview with Metro.
Reilly said that she "burst into tears" on the bus ride home.
But after posting her interview outfit on Facebook, she's been receiving encouragement from people who were appalled with the treatment she received at her interview.
You're a glorious starshine being and those f***ers are missing out -- THEIR LOSS. <3
You served me a few times in BHS, one of the most helpful and friendliest assistants ever! Their loss.
So what has boots got to say for themselves? Terrible behaviour xx
Their loss 😡 personally I think it must be that you actually know how to apply make up that's your downfall- some of the girls in our branch of boots look awful with their makeup caked on thick and orangey!! You were clearly too good for Boots, good luck in future where better things are waiting for you!! Xx
You look great! Shame on Boots.
You look amazing. Professional and approachable. Xx
Absolutely nothing wrong with your appearance. I would most certainly employ you if you came dressed like this.

As long as someone had the right qualifications and attitude though, I fail to see how someone dresses should impact on their ability or suitability for a job.