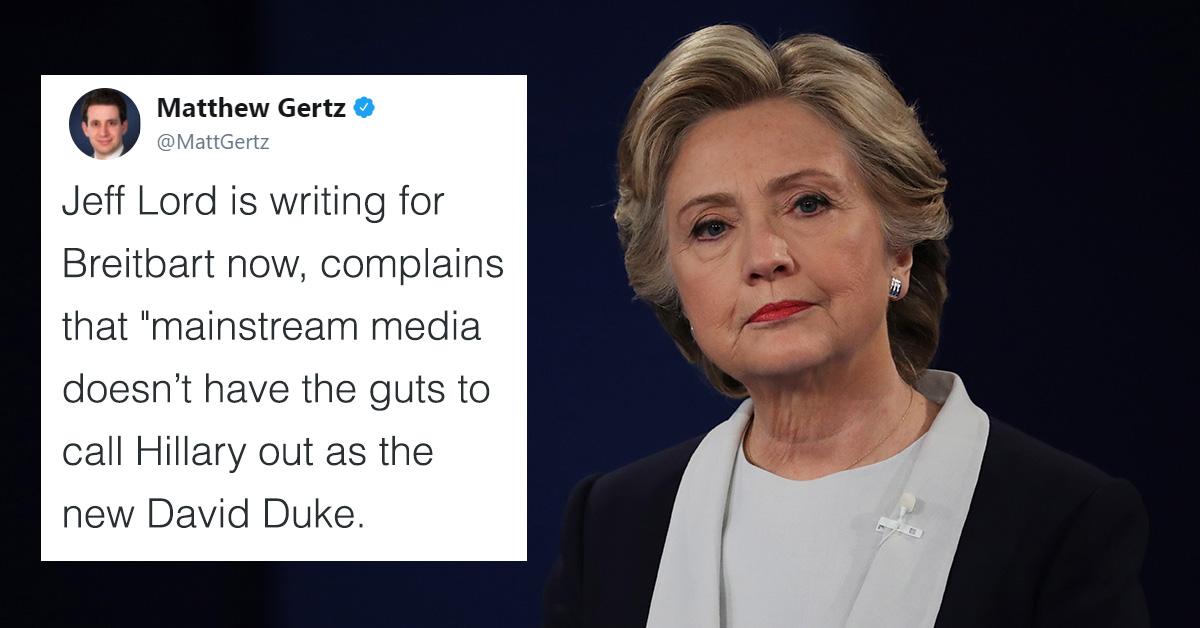 Conservative Reporter Compares Hillary Clinton To White Supremacist David Duke
By Mark Pygas
David Duke, a white supremacist and former Grand Wizard of the Ku Klux Klan, has unfortunately been back in the news recently. After the events unfolded, President Trump angered many Americans by saying that there were people "on both sides" to blame for the horrific incident. While plenty of people were upset with these comments, David Duke was among those celebrating the comments by the president. Following the events at Charlottesville, Duke took to Twitter to thank President Donald Trump for blaming "both sides" after a suspected white supremacist drove his car into a group of counter protesters, killing one. He tweeted, "Thank you President Trump for your honesty and courage to tell the truth about Charlottesville and condemn the leftist terrorist in [Black Lives Matter]/Antifa."
And now, Duke is making headlines again after Jeff Lord — a political commentator who currently is a writer for Breitbart after a stint giving commentary on CNN — compared the man to Hillary Clinton. According to a piece that her wrote the conservative website, Lord complained that "the mainstream media doesn't have the guts to call Hillary out as the David Duke." People were quick to note that Lord seemed desperate to make an edgy comment, that he didn't even bother to consider if it even made sense.
People were shocked my the comparison. "The odious, boring Jeff Lord who CNN subjected their loyal viewers to for months. He was the reason many quit CNN. He talks nonsense," one such naysayer tweeted. Another wrote, "They like whataboutism. 'Yeah but what about HILLARY'S racism.'" Another person accused him of using the shocking comparison of Hillary to a KKK leader to stay relevant after his failed career in the mainstream media, likely hitting him where it really hurts.