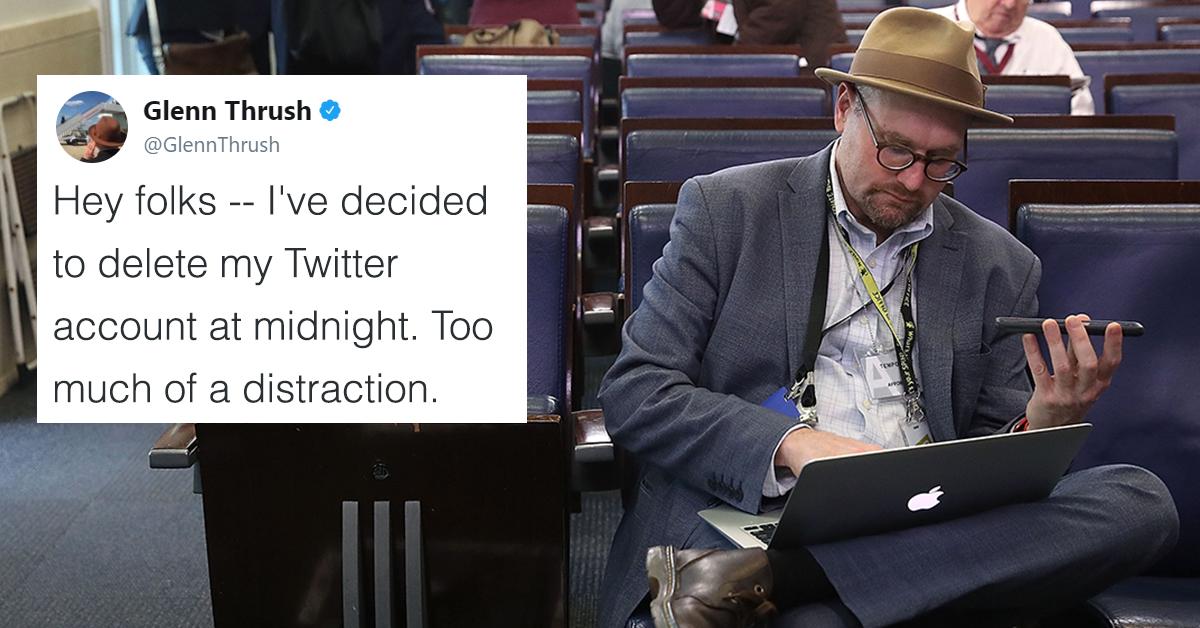 White House Reporter For 'The New York Times' Just Said He's Deleting His Twitter
By Mark Pygas
New York Times White House correspondent Glenn Thrush has announced that he plans on deleting his account calling social media "too much of a distraction." He tweeted, "Hey folks — I've decided to delete my Twitter account at midnight. Too much of a distraction. DM me for contact info. Thanks for reading!"
Thrush has since clarified that he won't delete his account, fearing that someone would grab his account name and pose as him, he simply will just cease tweeting. "As many of you told me...actually deleting a Twitter account turns out to be a terrible idea. So it's simply going dormant. Cheers." As he further explained, his publication insisted that he maintained the inactive account, just in case "someone bad" snatched up the name and handle and began tweeting as Glenn Thrush, without people realizing it was an imposter.
In the past couple of years — particularly in recent months — many people have blamed the current political climate for making Twitter an incredibly toxic space on the Internet. When you add President's Trump's tweets to the context of all the noise, it only becomes a less desirable place to be. And it's probably an especially tough place to be when you find yourself at the center of a political controversy — which Thrush has been (unfortunately for him).
For those of you who may not be familiar with the scandal, in October, it emerged Thrush, the then-senior Politico reporter, had allowed Hillary Clinton's campaign chairman to check his work before publication. "Because I have become a hack I will send u the whole section that pertains to u," Thrush wrote in an email to John Podesta, asking that the matter be kept between them.
Thrush received backlash on social media after WikiLeaks revealed the arrangement.