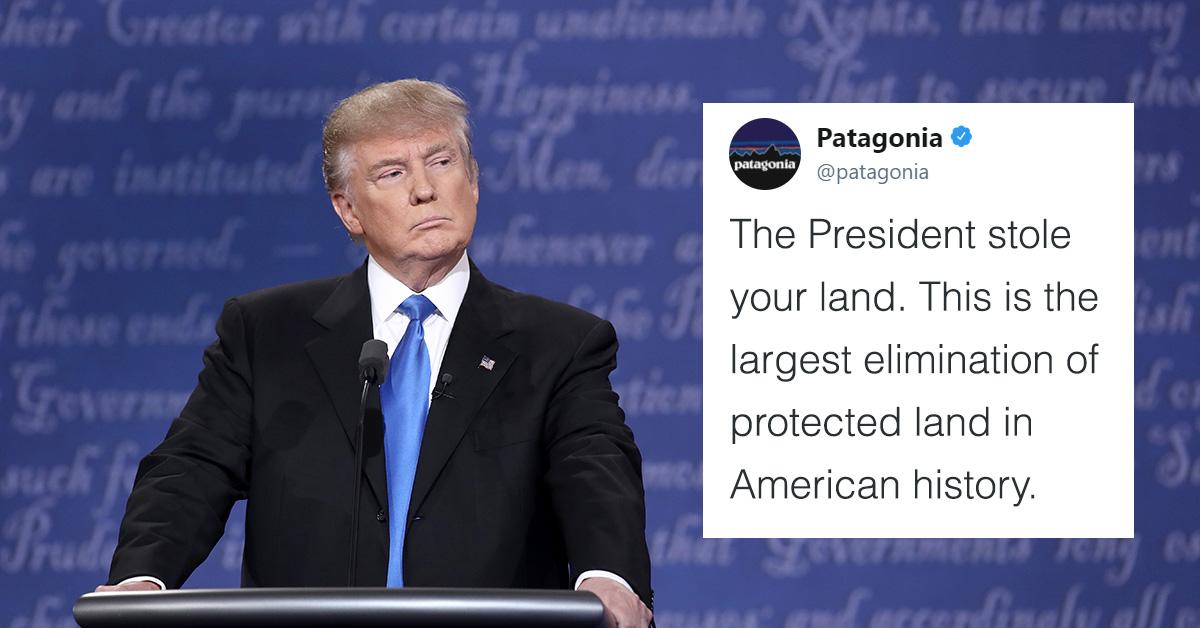 Patagonia, REI, and North Face Just Teamed Up To Slam President Trump
By Mark Pygas
President Donald Trump made a controversial decision on Monday, shrinking the size of two national monuments in Utah. Bears Ears and Grand Staircase-Escalante national monuments were collectively shrunk by more than 2 million acres.
Bear Ears will be drastically reduced from 1.35 million acres to just 228,784 acres. While Grand Staircase-Escalante will see its acreage nearly halved from 1.9 million acres to just over 1 million.
"You know how best to take care of your land," the president said to an audience at the Utah State Capitol. "You know best how to conserve this land for generations." He then called the designation of the national monuments an abuse of federal authority and the work of "distant bureaucrats."
"Some people think that the natural resources of Utah should be controlled by a small handful of very distant bureaucrats located in Washington," President Trump continued. "And guess what, they're wrong."
"I'm a real estate developer," Trump said. "When they start talking about millions of acres, I say, 'Say it again?' Because that's a lot.'"
The move is a dramatic U-turn from how other presidents have treated the Antiquities Act, introduced by President Theodore Roosevelt in 1906. Presidents have declared more than 150 national monuments in the century since, with many of the monuments eventually becoming national parks.
The move will open the land to economic development, including oil and gas extraction, mining, and logging.
President Trump's decision has attracted criticism from many, including outdoors brand Patagonia, who changed their homepage to protest the move.
Patagonia have been engaged in a year-long battle to defend the parks. When President Obama declared Bears Ears in December 2016, Utah Governor Gary Herbert immediately protested the move saying that President Obama had "misused his authority under the Antiquities Act."
Patagonia fought the governor by withdrawing from the state's Outdoor Retailer trade show. In response, Outdoor Retailer, which brings in $40 million to the state annually, said it would consider moving out of the state. Patagonia and North Face then pledged an additional $100,000 annually to the Conservation Alliance, which fights to protect public land.
REI made a similar decision to Patagonia following President Trump's decision, promising to "continue to advocate for the places we love."
North Face was also amongst the iconic outdoors brands to speak out.
Social media users applauded the move.
What do you think of the decision?