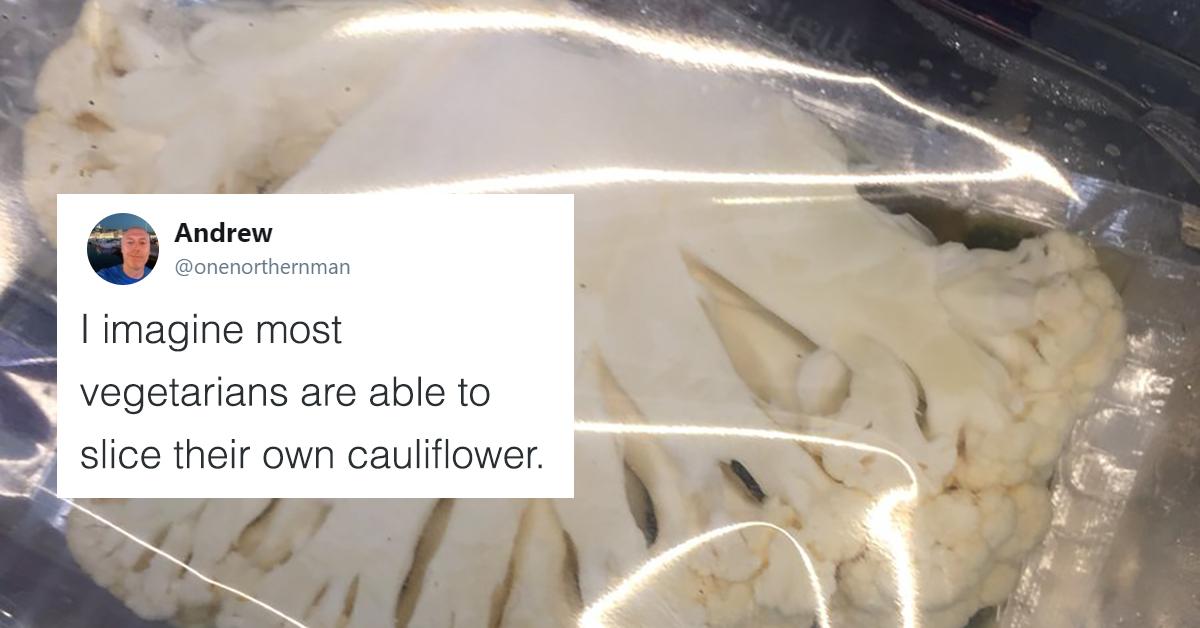 Grocery Store Tries to Sell "Cauliflower Steak" and Vegetarians Are Not Happy
By Mark Pygas
Grocery stores have tried selling some pretty absurd things in the past. Like when Whole Foods attempted to sell peeled oranges in plastic containers.
Whole Foods being the same store that attempted to sell "asparagus water," which was just water with some asparagus in it, for $6 a bottle.
Thankfully for us, and the planet, Whole Foods pulled their pre-peeled oranges after the above tweet went viral.
But now, British supermarket Marks and Spencer is trying to get away with something even crazier. We introduce to you cauliflower steaks. Yes, it's sliced cauliflower in plastic.
To be fair, it does come with a little sachet of lemon and herb sauce. But that doesn't explain why it costs twice as much as a whole cauliflower at £2 ($2.70) compared to about £1 ($1.30.) And of course, the cauliflower steak comes with a lot more plastic.
In a statement to Metro, a Marks and Spencer spokesperson said:
"We have launched a ready-to-cook Cauliflower Steak with a herb dressing as part of our new Veggie range. This is for customers looking for a quick and convenient vegetarian meal option."
Social media users weren't so kind...
Others seemed to take issue with the "steak" part.
But the majority of commenters took issue with pretty much everything about the product.