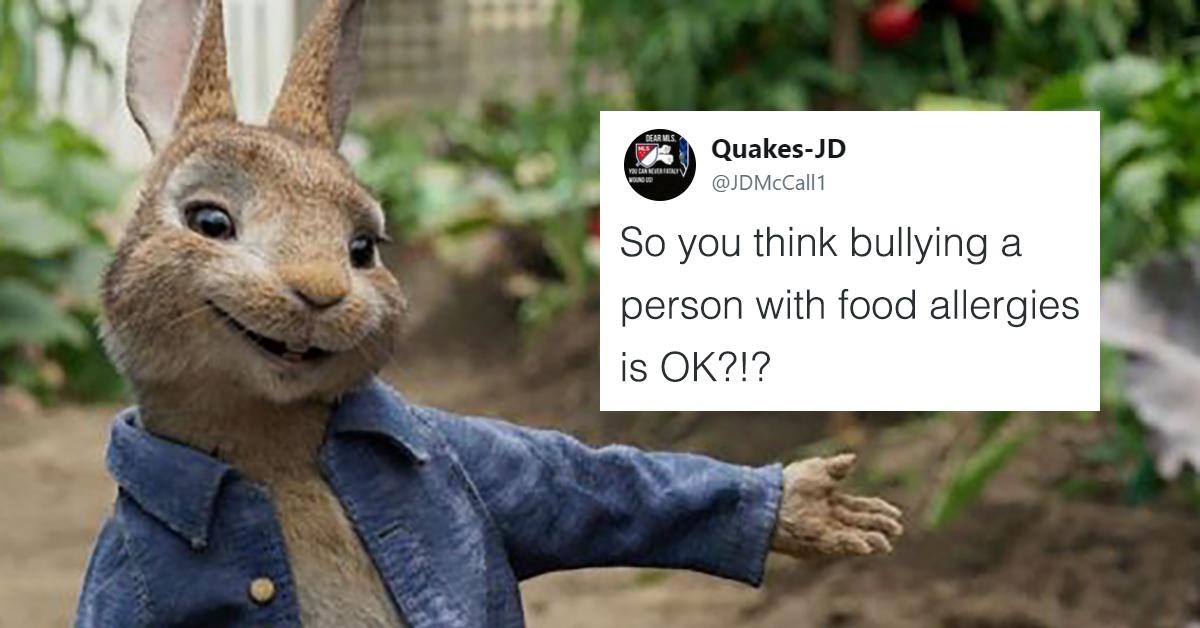 Parents Are Boycotting New 'Peter Rabbit' Film Over Food Allergy Bullying
By Mark Pygas
Sony Pictures has just released a new Peter Rabbit animated movie based on the classic book by Beatrix Potter. But the new film is already facing calls for a boycott by parents over a scene in which Peter and his friends hurl blackberries at a character despite knowing he is allergic to them.
The Kids with Food Allergies (KFA) charity posted a warning to parents on Facebook, which has since received thousands of shares and comments.
"The new movie, Peter Rabbit, has a scene that may be disturbing to young viewers who have a food allergy. A character is intentionally attacked with his allergen, leading to anaphylaxis and the use of epinephrine. Parents should be aware of this before your children see the movie so you can talk with your child(ren) about it."
"KFA believes that food allergy 'jokes' are harmful to our community. During a reaction, patients require the life-saving drug epinephrine and must go to the nearest hospital for follow-up treatment. The very real fear and anxiety that people experience during an allergic reaction (often referred to as an impending sense of doom) is a serious matter."
"Making light of this condition hurts our members because it encourages the public not to take the risk of allergic reactions seriously, and this cavalier attitude may make them act in ways that could put an allergic person in danger."
KFA also wrote a lengthy open letter to the makers of the film. "We would welcome the opportunity to educate your company and the cast of the movie about the realities of food allergy," the group said.
Kenneth Mendez, president and CEO of the Asthma and Allergy Foundation of America, also urged filmmakers to "examine your portrayal of bullying in your films geared toward a young audience."
The outrage seems to have prompted a response. In a statement, the studio and filmmakers said that they "sincerely regret not being more aware and sensitive to this issue, and we truly apologise".
"Food allergies are a serious issue," they continuted. "Our film should not have made light of Peter Rabbit's archnemesis, Mr. McGregor, being allergic to blackberries, even in a cartoonish, slapstick way. We sincerely regret not being more aware and sensitive to this issue, and we truly apologize"
Reactions on social media to the controversy were mixed.
Some even went as far as to call for a boycott.
Which again, received a mixed response.
What do you think of this outrage?