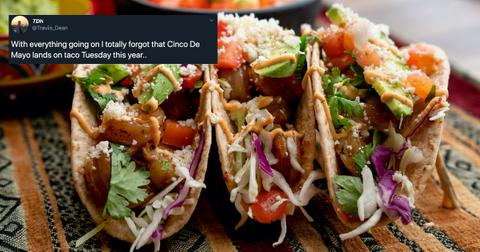 These Memes About Cinco de Mayo Falling on Taco Tuesday Are Priceless
By Lizzy Rosenberg

Updated
By now, you most likely have noticed that Cinco de Mayo falls on a Tuesday this year, and that means the beloved Mexican holiday is officially on Taco Tuesday. Obviously, people are loving this spicy AF coincidence, and while you're preparing to celebrate, check out these 11 memes about Cinco de Mayo on Taco Tuesday — they're seriously priceless.
1. We're starting to realize that we've trained our whole lives for this.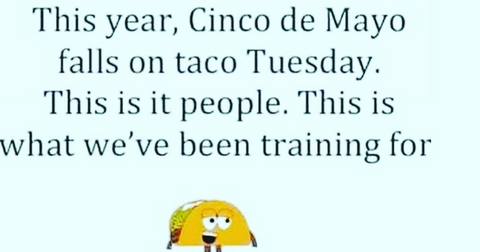 This year, during our Cinco de Mayo-Taco Tuesday mashup, we are going to be eating and breathing tacos. We've been spending every Tuesday of our lives working and training for this glorious day, so get ready to experience something truly special.
2. Then again, this taco-filled holiday won't be too different from any other day in quarantine.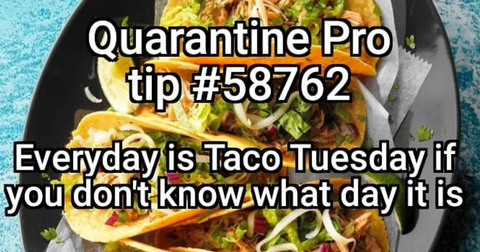 If you've been spending your days inside stuffing your face with tacos, tacos, and more tacos, there's a pretty good chance that tomorrow will just be another day for you... and as long as there's Fire Sauce, that's perfectly fine with me.
3. The irony surrounding these circumstances is truly shocking.
The reason why we can't venture out to celebrate Cinco de Mayo on Taco Tuesday... is... because of a disease called CORONA? Do you realize how wild this is? The irony is truly mind-blowing, and TBH we're secretly loving it.
4. It's going to be lit nonetheless.
Margs will be flowing and tacos will be sizzling. Bring it on.
5. The fact we're inside for this legendary crossover really is quite devastating.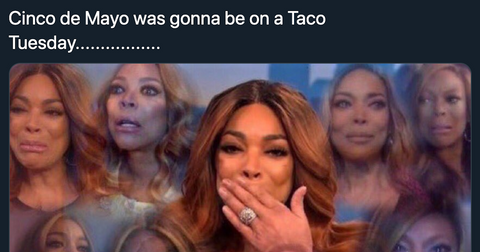 We're sure you're absolutely broken over the fact that you'll be celebrating Cinco de Mayo on Taco Tuesday inside and possibly alone this year, but at least we'll get to eat ourselves into oblivion in the comfort of our own homes.
6. Seriously, Kevin is distraught about all of this.
This GIF of Kevin looking exacerbated has never been so applicable. This is the reaction to end all reactions, thank you for your time.
7. Regardless of where and how you're celebrating, even Nacho Libre is excited.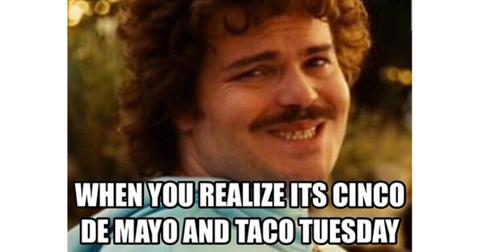 Nobody celebrates Taco Tuesday harder than our beloved superhero, Nacho Libre. Needless to say, he's going to party like it's 1999.
8. On the bright side, we'll have great weather for this glorious mashup.
Party by ourselves in the backyard... none of you are invited!
9. This is the moment we've all been waiting for.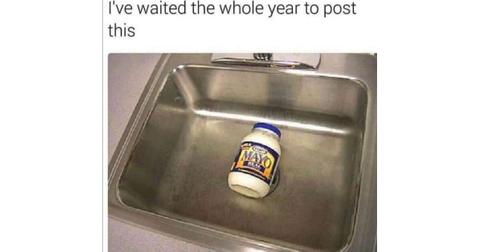 We're trying to figure out a way to weave Taco Tuesday into this wildly special pun, but for now we're just leave it the way it is. She's perfect.
10. Looking at the calendar, 2020 was destined for greatness...
And needless to say, it definitely fell short on our expectations. SMH.
11. Food coma, here we come.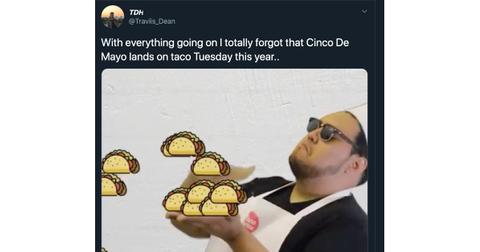 Maybe you forgot that Taco Tuesday and Cinco de Mayo were both on May 5, but you definitely have something to look forward to after a long AF day spent inside.
There's nothing better than Taco Tuesday and Cinco de Mayo, so get ready to celebrate the hybrid holiday like no other. You may be spending it indoors, but you have a day full of tacos ahead of you.