Channel Your Inner Grinch With These Green Christmas Snacks
If you're looking to feed your inner vengeance-seeking Christmas monster, these Grinch holiday snacks will definitely hit the spot.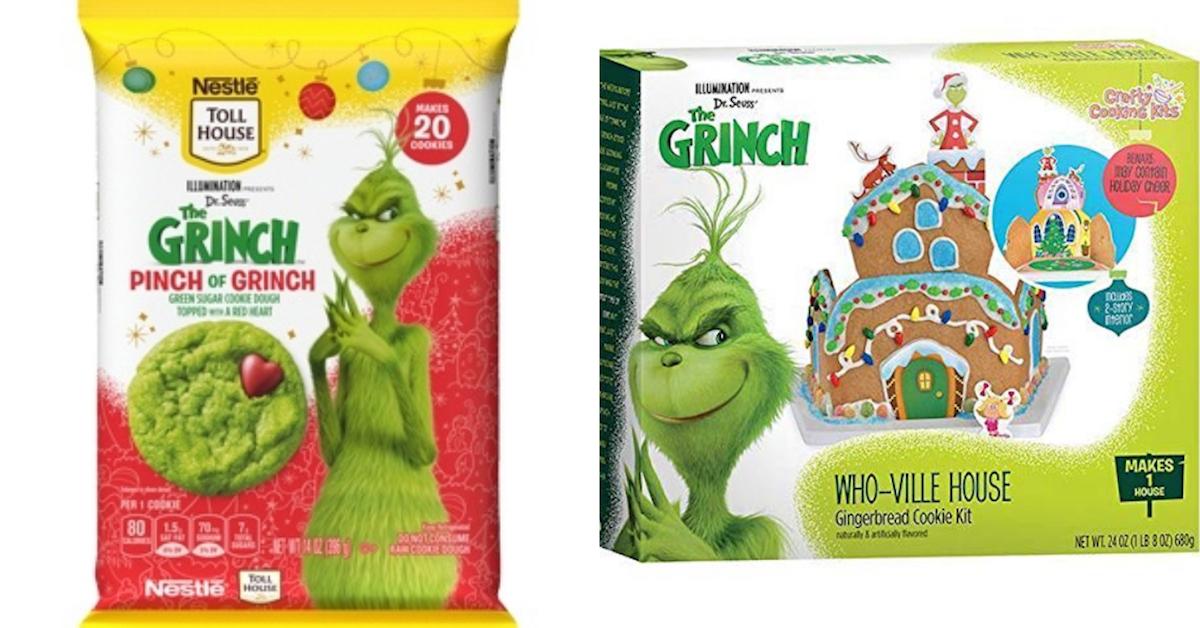 Every year, I'm all about indulging in classic Christmas treats — between Halloween and New Years, you can find me constantly stuffing my face with candy canes, eggnog, and everything in between.
But if you're looking to branch out in terms of seasonal snacks, definitely check out these Grinch holiday treats. Whether you're feeling naughty or nice, they will totally help you celebrate this year.
Go green with these tasty Grinch snacks:
Article continues below advertisement
1. Nestle's Grinch Cookies
You know those pinch-off ready-to-bake cookies that you've probably come to know and love over the last several years? This year, Nestle is releasing bright green Grinch sugar cookies that come complete with an adorable little red heart.
If these don't end up satisfying your inner holiday-lovin' child, I truly don't know what will.
2. Grinch Sour Apple Giant Candy Cane
Whether you're planning to add this to your entire family's stockings, or if you're simply looking to keep it for yourself, this giant sour apple candy cane is perfect for showing off just how sour you are.
Oh, and it comes with a plethora of stickers, so prepare for an extra festive treat.
Article continues below advertisement
3. A Whoville House
Gingerbread houses are so last year. Decorate a Whoville House (and feed your guests) using this creative "no bake" kit. It comes complete with all the ingredients so you pretty much just have to focus on having fun decorating it.
Crafts, decorations, and sweet treats all in one adorable package? You can count me in.
Article continues below advertisement
4. Bright Green Pancakes
Although these pancakes are technically part of iHOP's Elf on the Shelf menu, they're almost scarily reminiscent of last year's Grinch pancakes.
And the best part is, they're bright green, just like your favorite anti-Christmas pal! If you want to secretly pretend they're Grinch-themed, we totally won't judge you.
Article continues below advertisement
5. Grinch Punch
While I haven't yet found a Grinch-themed punch in stores, this recipe is totally simple.
According to this YouTube video, all you have to do is combine green Hawaiian punch with green Kool Aid, frozen pineapple juice, ice and Sprite. Garnish with a green sugar rim and red strawberry "hearts."
Article continues below advertisement
6. Grinch Cupcakes
Etsy user LetsCelebrateBakery is currently selling 12 handmade Grinch cupcakes for $18 in any flavor of your choice. And whether you go with vanilla, chocolate, or green slime, make sure to order ahead of time — these are an absolute necessity for that upcoming ugly sweater party of yours.
Article continues below advertisement
7. Grinch Holiday Popcorn — Three Flavors
This Grinch holiday tin lets you snack in the most festive way possible all season long. And although the popcorn itself comes in three traditional flavors, including cheddar, caramel, and butter, (aka it isn't actually green), the tin is a friendly reminder to keep in touch with your inner naughty side.
Article continues below advertisement
8.
The Grinch is a truly epic Christmas movie, so honoring it during the holiday season is an absolute must. And whether you love the cartoon version or the Jim Carey classic, each and every one of these snacks truly manage to put the fun back into holiday cheer.
Hopefully these don't inspire you to steal Christmas, though — that would be a real tragedy.