Kentucky Mayor Goes Viral for Expletive-Laden Rant About COVID-19
Gabe Brown, the mayor of Walton, Kentucky, had had it with people not taking the coronavirus seriously, so he posted about it. Using lots of bad words. It's amazing.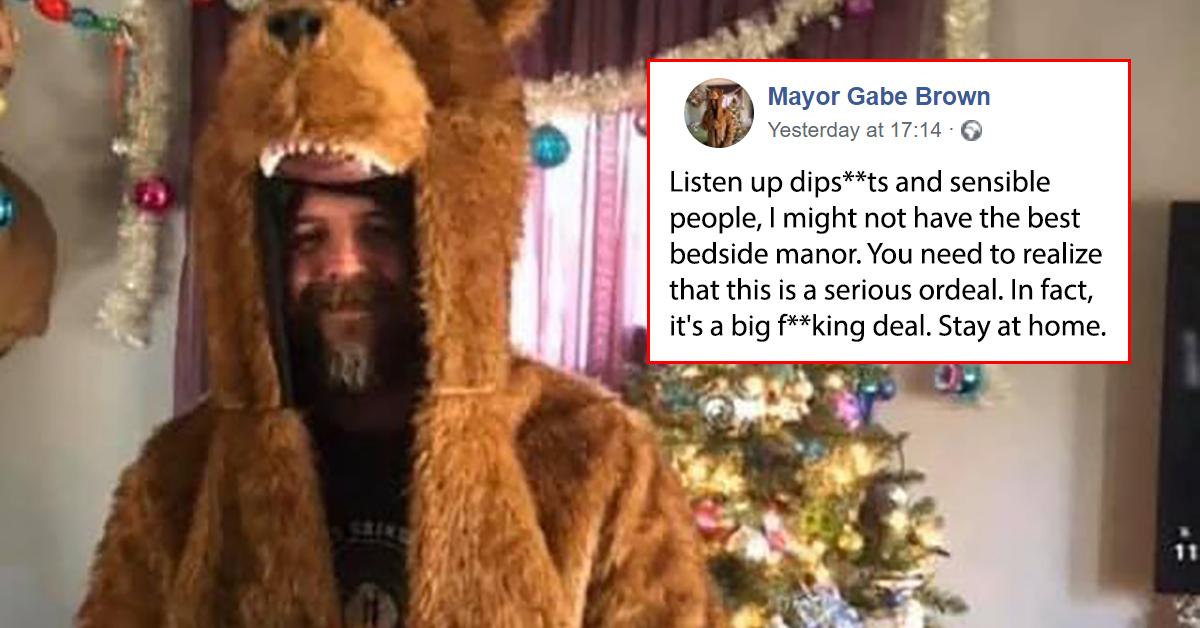 Get ready for Walton, Kentucky mayor Gabe Brown to become your favorite person. The city of Walton maybe only takes up four square miles and has a population of a little over 3,000 people, but their mayor has become a national sensation for his expletive-laden rant about taking the COVID-19 pandemic seriously.
Article continues below advertisement
Mayor Gabe seems to have lost his cool with people who weren't taking steps to keep themselves safe during this time because he totally lost it on the Boone County Neighborhood Facebook group page. And it is glorious.
But the first thing you have to know about Mayor Gabe Brown is that the following photo is the profile picture he chose for his official mayoral Facebook page.
Article continues below advertisement
So, you get it. He's clearly awesome. He first posted on the Facebook page telling people that they should be sanitizing their hands and practice social distancing, and he got a lot of feedback about how he was "overreacting."
This is when he kind of lost his cool and decided to get really blunt. "I kind of had enough and blew my top, I guess," he told WKRC. His next post was decidedly more...um...direct.
Article continues below advertisement
"Listen up dips--ts and sensible people," he wrote (sans censoring). "I might not have the best bedside manor [sic]. I might not put you at ease like the Governor does, but I don't care. You need to realize that this is a serious ordeal. In fact, it's a big f--king deal. Stay at home."
He continues, "I didn't give you information to induce panic. I gave you information, so that you'd be informed. Maybe, just maybe, I am privy to information that you aren't. I'm sorry for being the gossiping Mayor.
"I'm tired of Covid-19 conference calls. I take three a day, plus one extra on the weekend with Kenton County. If you don't like what I'm telling you, then go buy some toilet paper.
Article continues below advertisement
"I pray every night that the state, county and region that I love with all of my heart will stop doing nonsensical things. Treat this seriously. If you don't, then screw you (f--k you is what I want to say, but I can't).
Article continues below advertisement
"This will pass. Take it seriously. It is here. Act like you have the virus and don't spread it to other people. I have no doubt that it hasn't [sic] already been here, but testing had been limited. More cases are coming. If you ignore this problem, the worst thing that could happen is that your mother, father, grandmother, grandfather, aunts, uncles could die.
"Be responsible. If you don't, then screw you.
"Warmest regards,
"Mayor Gabe Brown"
Obviously, this rant went completely viral. Gabe Brown has been hailed a hero. Some people took issue with his language choices, but hey, it got people to listen, didn't it?
Article continues below advertisement
His post currently has more than 3,500 reactions, 2,800 shares, and hundreds of comments of people applauding his effort. Many write that they will move to Walton the next chance they get. Mayor Gabe Brown is the political hero we need and deserve in these times.
Article continues below advertisement
WKRC asked the newly famous mayor to share his thoughts on people who are gathering for COVID-19 parties. Here's what he had to say: "Anybody who's had a COVID-19 party is a special kind of stupid. I've said it before and I'll say it again: Wash your hands, you filthy animals. That's all I got."
He says he's calmed down a bit since his rant: "No four-letter words. I'm good for now. I've calmed down, but I'm sticking to my guns. People need to do as they're told: Stay in and take care of themselves." Do as the guy in the bear costume says.
The best way to prevent contracting or spreading coronavirus is with thorough hand washing and social distancing. If you feel you may be experiencing symptoms of coronavirus, which include persistent cough (usually dry), fever, shortness of breath, and fatigue, please call your doctor before going to get tested. For comprehensive resources and updates, visit the CDC website. If you are experiencing anxiety about the virus, seek out mental health support from your provider or visit NAMI.org.