Popeyes and Chick-Fil-A Are at War with Each Other on Twitter
Chick-fil-A just shaded Popeyes on Twitter for their new chicken sandwich. People are taking sides, and the memes are out of control.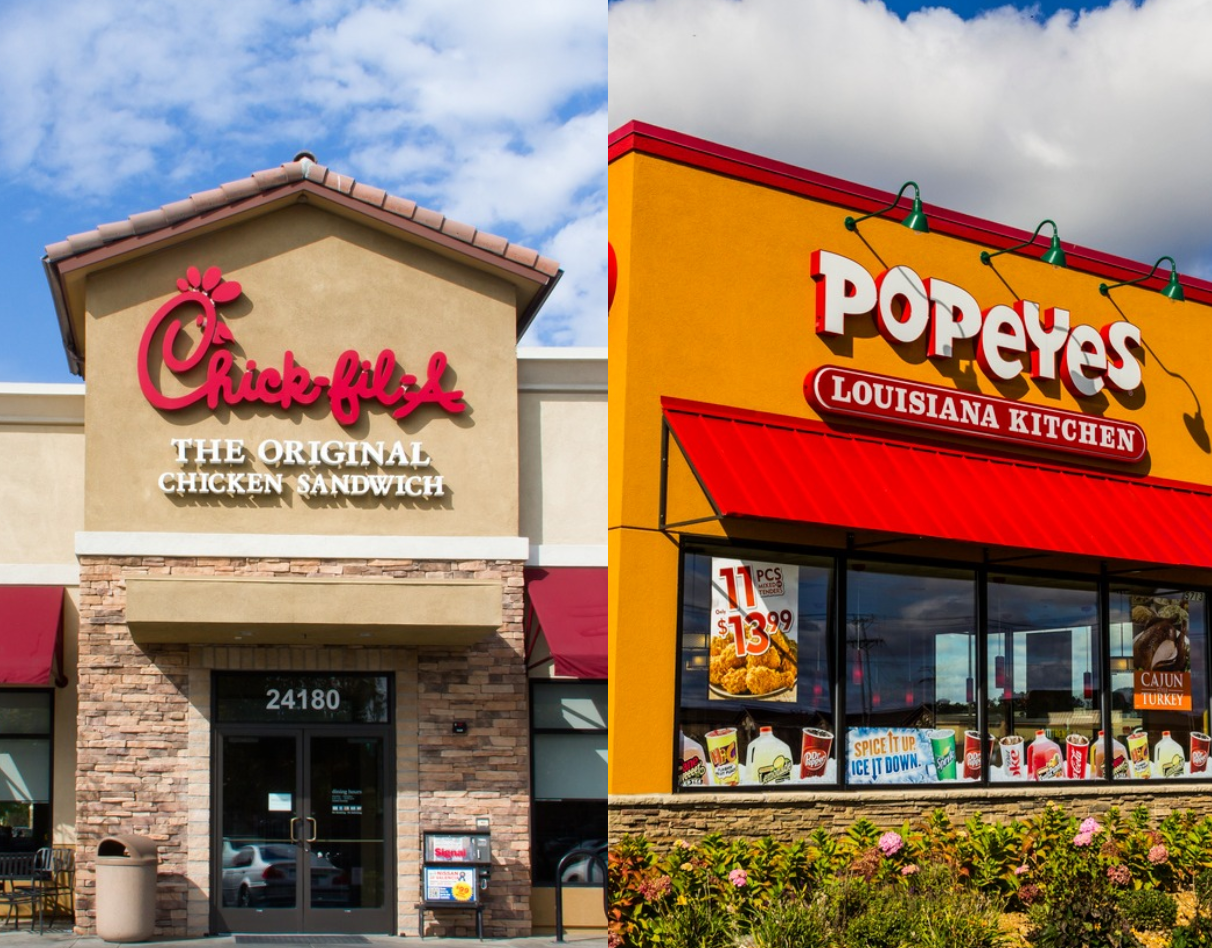 Exactly one week after Popeyes introduced their chicken sandwich to the world, Chick-fil-A tweeted this message to their followers: Bun + Chicken + Pickles = all the love for the original. Is Chick-fil-A shading Popeyes? Probably. Popeyes' chicken sandwich is actually getting great reviews; fans love the buttermilk-battered fried chicken on a brioche bun, complete with pickles and mayo or spicy Cajun sauce. But Chick-fil-A, which famously claims it invented the first chicken sandwich, is having none of it.
Article continues below advertisement
Popeyes responded to Chick-fil-A's shady tweet by saying, "...y'all good?" It's short and sweet, but Popeyes retort is pretty powerful. The fried chicken chain may as well have said, "Jealous, much?"
Article continues below advertisement
People on Twitter have the *best* responses to Chick-fil-A and Popeyes' fight:
Article continues below advertisement
Article continues below advertisement
Article continues below advertisement
Even Wendy's had to get in on this chicken sandwich brawl. Wendy's tweeted, "Y'all out here fighting about which of these fools has the second best chicken sandwich," and posted an image of their own chicken sandwich (which, by the way, is pretty darn good).
Article continues below advertisement
Many are saying Popeyes wins because they're not associate with homophobic organizations.
Article continues below advertisement
Article continues below advertisement
For those who don't know: Chick-fil-A has a history of donating to anti-LGBTQ groups and its executives have made public, homophobic statements. Most recently, the San Antonio City Council actually stopped a Chick-fil-A from opening a location in the airport due to a March 2019 report from Think Progress highlighting the fact that the chain donated $1.8 million to groups with homophobic agendas. Buffalo, NY also stopped Chick-fil-A from getting a location in their airport. Chick-fil-A responded b saying these donations were meant to support children's programs, stating, "The narrative that our giving was done to support a political or non-inclusive agenda is inaccurate and misleading.
What's Popeyes' stance on LGBTQ rights? Does Popeyes support Trump?
Popeyes is a fairly liberal company. According to Cheatsheat, the chain's company chairman donates to Democratic politicians in Florida. Popeyes was started by Al Copeland, an entrepreneur who was known for his over-the-top Christmas decorations and getting into a big fight with Anne Rice — but never for bigotry. Popeyes doesn't support homophobia or Trump. Another reason to love their new chicken sandwich? Why not!