'Red Dead Online' Players Hold Funerals to Mourn the End of the Game
Rockstar Games announced that 'Red Dead Online' would no longer be receiving big content updates, so players held a funeral in-game.
Gamers have been patiently waiting for news of GTA VI, as it's been almost a decade since the franchise's last installment was released — but while Rockstar Games announced the development of the long-awaited title, it's had to cut back its production on other fan-favorites.
Red Dead Online, the online multiplayer version of the popular Red Dead games, will no longer be receiving updates, per a recent announcement from the developer.
Article continues below advertisement
Red Dead Online was only released in 2018, marking a significantly short lifespan for the online multiplayer title. While many are excited to usher in Rockstar's next era, others first need to mourn the loss of a favorite title of theirs — so they've decided to hold a mock funeral to commemorate the end of its updates. Held online, players have gathered in the memory of the game's potential and the communities they've found in the game's short lifespan.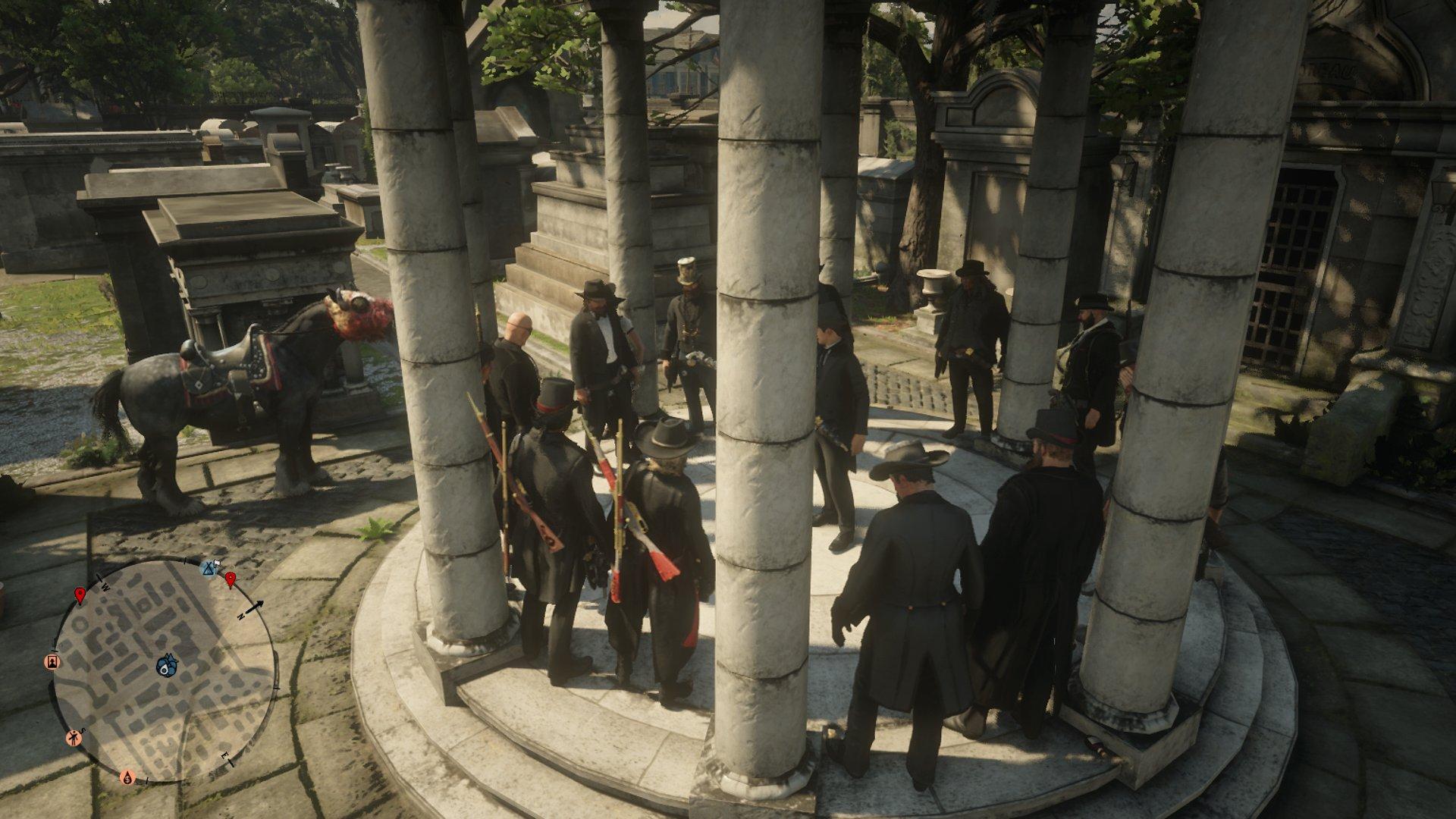 Article continues below advertisement
Players are hosting an online "funeral" to mourn the "death" of 'Red Dead Online.'
In a post updating players on what's in store for its titles in the coming months, Rockstar outlined that there would be "no major themed content updates" for Red Dead Online going forward as development for GTA VI picked up.
The developers stated they hope the upcoming title will "exceed players' expectations" to "be the best it can possibly be" — and while GTA Online will still be receiving updates, Red Dead Online will not be.
In a poll from @RedDeadRDC on Twitter, almost 10,000 people voted that they would participate in an online funeral for the game. On July 13, players flooded the #RedDeadFuneral hashtag with images of themselves and their friends dressed in their best in-game attire, gathering to mourn the death of the game's potential.
The funeral is held on the one-year anniversary of what some players have called the "worst Red Dead Online update," commemorating the end of the era.
Article continues below advertisement
Article continues below advertisement
Alongside the hashtag for the funeral, some also tweeted #SaveRedDeadOnline in hopes of changing the developers' minds.
While the title never really lived up to expectations, especially without the support of much-needed content updates, fans of the franchise saw the online multiplayer's potential.
"Such a good game with such great potential. Sad to see it's over so soon," one fan tweeted, while another wrote "Shame we couldn't #SaveRedDeadOnline. So sad how such a beautiful game was wasted."
Is 'Red Dead Online' shutting down?
While Red Dead Online will not be receiving anymore major content updates, Rockstar Games isn't dropping support for the title — but you may find the game quickly gets boring without new content being added, especially as more of the developer's resources are re-routed to create GTA VI.
Players will still be able to log into the game daily, and it seems like some bug patches and other basic updates will be provided for the title. Beyond this, though, the game will be pretty barren.
Unfortunately, because of the inevitable decline of players following this announcement that there will not be any more updates, you may want to enjoy some final days in Red Dead Online while you still can.