TikTok Stars Reportedly Test Positive for Coronavirus After Influencer Parties
After several large-scale influencer parties took place in Los Angeles, many TikTok stars are reportedly testing positive for COVID-19.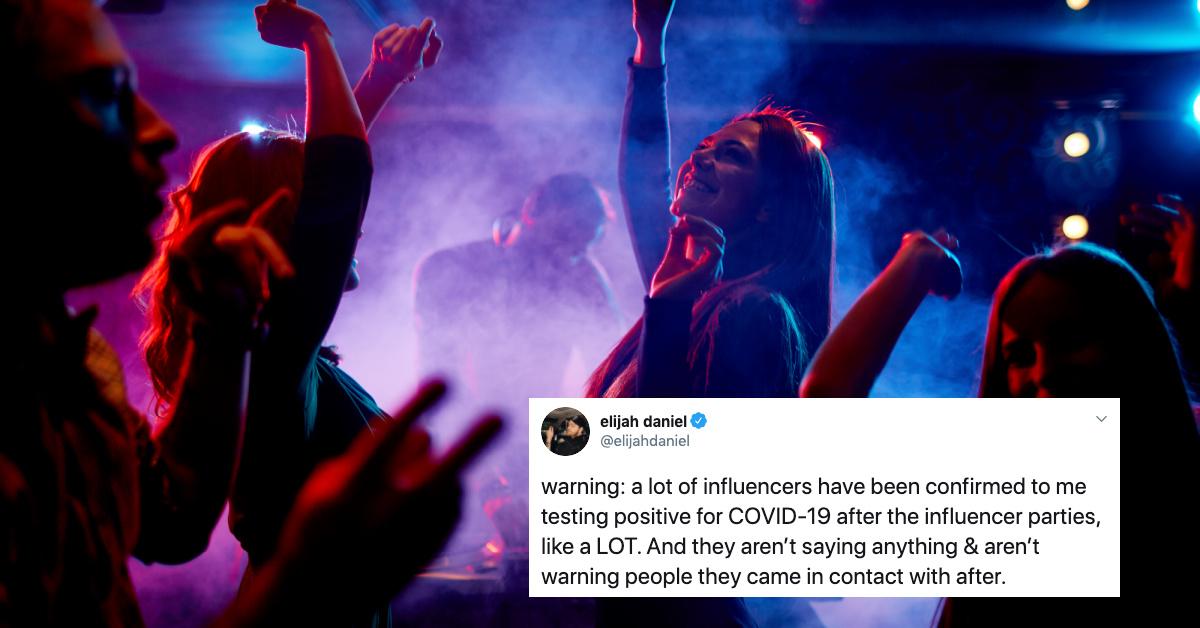 We've all heard a lot of different things about the coronavirus over the past several months. Don't bother with masks. Wear a mask everywhere. Don't go to restaurants. You can go to restaurants as long as you stay outside. Sanitize your groceries. Never mind, you don't have to sanitize your groceries. It's definitely been quite the whirlwind of information.
Article continues below advertisement
There's one thing medical experts have been completely clear about since the very beginning, however, and that is the importance of socially distancing. In other words, people definitely should not be going to parties right now. And yet, a bunch of influencers have been going to parties. Now, there are reportedly a bunch of TikTok stars who have contracted the coronavirus. Talk about going viral.
Apparently, there are a bunch of TikTok stars with the coronavirus right now.
Several influencers have come under fire over the past few weeks for hosting and/or attending large-scale house parties in the midst of a global pandemic (we don't have to explain why that's a really, really bad idea, right?). There are two huge parties that are being accused of sparking a coronavirus "outbreak."
Article continues below advertisement
The first took place in mid-July in YouTuber Jake Paul's Calabasas, Calif. backyard. There were many people in attendance, including YouTuber Tana Mongeau, Bryce Hall, and Arman Izadi. Videos posted from the event show large crowds of young people, none of whom appear to be wearing masks and all of whom are clearly flouting social distancing orders.
Article continues below advertisement
One week later, Insider reports that an estimated 67 influencers crowded into the Hype House for another massive house party to celebrate TikToker Larri "Larray" Merritt's birthday. Guests reportedly included YouTubers Nikita Dragun, James Charles, Emma Chamberlain, and Tana Mongeau (again). Many TikTok influencers were also reportedly in attendance, including Charli and Dixie D'Amelio.
Article continues below advertisement
Elijah Daniel, an LA-based comedian and rapper, took to Twitter to share that "a lot of influencers" have tested positive for COVID-19 following the influencer parties. "And they aren't saying anything & aren't warning people they came in contact with after," he added. YouTuber Keemstar, who runs the Drama Alert "news" show, also tweeted that a "bunch of TikToker's got COVID-19."
As for which influencers have tested positive for the virus (or even simply started exhibiting symptoms), we won't know unless they choose to share the news with others — and it seems as though many are actively choosing not to do that. Given the virus's ability to spread from person to person, it's certainly possible for an outbreak to be traced back to these parties.
Article continues below advertisement
Look. Don't go to parties right now. And if your favorite influencers are going to parties, it might be a good time to evaluate exactly how good their influence is. Stay safe out there.
The best way to prevent contracting or spreading the coronavirus is with thorough hand washing and social distancing. If you feel you may be experiencing symptoms of the coronavirus, which include persistent cough (usually dry), fever, shortness of breath, and fatigue, please call your doctor before going to get tested. For comprehensive resources and updates, visit the CDC website. If you are experiencing anxiety about the virus, seek out mental health support from your provider or visit NAMI.org.