President Trump will be showing the Middle East how awesome America is by bringing country singer Toby Keith for a very special concert.
And no women are allowed because of the strict Islamic law of gender segregation. To herald president Donald Trump's visit, the "I Like Girls That Drink Beer" singer will perform on Saturday - where the very things mentioned in this particular tune are banned: Alcohol and women.
The designated embodiment of American patriotism will perform from a tasteful repertoire of songs like, "Beer For My Horses," "Whiskey Girl," and "Drunk Americans," to rock the heck out of the Islam-enforced capitol city of Riyadh.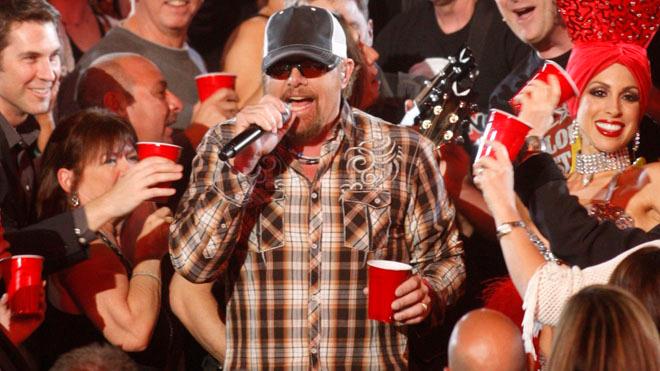 Keith is not a shocking choice for Trump to string along. After all, the singer was on the sparse list of performers for the inauguration. But, what's confounding is the fact that this is the same singer known for his post 9/11 vengeance anthem, "Courtesy of the Red, White and Blue (The Angry American)," where he made the incendiary declaration: "We'll put a boot in your *ss/It's the American way."
Saudi singer Rabeh Sager will share the stage with the cold beer guzzling nationalist in a performance where, "An Arabian lute and American guitar unite in a star-studded night," according to an online ad.
This is one for the record books.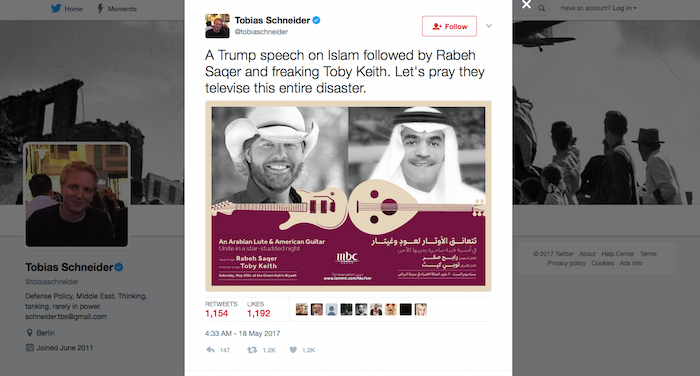 It sure reads like a satire.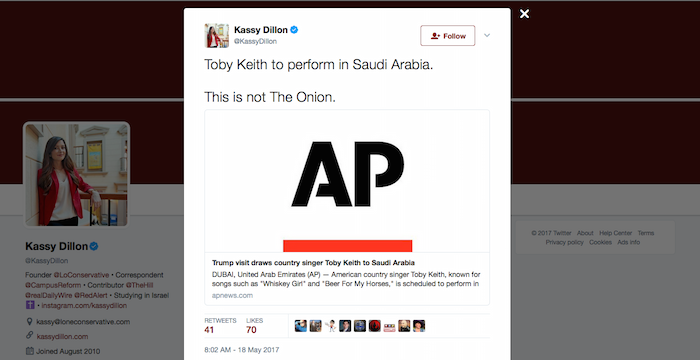 "An International Crisis Was Triggered By A Country Star," is the type of headline you may or may not find in 'The Onion.'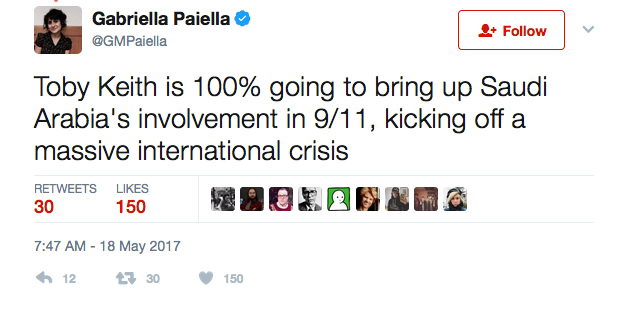 Exercising discretion with song choices is paramount. Keith is also known for another controversial tune, "The Taliban Song," in which he sang: "We'll bid a fair adieu and flip the finger to the Taliban," referring to the fundamentalist group that was led by Saudi-born Osama Bin Laden. Capping the night with that ditty would just be a sour note to land on.
For a country that up until recently considered live music a sin, the male concert goers will be in for a whole lot of 'Merica - embodied in songs about women and booze - shoved in their faces.
At least in this scenario, it's the women who might actually be the ones who are spared.