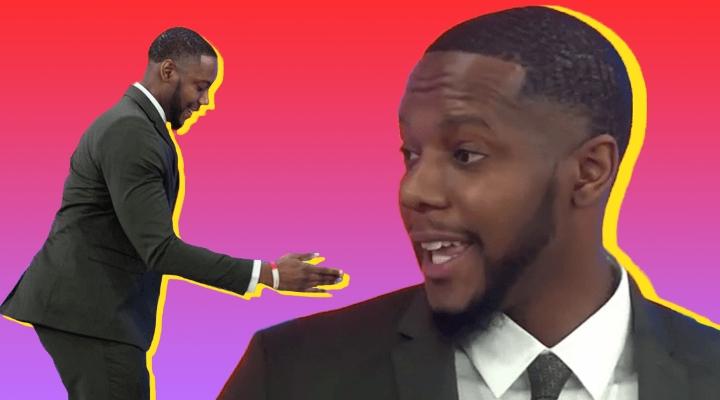 Teacher Has Personalized Handshake For Each Of His Students
By Mark Pygas
Barry White, Jr. is a fifth grade English teacher at Ashley Park School in Charlotte, North Carolina. And rather surprisingly, the kids that he teaches can't wait to see him every morning. Why? Because he's developed elaborate, personalized handshake with every one of his students.
White told ABC News that he started with the idea last year to help get kids pumped for school.
"They know when they get to the front door we do our 'good mornings,' and then it's time to go."
"I'm always pumped up and then we start doing the moves and that brings them excitement and pumps them up for a high-energy class."
"I started with one simple handshake last year with a 4th grader. She would wait for me every morning before she'd go to class. She'd get in trouble sometimes for being late because she'd wait on the handshake."
"This year I started making handshakes with the kids at recess. It was just one or two students and then it became contagious. I saw how much it meant to them, so I said, 'Come on. Everyone come on.' Then it was my full class, then it was kids from other classes. Now I have 3rd graders wanting to do it too."
And it isn't as hard as you'd think. White says that remembering all the different moves eventually becomes muscle memory.
"I do it so much with them. They love coming up to me and doing it. I just know the certain moves that go with certain kids because it's personalized. For example, I started a step team at the school. Some of my 5th graders I teach are on that step team and you'll notice we step a little bit in their handshakes."
A Cleveland Cavalier's fan, White was inspired by LeBron James, who does the same thing with his teammates.
"You see that bond and how close they are," he said of the Cavs. "I wanted to bring that feeling into the entire 5th grade."
Principal Meaghan Loftus said that she loves the enthusiasm it brings every day.
"The only way to help our scholars achieve at high levels every day is to embrace the need for a meaningful and deep relationships. Barry's handshakes represent his own authentic take on building those relationships. When I walk into my teachers' rooms, I see the impact of those strong and trusting relationships. When kids know their teacher cares, they are attentive, engaged and driven to be successful. That's the culture we are building at Ashley Park."
Someone get this guy a medal.