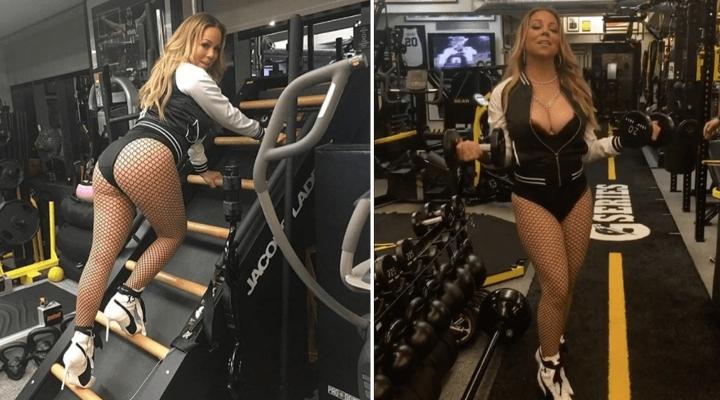 Mariah Carey Working Out In Heels Is All The Inspiration We Need For 2017
By Margot Harris
Some celebrities are famous for their ridiculous lifestyles — from collecting cars to naming their children after fruit to offering nonsensical gynecological advice involving jade eggs.
But the most entertaining of Hollywood royalty are the ones who embody the true diva spirit. And you needn't look further than Mariah Carey to find that.
She's way too busy being important and fabulous. And dissing Jennifer Lopez any chance she can get.
In typical Mariah fashion, she posted some photos of her recent workout... in fishnet stockings and heels from Rihanna's Fenty x Puma collection. Have you ever seen a stair master (or whatever that machine is called) look sexier?? Or been so concerned that someone is going to break an ankle?
What better attire to break a sweat in than cleavage-bearing leotards, fishnets, and skyscraper heels?


Clearly the heels aren't impeding the workout process.
She obviously has some practice doing everyday activities in less-than-practical shoes.
You know, just another day at the gym with your diamonds, personal trainer, and concert-worthy outfit.


Mariah's choice of footwear didn't go unnoticed. Rihanna took to Instagram to announce that she's finally "made it" — the diva of all divas is wearing her shoes!
After all, this is the true marker of success in the entertainment industry.


May Mariah provide us all with some much-needed inspiration for 2017.
She's living proof that you can start the year with the one of the worst performances in history but rebound just a month later with a high-heeled workout. If that's not inspiring, we don't know what is.