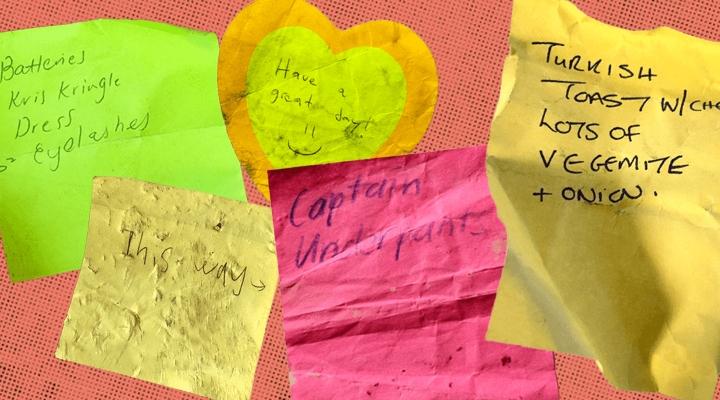 This Woman Turned 12 Years Of Lost Notes Into An Art Exhibition
By Margot Harris
Some of us are collectors. We were those kids who picked up shiny objects off the sidewalk and tried to bring home garbage (to the chagrin of our parents). Even now, we struggle not to hoard anything cool we happen to stumble upon on our various adventures.
One woman, however, turned her proclivity for collecting into a beautiful project.
Laura Sullivan from Sydney, Australia collects notes — any notes she finds on sidewalks, in streets, in subways, etc.
It all began back in 2005 when she found a sticky note on the floor of a supermarket. The note read: "BBQ chicken, mango, chestnuts, muffins, rice…". On the opposite side, it read: "Andrew - appt drug and alcohol counselling, 1st Feb."
She kept the note, and kept every note she came across after that. After twelve years of collecting, which has become a "life project," she's amassed over 400 notes, many of which you can check out on Instagram.
Starting this month, some of Sullivan's notes will be on display at an exhibition, Found By Laura, in Alexandria.
While a many of the notes appear to come from Australia (mostly Sydney, Melbourne, and Adelaide) some come from as far as New York and Toronto.
"There was definitely a solidifying moment when I was living in NYC," Sullivan told BuzzFeed. "Given the dense population, finding got interesting very fast. I looked back at the stack I'd gathered and it hit me: This is real. This is something."

The notes range from funny reminders to love notes to angry parking feuds in written form.
And few notes are too insignificant for the project. "I keep almost everything," she explained. "I've definitely thrown out notes early on that I regretted so I've refined how I do things... you never know what others may see in a note."
Do any of these look familiar to you? Sullivan hopes so.
As the project receives more and more attention online, Sullivan hopes to connect with writers of the original notes — and perhaps return them. She's begun using the hashtag #HaveIFoundYours in an attempt to reach out.
"I haven't yet found any of the writers, but fingers crossed that through this exhibit, I'll find someone," she told BuzzFeed. "Andrew, if you are out there, I really want to meet you. You, my friend, changed my life."