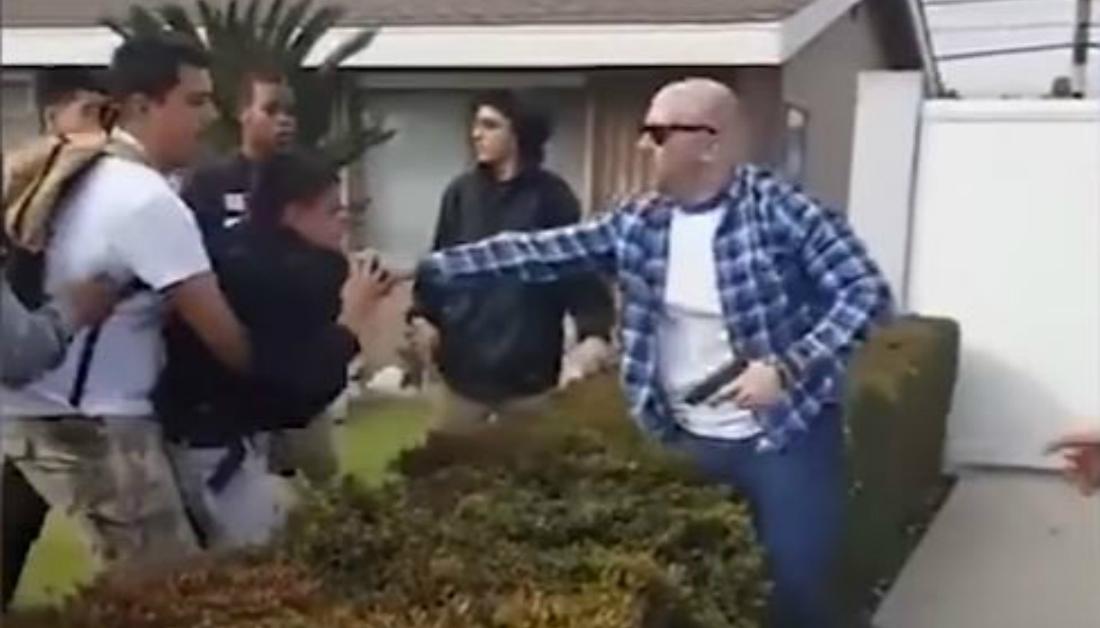 Off-Duty Cop Sparks Community Outrage After Beating Up, Firing Gun At Group Of 13-Year-Olds
By Mustafa Gatollari
Police brutality is unfortunately an all-too-common occurrence, especially for marginalized communities.
And now because everyone basically has an instant upload, internet-ready recording device in their pockets, there's more and more visibility of these disgusting acts enacted by officers who abuse the law.
Now I know that there are two sides to every story. I also know that the training police officers undergo stress that danger lurks behind every corner.
However, it's hard to justify this off-duty police officer beating on a 13-year-old boy half his size while children surround him and beg him to stop.
What happened is literally the oldest story in the book when it comes to disrespectful teens and crotchety old dudes: the altercation started because the guy was pissed a group of kids walked on his lawn.
The officer allegedly called the teenage girl a "c**t" and grabbed 13-year-old Christian Dorscht after the teen defended his friend by saying, "Respect the girl".
Dorscht sustained injuries in the scuffle, which his parents released online. The boy's father, Johnny Dorscht, was horrified by the incident.
"(The cop) should've never put hands on him. That should've never happened, what he did. He was in an interrogation room, they were trying to get him to confess to something that he didn't do. He just got out today… You can see scratches on his neck, bruises on his arms, how tight they had the handcuffs on him. He's still kind of in shock at everything that's happening. He's not really wanting to talk about the incident, he says he's okay, but we did take him to the hospital."
After being grabbed Dorscht started struggling with the police officer, who allegedly threatened to shoot Dorscht and his friends.
Dorscht told the officer repeatedly that his step-father was police officer and that what he was doing was illegal. The officer didn't listen to Dorscht and continued to throw him around and drag him.
The scuffle escalated and the teens attempted to push the officer off of their friend. That's when the officer pulled out his gun and fired multiple rounds into the group of children. Thankfully, no one was hurt.
Members of the Anaheim, California community were outraged by the incident and took to the streets to protest the attack on Dorscht and his friends.
Anti-Police chants and graffiti erupted at the protest as people marched through the streets.
Police Officers urged protesters to refrain from violence and vandalism.
Dorscht's mother, Alma Jimenez, streamed the protest live on Facebook and has been organizing community members to address the attack on her son and his friends.
"I just want to say how disgusted I am by that individual for the negligence he committed with my son. My son is alive today, but if he would have not fought for his life along with those other children, he would be in a morgue right now. You almost killed my child. Stop shooting our kids. This is my son. He is 13 years old. He was not armed. He [the officer] was, he pulled out, he reached for his weapon, he intended to use it."
The family has put together a crowdfunding campaign to help cover the legal costs of bringing the off-duty officer to court for his dangerous actions.
Anaheim Mayor Tom Tait said that there would be a "thorough" and "impartial" investigation into the incident.
The police officer wasn't arrested or taken into custody following the incident. Two minors, however, were. (h/t dailymail)