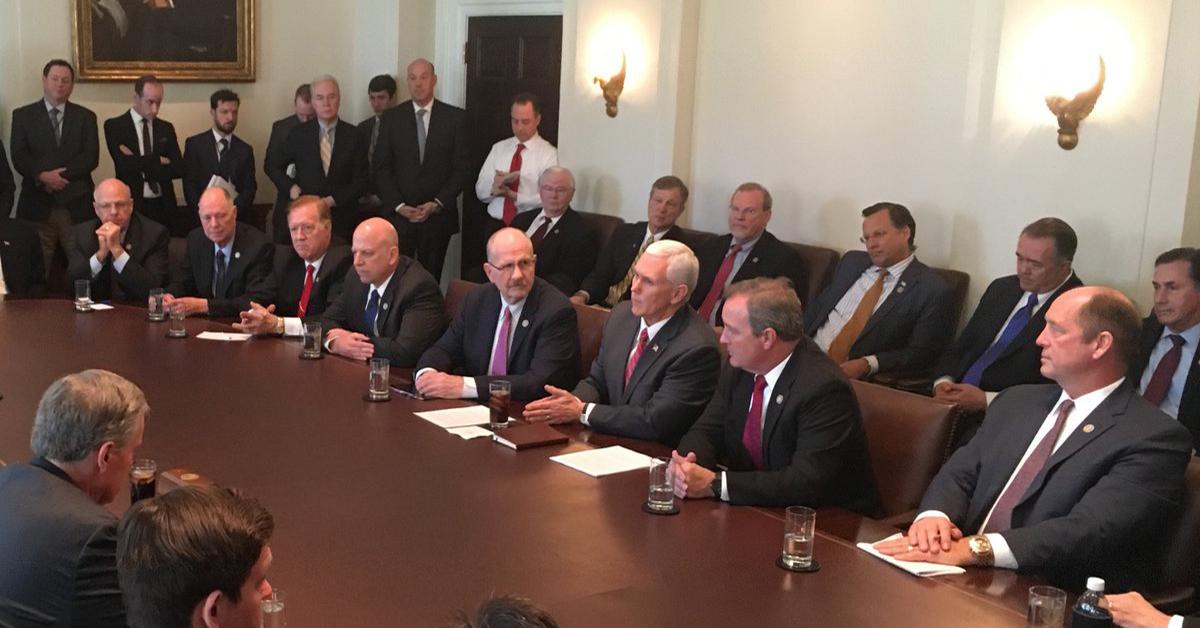 Something Is Missing From This Photo Of Politicians Deciding The Future Of Women's Health
By Mark Pygas
President Donald Trump has issued an ultimatum on his new healthcare bill that would repeal and replace Obamacare. He urged the House of Representatives to vote on the bill on Friday after a vote on Thursday was delayed because of opposition from some Republicans.
President Trump and Vice President Pence met with the Freedom Caucus to try and win their support of the bill. A major question of the negotiations is whether or not maternity care and mammograms should be considered essential treatments in the Republican bill. The Freedom Caucus wants to remove this requirement, meaning that health insurance plans would not have to cover them.
But Vice President Pence came under fire on Thursday after a photo of the meeting was tweeted from his Twitter account. See if you can spot what's missing from this vital discussion on the future of women's health...
To be fair, Kellyanne Conway is in there.
To give you an idea of just how little this group of men with barely a full head of hair between them know about women's health, I give you this choice quote from Sen. Pat Roberts (R-Kan.)
Roberts, who supports abandoning Obamacare's essential health benefits, recently scoffed at a journalist: "I wouldn't want to lose my mammograms." He was forced to apologize for the joke after public outrage.
Unsurprisingly, Twitter users were pretty enraged by the photo.
Old men making decisions that could affect women negatively for generations seems to be an all too common occurrence. Remember that viral photo of Hillary Clinton banning male ejaculation? That seems poignant right about now.