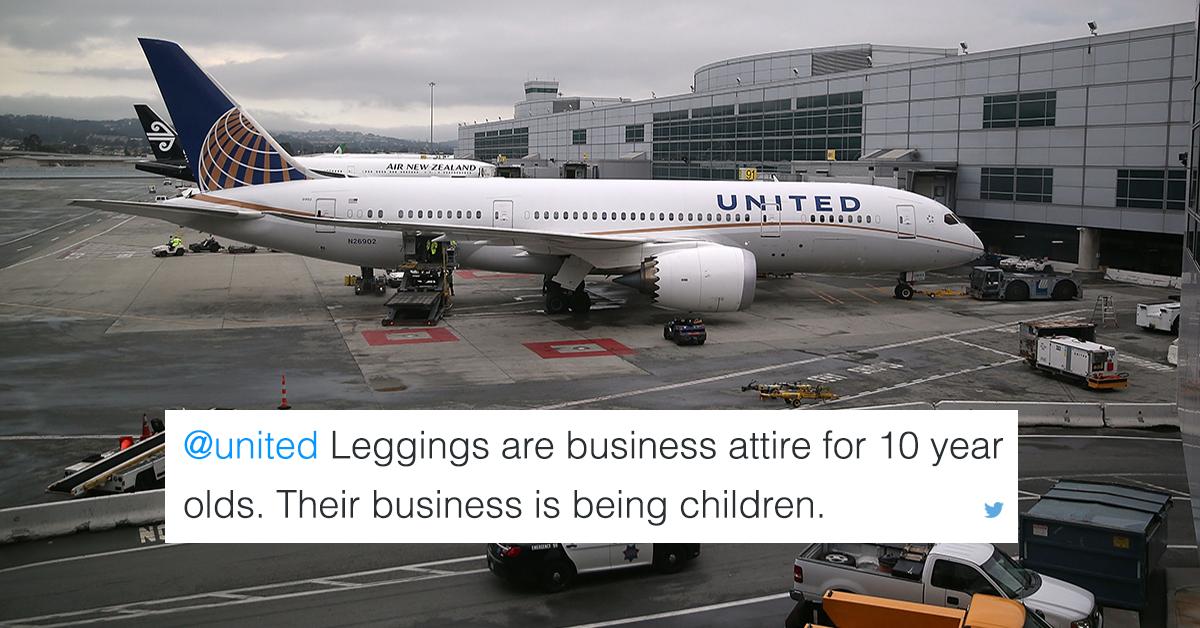 United Airlines Banned These 10-Year-Old Girls From Wearing Yoga Pants On A Flight
By Mustafa Gatollari
You can get drunk on overpriced cocktails on an airplane. You can pay $20 for slow, crappy WiFi. You can even shell out $4 to watch a movie you probably didn't catch in theaters for a reason.
But getting a decent amount of leg room in economy is next to impossible (depending on which airline you fly), and being guaranteed an overhead spot for your carry-on luggage? Keep dreaming.
And if you're flying United, if an in-flight agent has got a problem with the clothes you're wearing, you might have a strict dress code to follow.
This woman, Shannon Watts, noticed United Airlines flight agents were stopping three young girls from boarding their plane.
The reason? They were wearing leggings, AKA stretchy pants, AKA yoga pants, AKA the staple of every basic college white girl fall/winter uniform. Watts says that the agents instructed the girls to put dresses over their leggings or change out of their comfortable travel clothes before boarding the plane.
Watts, who's a founder of the Anti-Gun Violence organization Moms Demand Action, tweeted at United regarding the incident.
She wanted to know if it was the airline's policy to force young girls to change out of their clothes before boarding a plane. United responded with a vague rule saying that they withhold the right to refuse passengers if they're "barefoot or not properly clothed." The problem is, the definition of "properly clothed" is left up to the discretion of the agents.
Watts wasn't really having United's explanation, saying what the 10-year-old girl was wearing wasn't anything out of the ordinary.
Actress Patricia Arquette caught wind of the incident and wanted to know what United's deal was.
She wanted to know if there was a "secondary fail safe" from supervisors to deem what is appropriate clothing or not.
United then justified the strict dress code enforcement because the fliers were "United Pass Travelers."
United said that "pass travelers" aren't given the same privileges as other travelers because they're dependents of United Employees or United Employees themselves who get prioritized last over other paying customers and board planes on a stand-by basis.
If someone is waiting for a stand-by flight, doesn't it make more sense to allow them to be comfortable, as they're waiting longer to board their flight than other travelers?
Other Twitter users found some gaps in United's reasoning.
United didn't speak further on its "pass travelers" definition, but they did release this statement to The Washington Post.
An internal policy for employees using the airline travel benefit, he said, specifically forbids leggings while traveling. It is unclear why United considers leggings to be inappropriate and whether other articles of clothing are barred under the policy.
"Our regular passengers are not going to be denied boarding because they are wearing leggings or yoga pants," Guerin said. "But when flying as a pass traveler, we require this pass travelers to follow rules, and that is one of those rules.
"They were not compliant with the dress policy with the benefit," Guerin said, noting that the girls were aware of the internal rule. "This morning, the attire of the pass travelers on this flight didn't meet the dress code policy."
Any attire that reveals a midriff
Attire that reveals any type of undergarments
Attire that is designated as sleepwear, underwear, or swim attire
Miniskirts
Shorts that do not meet three inches above the knee when in a standing position
Form-fitting lycra/spandex tops, pants, and dresses
Attire that has offensive and/or derogatory terminology or graphics
Attire that is excessively dirty or has holes/tears
Any attire that is provocative, inappropriately revealing, or see-through clothing
Bare feet
Beach-type, rubber flip-flops
However, it's hard to imagine 1o-year-old-girls were employed by United.
And Watts pointed out that the girls' father was wearing shorts and he wasn't asked to change his clothes.
Some customers started tweeting at United to OK their fashion choices before flying.
If United is gonna try and get me to take off my Rex Kwon Do American Flag pants when I fly, then they've got another thing coming.