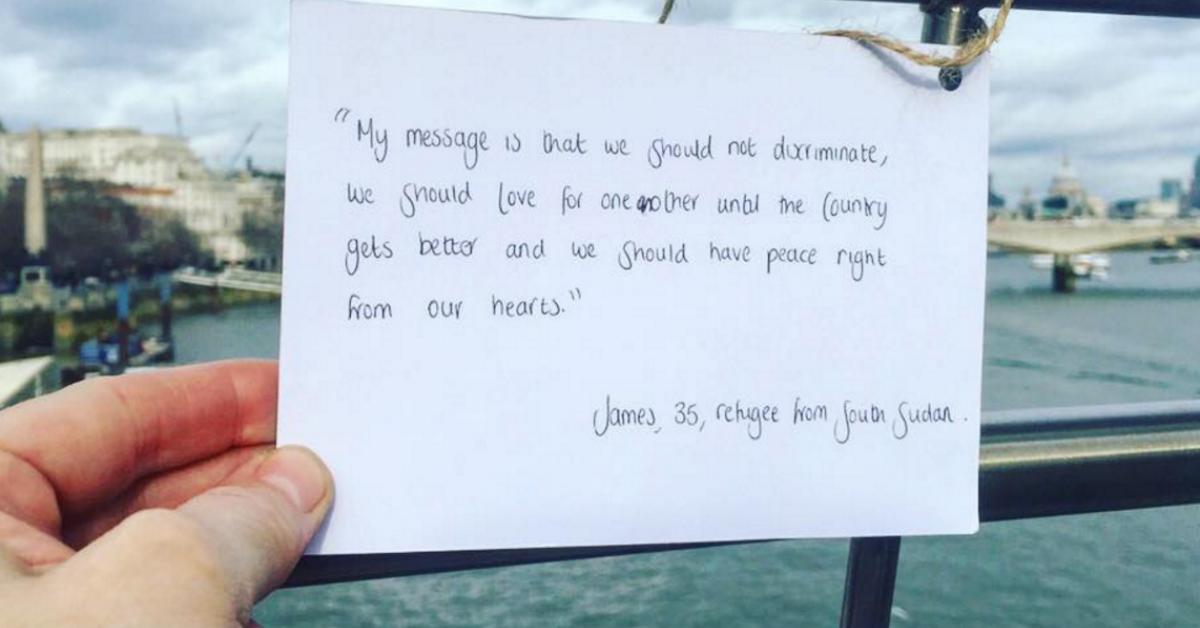 Syrian Refugees Leave Viral Messages Of Hope, Peace, And Unity Around London
By Mustafa Gatollari
If you ask the average person what they truly want, in confidence, regardless of their political beliefs or affiliations, it all boils down to the same thing: they want to be able to take care of themselves and their loved ones.
We all want a certain level of comfort, people to love; we all want peace and happiness for us and the ones we care about at the end of the day.
Political dissension makes us forget that the people associated with the issues we so hotly debate are still people who basically want the same things as everyone else.
And these notes being left around London by Syrian refugees are a reminder of that fact.
Elizabeth Cooper noticed one of the notes while commuting, it was tied to an iron railing. She slipped the note over and saw a message written by a 16-year-old.
"I hope to have a good future. A small family with good work and that is enough." - Mohammed, 16, refugee from Syria.
Selena Victor, another commuter, found a note written by a mother fleeing violence.
There are hundreds of messages just like these that are cropping up all over social media.
People are sharing the eye-opening messages with the #human2human hashtag on Twitter and Instagram.
Many of the notes reflect hope and gratitude.
The notes are popping up everywhere: coffee shops, subways, lampposts, libraries, museums.
The campaign was started by Mercy Corps - but it's not one to generate income for the non-profit or ask for donations.
It's simply to remind people that refugees are human beings too.
They're asking that people share the images online.
"How we are confronted with this 24 hour news is unrelenting. It is disaster after disaster and people can become a little overwhelmed by it.
You see death and destruction in Syria, South Sudan, and North East Nigeria and hear these big numbers and I think you can lose sight of the people at the centre. What we want to do is remind people that those at the centre of the crises are just like me and you – and because of that we've got a common human connection.
This campaign is about giving people the chance to do something physical, to find the card, to read the quote and to share it online. Then put it somewhere new. It's about bringing refugee's hopes to life and to engage people in the debate in a new and different way."
It's a refreshing appeal to human emotion, and not just people's wallets.
"It is sad to see what has happened in the country in recent years, and how Syrian refugees are not welcomed in the UK in the same way as I was welcomed there. 'Of course sharing refugees' stories on cards is not going to solve [all] their problems, but I thought it was a nice idea to make people stop and think."