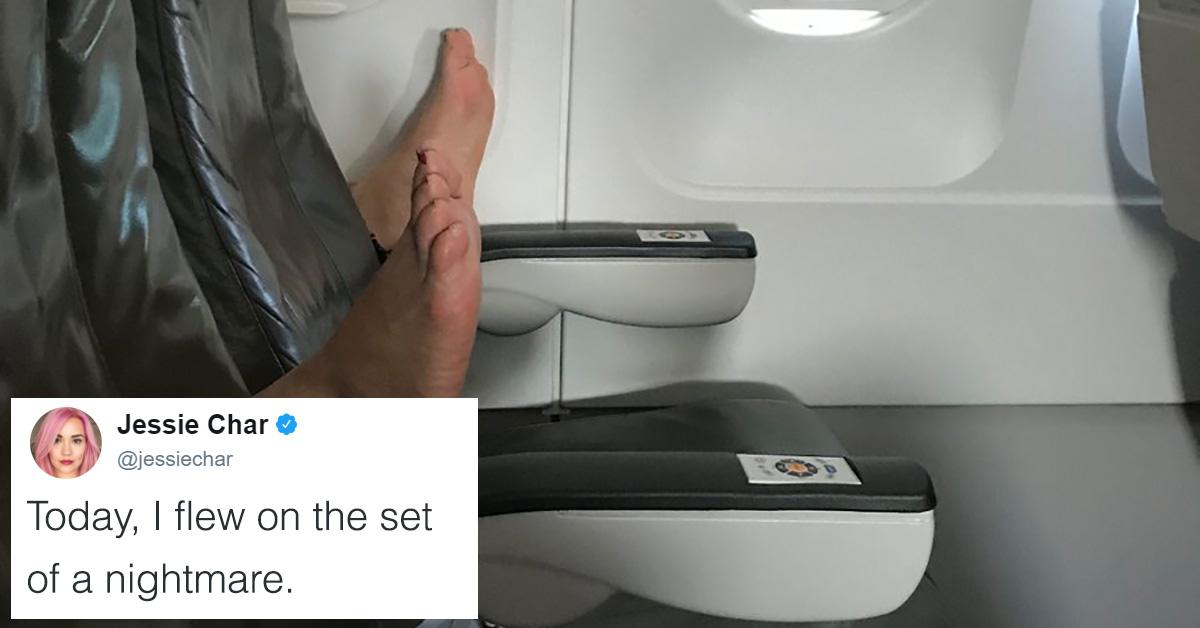 Woman Gets Entire Row Of Seats To Herself, Then Has To Spend Flight Next To Feet
By Mark Pygas
There's no better feeling than getting on a plane and seeing that the seats next to you are empty. Twitter user Jessie Char recently experienced that joy, but it was short lived. When boarding her plane yesterday, she took to Twitter to gloat that she had the entire row to herself.
She was so excited, she photographed her spot and added the hilariously cheeky caption, "my two favorite people to sit with on a plane." It was a sentiment everyone on the platform (and in the world) could relate with. But her flight wasn't about to go as smoothly as planned.
And then this happened... "You guys will never guess what happened next," she teased. Then she followed the tweet up with a photo of the most atrocious airplane crime ever to be committed. She captioned the photo of disembodied feet with, "Today, I flew on the set of a nightmare."
Somehow, someway, it got even worse. Because whoever has the guts to stick their feet out in front of the seat in which they're sitting, knowing full well that a passenger is about to get the pleasure of sitting with them, is definitely up to no good. So then the disembodied left foot decided to take his flight to the next level and crack the window next to it open.
Why? I wonder to myself, as my stomach seethes in pain and agita. It's not like the person whose feet they were could even be able to enjoy the view from the window a seat ahead of them. It's honestly just an atrocious act that seems to have been just for the sake of atrocity. Ew.
People found the whole thing to be a nightmare.
While others shared similar experiences...