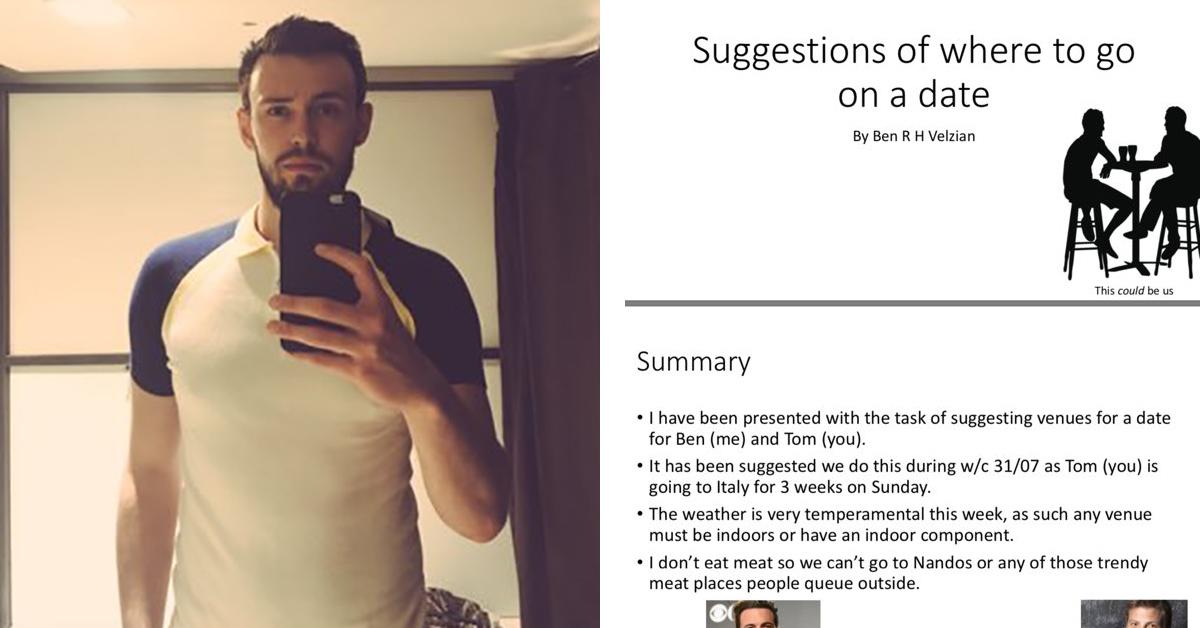 This Guy Sent A PowerPoint Of Date Ideas And You Can Imagine How It Went
By Mark Pygas
Navigating the world of modern romance can be a tall order for anyone. There's the awkwardness, the fear of being rejected, and the self-consciousness, my god the self-consciousness you have about your personal insecurities and idiosyncrasies about yourself. It could make for a very nerve-wracking experience for anyone so oftentimes, people will create a persona that they present to an individual on the first or second or third date. Maybe it's enough to get a person to fall for you. Maybe it's enough for you to feel the rumblings of love. But it's usually a persona that can't be lived out and then the real you comes out. So you better have a plan to show someone you're romantically interested in the "real you" as your relationship progresses.
The golden rule of dating is that you leave any horrifyingly embarrassing details about yourself out of conversation until at least the third date. Twitter user Ben Velzian, from London in the United Kingdom, recently screwed this up by sending his date an elaborate PowerPoint he made featuring all the places they could potentially visit.
Because obviously there's nothing more attractive than a PowerPoint presentation, I think we could all agree on that. Am I right? What, no?
While I might appreciate a well-thought out slideshow of potential date ideas from someone I'm romantically interested in, I understand that I'm in the minority and not everyone would feel the same way. So you can probably guess how it went for our friend after he sent the Powerpoint to the dude.
Microsoft was there to comfort him, though, so at least he had that going for him, which is nice.
As were other Twitter users.
While it seems to have worked for this guy...
Try an Excel spreadsheet next time?