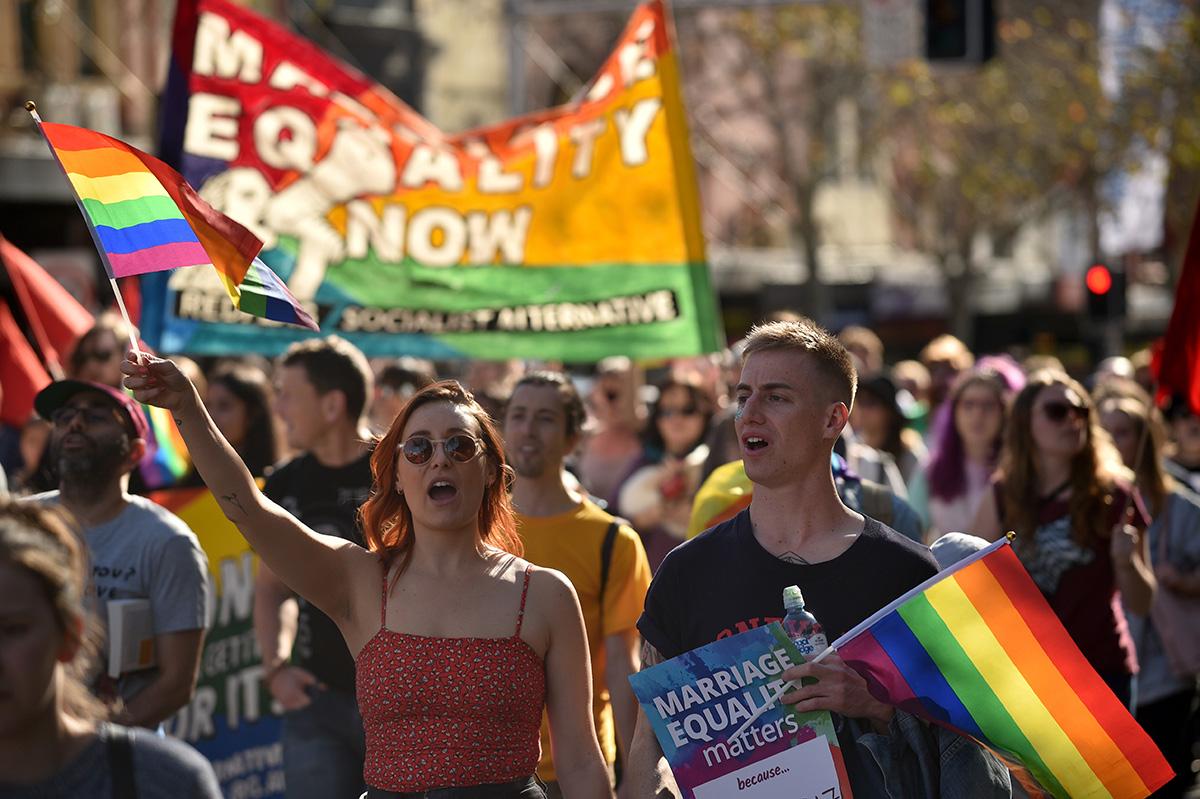 Students Start Counter-Petition After Parents Ask School To Take Down Pride Flag
By Mark Pygas
A group of students and parents passed around a petition at Auburn High School in Alabama on Friday calling for Principal Shannon Pignato to remove a rainbow LGBTQ pride flag flying in a teacher's classroom, according to WRBL.
The teacher in question is the sponsor of the school's EDUCATE club, which promotes "inclusivity and unity for all." The flag in question is part of the club's display. It's unclear how many signatures the physical petition received, but an online version has received around 750.
"Creates a hostile and provocative learning environment for students not comfortable to openly supporting the LGBTQ+ community in a public school where students come from diverse political and social views."
"We believe it is unprofessional and distracting for a teacher to be so openly displaying their political views in an unbiased and socially neutral public setting,.
"While the signers of this petition do not feel it is an issue for [the teacher] to support the LGBTQ+ community, we do feel it creates a less than ideal learning environment when a teacher subjects their students to their personal political views in a public school system."
The petition goes on to say that if the teacher had a Confederate flag or a "heterosexual" flag, there would be "protests and threats of lawsuits."
Brandon Sinniger, an Auburn High School student, has since created a counterpetition, which has attracted 6,300 signatures. Sinniger writes on Change.org:
"Auburn Highschool is a diverse and equitable school recognized for its achievements in education. Especially considering the construction of our new highschool, Auburn High and Auburn City Schools as a whole clearly stands at the forefront of modern thought."
"In the real world, to suggest individuals be isolated from differing political views is an absurdity. To be made uncomfortable by opinions differing to your own is to function as a modern human. Attempting to insulate a student from political discourse would be an insult to their intelligence."
"Lastly, and most importantly, the pride flag and the AHS Educate club has served to provide a healthy environment for our LGBT+ peers to feel comfortable being who they truly are. The flag represents this safe space, and frankly, the sentiment for removing the pride flag is an affront to the work that has been done nationally to fight for recognition of the community."
Sinniger told WRBL that the response has been incredible:
"The response from the community here in Auburn, as well as signatures from all over the country has left me completely breathless."
"The takeaway for me is not whether or not the flag stays up or is taken down. For me, it is extremely important that more than a thousand people were able to come together in solidarity for our LGBT community, here in our high school. The message that sends is stronger than keeping a flag hanging in a classroom window."
Auburn City Schools Superintendent Dr. Karen DeLano offered the following statement:
"It has been brought to the attention of Auburn City Schools and Auburn High School that a petition from a group of anonymous students and parents was sent to Dr. Shannon Pignato, the principal of Auburn High School."
"As of noon, she had not been presented with that petition. She is aware of the situation though and is working with staff and students to address those concerns. Auburn High School is certainly a reflection of the Auburn community, hence societal issues are brought to our campuses."
"It is our mission to ensure each student embraces and achieves his or her unique intellectual gifts and personal aspirations while advancing the community through a school system distinguished by compassion for others, symbiotic relationships with an engaged community, the creation and sharing of knowledge, inspired learners with global perspectives and the courage to determine our future."
"In our country today, people are often seen addressing their objections through violence and hate. It is my sincere desire to assist our students in learning to address their opinions and their values in a calm and respectful manner."
"This differing of opinions related to the E.D.U.C.A.T.E Club at Auburn High School affords our faculty and students an opportunity to learn and model a civil manner in which to resolve our differences."
Reactions on social media have been mixed.