Steven Mnuchin is the Treasury secretary of the United States. He used to be a banker for Goldman Sachs, a film producer, and a hedge fund manager. He's got a net worth of $300 million.
He's also married to Louise Linton, a Scottish actress who self-published a highly controversial memoir about her gap year in Zambia last year.
Linton recently shared a photo of herself getting off of a U.S. government plane in Kentucky and tagged a number of high-end designers in the Instagram post.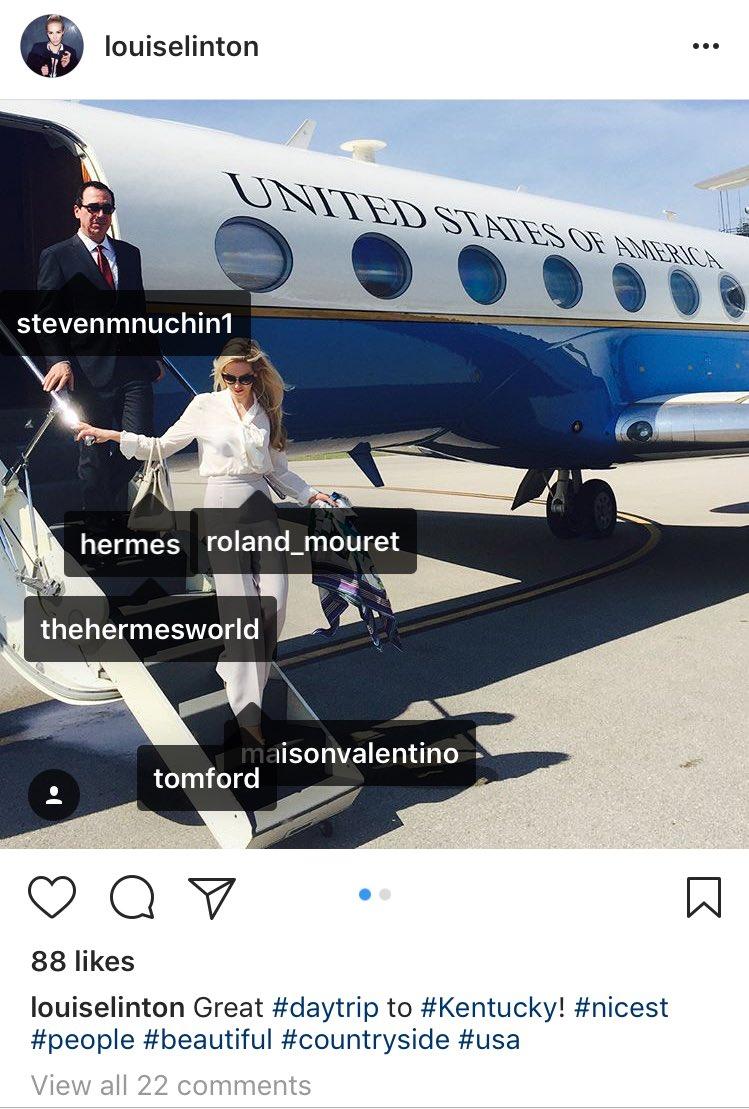 In an earlier version of the post, she also gave the brands shout-outs in her caption via hashtags like #hermesscarf and #valentinorockstudheels.
Instagram user Jenni Miller left a comment.
"Glad we could pay for your little getaway. #deplorable."
To which Linton had a snarky reply.
"Aw!!! Did you think this was a personal trip?! Adorable! Do you think the US govt paid for our honeymoon or personal travel?! Lololol. Have you given more to the economy than me and my husband? Either as an individual earner in taxes OR in self sacrifice to your country?
I'm pretty sure we paid more taxes toward our day 'trip' than you did. Pretty sure the amount we sacrifice per year is a lot more than you'd be willing to sacrifice if the choice was yours
"You're adorably out of touch your life looks cute. Go chill out and watch the new game of thrones. It's fab!"
The New York Times reported that Miller was "taken aback" by Linton's response and wanted to retort with a joke about "Marie Antoinette" but quickly noticed that Linton had made her account private.
When probed about the post, a Treasury spokesperson said that Mnuchin reimbursed the U.S. government for the plane trip and that Linton didn't receive any compensation for the labels brandished in her Instagram post.
CNN reported that Linton apologized for her comments in a statement through her publicist: "I apologize for my post on social media yesterday as well as my response. It was inappropriate and highly insensitive." Miller found the Instagram rant "incredibly offensive."
"She went to a state where one in five people lives in poverty and many children don't know where their next meal is coming from. Instead of helping in some way, she chose to brag about her outlandishly expensive clothes. It's more than tone-deaf, it's deplorable."
How do you feel about Linton's Instagram photo session?