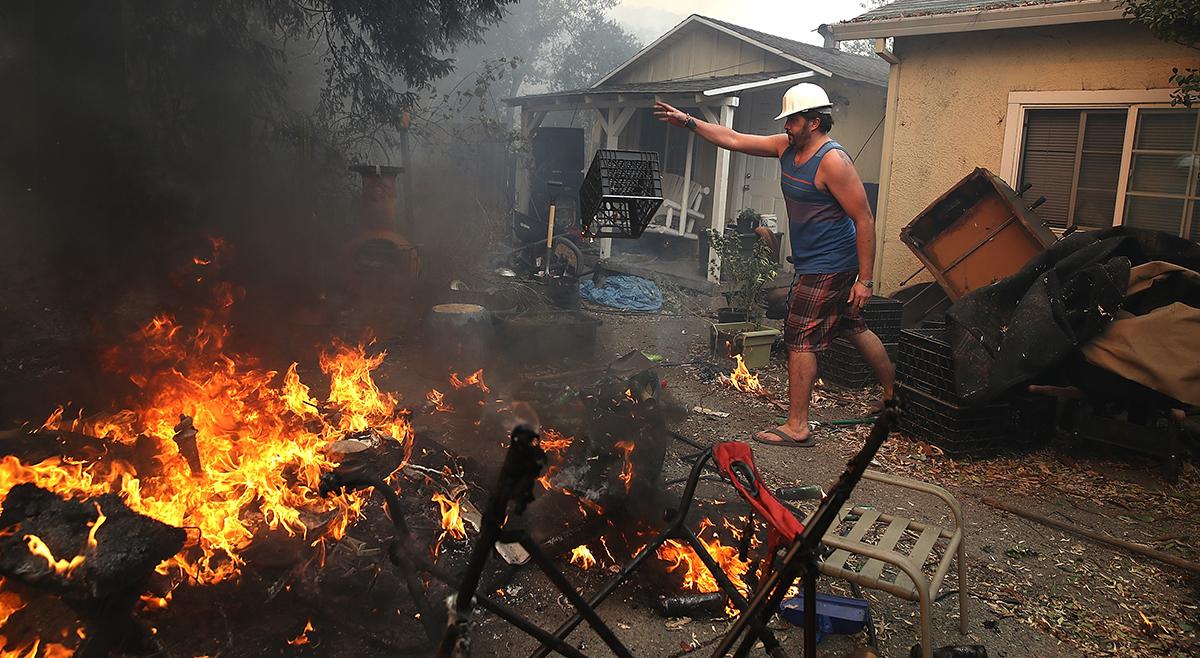 Wildfires Are Quickly Spreading Through Napa County, And People Need To Evacuate Now
By Mark Pygas
California's wine region is being ravaged by wildfires that have killed at least two people and injured two others. Mass evacuations ordered by Governor of California Jerry Brown, who has declared a state of emergency, have led 20,000 people to flee Napa, Sonoma, and Yuba.
"These fires have destroyed structures and continue to threaten thousands of homes, necessitating the evacuation of thousands of residents," the deceleration reads.
"This is the new normal," Brown said in an interview with CBS 60 Minutes. "We're about ready to have firefighting at Christmas. This is very odd and unusual. That's a preposterous idea, not even a shred of truth in that statement," he said. "I don't think President Trump has a fear of the Lord, the fear of the wrath of God, which leads one to more humility, and this is such a reckless disregard for the truth and for the existential consequences that can be unleashed."
According to the head of California's Department of Forestry and Fire Protection, Kim Pimlott, around 1,500 buildings and tens of thousands of acres have already been destroyed. Pimlott said that the cause of the fire is currently unknown.
The fires have been boosted by high winds, low humidity and hot, dry weather. The National Weather Service has issued warnings for the San Francisco area, saying that any fires will spread quickly.
Ken Moholt-Siebert, a vineyard owner who escaped the flames on Saturday night told the LA Times:
"There was no wind, then there would be a rush of wind and it would stop. Then there would be another gust from a different direction. The flames wrapped around us."
"I was just being pelted with all this smoke and embers."
"It was just really fast."
The Anaheim Fire Department has also ordered the evacuation of more than 1,000 homes in the Anaheim area, as the 'Canyon Fire 2' spreads there.
California is currently facing more than 20 fires statewide.
The 2017 California wildfire season was the most destructive wildfire season on record, with a total of 9,133 fires burning 1,381,405 acres of land, according to the California Department of Forestry and Fire Protection.
Throughout 2017, the fires destroyed or damaged more than 10,000 structures in the state, more damage than the previous nine years combined. The large wildfires killed 47 people – 45 civilians and 2 firefighters, almost higher than the previous 10 years combined.
Climate change is increasing the number and intensity of wildfires Nationwide. According to Ottmar, the amount of greenhouse gases emitted from a wildfire is directly related to fuel consumption, which is the result of area burned, burning period, fuel characteristics, and fire behavior.