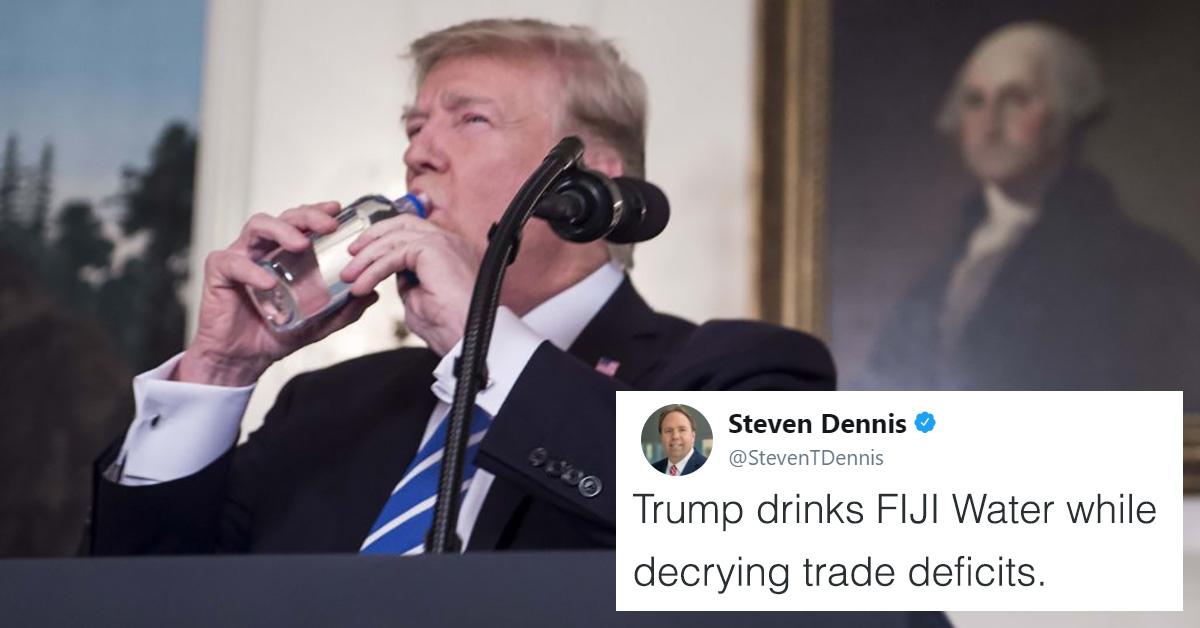 'Trump Takes A Drink' Is The Newest Internet Meme--And We Are All About It
By Mark Pygas
Donald Trump has never been one to take good photos. Along with his randomly angry Tweets, the President is known for being an absolutely PR disaster. His team would even go so far to try to hide 'bad' photos of him while he was on the campaign trail. It definitely didn't stop people from showing the hilarious angles of his glued on hair flying off in the wind, or the time he somehow got spray tan all over the color of his shirt making it look like he was sweating tan. So the track record of the President taking good photos isn't exactly good. He's clearly got some issues not making faces too. Remember the campaign trail images of him mocking the reporter with a disability? Or even his look of disgust he constantly had when Hillary Clinton was speaking during the debates.
President Donald Trump was back in the United States on Wednesday after an 11-day, five-nation Asia trip. And ten minutes into giving a recap of his trip, he paused to take a drink of water. Seems simple enough, but not for President Trump, every moment is a photo blunder waiting to happen. Here's what that looked like...
Considering that President Donald Trump relentlessly mocked Senator Marco Rubio for sipping water during his response to then-president Barack Obama's State of the Union address in 2013, you can probably guess how the Internet responded to President Trump's sip. It's a nice call back and a bit of karma he probably, no definitely deserved.
Yes, Senator Rubio responded.
As did the rest of the Internet.
Never drink water on live television or you could end up at the butt end of a joke like President Trump. Maybe someday he'll take a good photo.