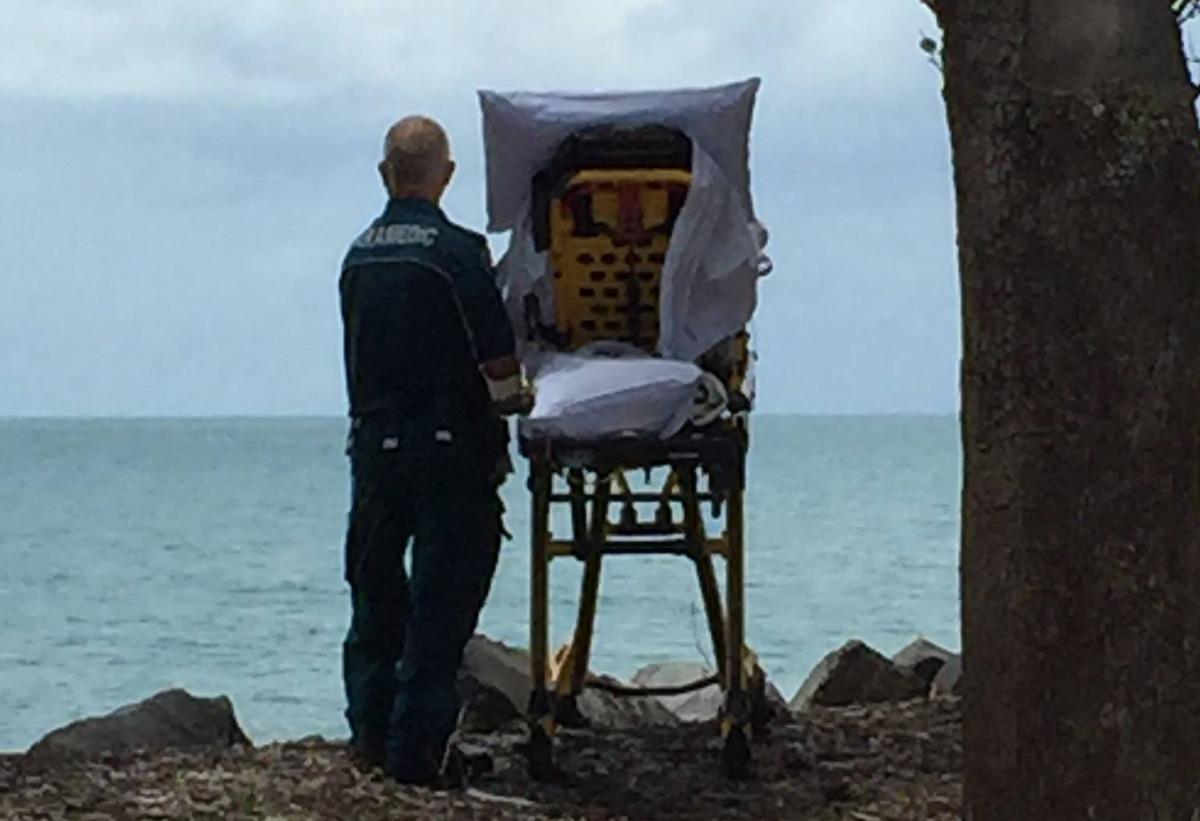 Paramedics Grant Terminally Ill Woman's Dying Wish--And Now We're Sobbing
By Mark Pygas
Australian paramedics Graeme Cooper and Danielle Kellan are being applauded on social media after an image of them helping to fulfill a dying woman's last wish emerged online.
The pair of paramedics from Queensland, Australia, were transporting the patient to the palliative care unit of the local hospital when she mentioned that she wished she could see the beach one more time before she passed away. The crew immediately took a diversion, with Queensland Ambulance Service (QAS) posting an image online. That image has now been shared more than 20,000 times.
"Sometimes it is not the drugs/training/skills," QAS wrote in the post. "Sometimes all you need is empathy to make a difference."
Cooper, the paramedic shown in the photograph, told ABC why they decided to turn around:
"It was basically going to be her last journey back to her house where she was basically going to pass away."
"She was saying how she moved to Hervey Bay with her husband on the spur of the moment and they've been here ever since."
"She said she loved the esplanade and the beach and we said, 'well, do you want us to take you down by the esplanade and pop you out of the truck and give you a look at the ocean?'"
"She was just ecstatic. If you're sensitive to your surroundings and what's going on and you can seize a small window of opportunity, take it."
Cooper also revealed that the pair had transported the woman to the beach a second time after the viral photo was taken.
"This week we actually got called down there to bring her back to the hospital."
"We said, 'how about that beach run again?' and she said, 'oh could we?' and we said 'absolutely.'"
"She said to Danielle, she's content now and that is everything is as it should be."
"I thought, if all these rocks weren't here I would get down to my jocks and take you into the ocean."
Although the pair were unable to take the woman onto the beach, Cooper said that he used the woman's vomit bag to scoop up some sea water so that she could put her arm in it.
"I thought the next best thing is I can get some ocean and bring it to her."
Kellan, who took the photo, was more than happy to go the extra mile:
"I said to the patient, 'what are you thinking?' She was looking out towards Fraser Island and she said, 'I'm at peace, everything's right.'"
She responded the social media reaction by saying that their story is nothing special, and that paramedics across the country go above and beyond every day.
"It's not just us, it's right across the service. There are a lot of responses on Facebook today, it's right around the world… there are stories today about other examples of the same thing."
"It's nice to get a good news story out there."
As you can imagine, social media users were teary eyed after seeing the photo.