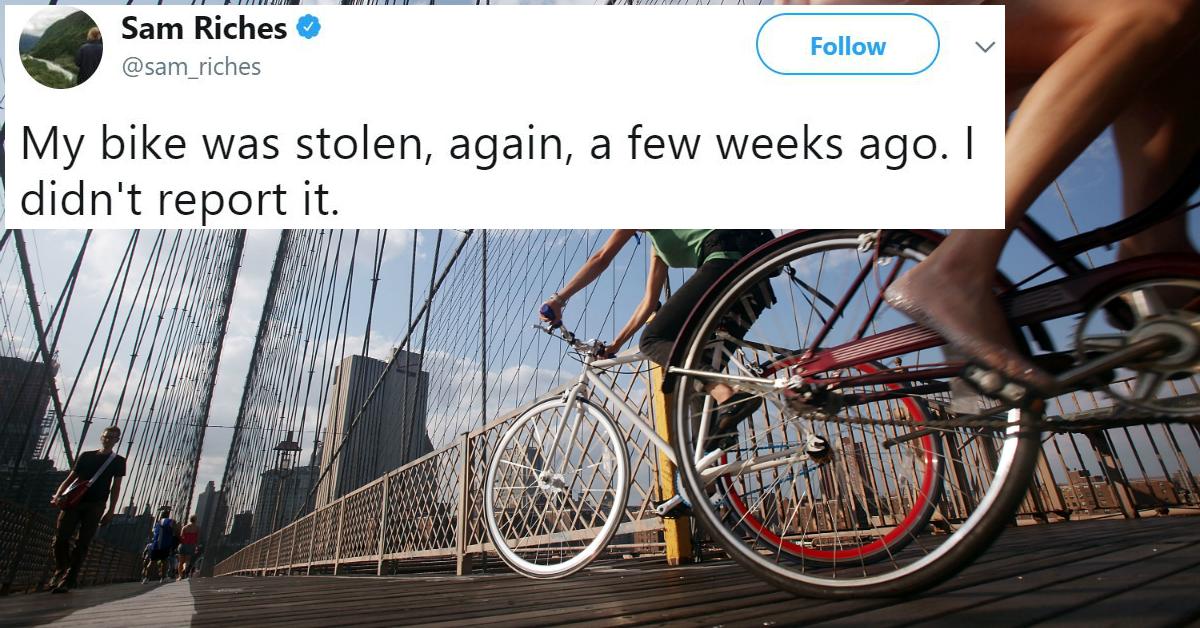 Man Gets His Stolen Bike Back, Explains How In Epic Twitter Rant
By Mustafa Gatollari
During a very turbulent night in Atlantic City with my best friend Chris, he unfortunately left his wallet in an unmarked cab. Now the thing about Chris is he is a dogged, dogged man.
And that doggedness, combined with several hours of turning over every possible rock and trying to locate the exact cab that he left the wallet in, and the kindness of an on-duty transit officer and an honest cabbie, resulted in him ultimately getting his wallet back. Something that the officer himself said pretty much never happens.
If you've ever lost something or had it stolen, then you know how stressful of a situation it can be. And if you're a cyclist, you know that stealing and flipping bikes is a huge problem and getting them back is almost impossible, mostly because bike thieves sell them so quickly. Most people just give up. But Twitter user @Sam_Riches managed to get his stolen bike back and unfortunately had to resort to vigilantism to do so.
He told his story in an epic Twitter thread, that immediately won people over. And how can it not? There may not be any experience more universal than having a bike stolen. (Which makes me realize I know tons of people who have had bikes stolen, but — as far as I know — I don't know anyone who has ever stolen a bike...)
Riches went on to talk about how flawed the system of recovering stolen bikes is, despite it being such a common crime.
Stealing bicycles is a practice that's probably as old as the invention of the bicycle itself. So much so that there's a pretty amazing Kickstarter launched that's been designed to insure cyclists who have their bikes stolen with a pretty in-depth security, tracking, and recovery service.