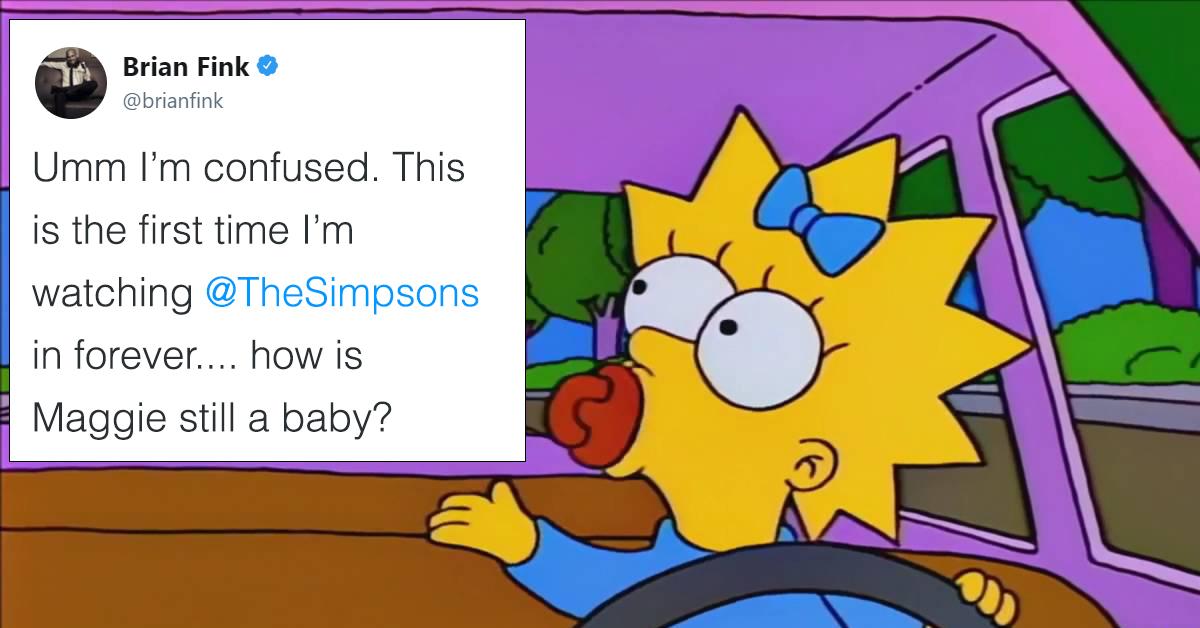 Twitter Is Wondering Why Maggie Is Still A Baby, And 'The Simpsons' Has An Answer
By Mark Pygas
The Simpsons has been running since 1989, for 29 seasons, and the characters haven't aged a single day. Aside from a few episodes where they travel in time and we see the kids as teenagers and adults.
That's led some fans to ask why Maggie is still a baby with a pacifier when she should probably be in college by now.
"Umm I'm confused. This is the first time I'm watching @TheSimpsons in forever.... how is Maggie still a baby with a pacifier? Shouldn't she be in college by now?!?" asked one curious fan on Twitter.
Their answer? A wizard did it.
"That's the magic of #TheSimpsons," tweeted the show's official account.
But that seemed to lead to even more questions.
Like, "While everyone's worrying about The Simpsons kids not growing up. no one's realizing Marge and Homer are still married and not divorced. How is Marge still sane? after all these years of dysfunctional husband& questionable kids."
Others offered up their version of explanations: "I always thought that they took pills.
In the Behind the Laughter didn't Lisa say that she was made to take anti-growth hormones to prolong the show?"
And people also had some theories...
Like, "The Magic: Springfield/Simpson's Earth years pass slower than our universe's years. Maggie isn't the only one in the show who hasn't aged" or "The truth is Homer never left the wormhole. The clue is when he lamented that he should've read that book by the wheelchair guy."
Innnnteresting, interesting. We'll take these into consideration.
Others' explanations were just worthy of eye rolls. Like this: "They live in a garden of eden type of world. Adam and Eve were to live perfectly forever without aging. In other words #TheSimpsons are perfect !!!"