A man in Kalgoorlie named Brad Nicklin has a very persistent admirer. WA Today reports that Niclin noticed a strange patch of missing grass in his yard one Sunday morning. When he went to inspect it, he saw it wasn't so much a patch as it was an entire square of sod cut out of the ground with shovel.
For some reason, Nicklin has CCTV footage of his yard, and went to review it. I would say that it's unnecessary to film your yard at all times, but clearly it ended up being useful.
When Nicklin watched the footage, he saw that someone had snuck into his yard—and they were dressed as a minion. You know, that little yellow dude in overalls. Like the ones from films such as Despicable Me and Minions. Or perhaps you're more familiar with their digital work — aka the millions of memes that your aunt shares featuring those little yellow terrors? Anyway...
Happily, Nicklin found the strange prank funny. Soon, the prankster had created their own Facebook page under Carl Minion, and they were taunting Nicklin with the stolen grass.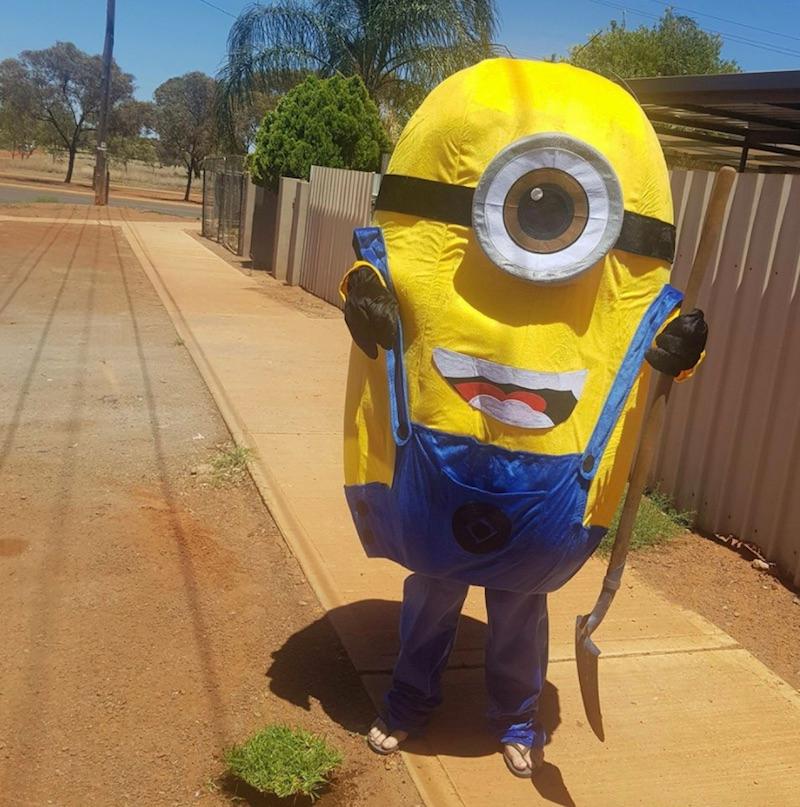 The minion has been all over town with a precious part of Nicklin's lawn, in fact.
And the feud has continued with a news segment, which seems to have both Nicklin and whoever is in that costume pretty excited.
Nicklin may be in cahoots with his minion friend, or at least have very strong suspicions about who is under the yellow.
"I've got a funny feeling it's one of my mates because I sent a Snapchat earlier that weekend saying how good my grass was!" he told WA Today.
He says it's been almost two weeks and he still hasn't figured it out. Though Nicklin says it's "all in good fun" he is a bit upset about the lawn. As anyone who videotapes the grass growing would would be!